GET SPOOKY! HOW TO
HALLOWEEN IN STYLE
Whether your Halloween vibe is scary monster or superhero, welcome mini trick-or-treaters in style with the best DIY door decorations on the street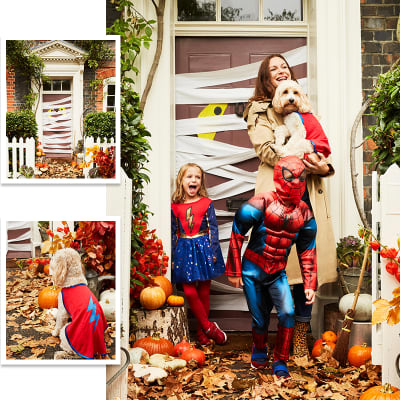 Spook style:
Classic superhero
M&S kidswear editor Claire gets into the superhero spirit with Spider-Man Arthur, 5, and May, 5. "My twins are superhero obsessed, so on Halloween we head out to fight off all the evil witches, goblins and ghouls (and collect as many sweets as humanly possible). I love that May can join Spider-Man in saving the world this year in her very own superhero costume. And not forgetting our faithful dog, Hero!"
Door DIY trick: Stick on some big monster eyes (the kids can help draw and cut them out) then simply wrap toilet paper round the door to create the mummy effect, leaving a little space so the eyes can peek through. Keep the paper in place with no-damage double-sided tape. Be warned: it's quite fragile, so will only stay put for the actual night (and is no good in rain). For a more substantial version, use wide bandages.
Shop the look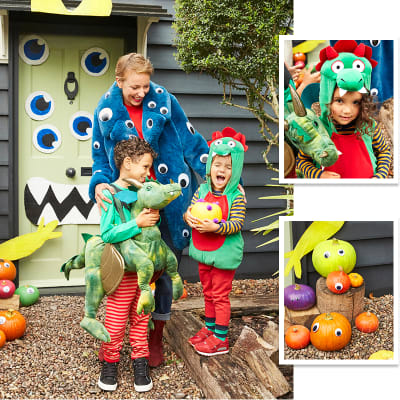 Spook style:
Monster madness
Mary, pictured with mini-monster Nancy, 4, and dragon-rider Beau, 7: "The kids love dressing up in their scariest outfits possible on Halloween – and doing their best monster impressions at every door we trick or treat! This ride-on dragon (coming soon) is brilliant – and great fun to play with all year round. I like getting into the spirit of things too, so loved having a bit of fun with my outfit by sticking googly eyes on my coat – the kids thought it was hilarious."
Door DIY trick: This is a very easy but brilliantly effective door decoration – and one the kids can help with. Take white paper plates and colour on blue and black circles for eyes. Then add a cardboard monster mouth. Stick them on the door with Blu Tack. For added monster madness, add googly eyes to your pumpkins, too.

Spook style:
Stylishly spooky
Sam steps out with witch's cat Charlotte, 4, and mini-spider Edward, 20 months. "This is our first Halloween out trick or treating so we're very excited! Charlotte loved wearing her cat costume and I love that she can wear the same outfit again as a Christmas party dress – minus the whiskers."
Door DIY trick: These bats give a sophisticated but eye-catching look and happily it's very easy to do. Buy thick black paper and cut out multiple bats in three different sizes – you'll need about 30-40 bats in total. Then, starting half way up the door on the left, make a trail of bats going up to the top right by sticking them on with Blu Tack. Gradually fill in with more bats, having the most bats at the top, fanning out. To match the monochrome vibe, spray-paint your pumpkins white, black and metallic.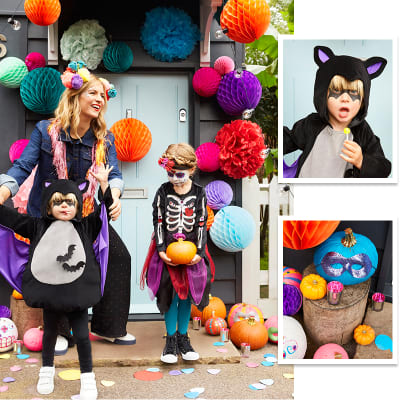 Spook style:
Day of the Dead
Rachel, pictured with Lara, 5 and mini-bat Gabriel, 2: "We're huge fans of Halloween in our house – and I really love this Day of the Dead take on the usual decorations. It's so bright and colourful. Lara loved her flower headband – I think she'll be wearing it with everything from now on."
Door DIY trick: Think sunset colours to spray-paint your pumpkins: pinks, purples, blues and oranges. Choose a matt paint as it has more staying power. For the stripy effect, use masking tape to create the design, paint, then peel off the tape to reveal the stripes. Once dry, decorate with coloured masks, glitter and stick-on metallic dots. For maximum impact, add honeycomb paper balls and paper pompoms around the door.
Editor: Claire Askew / Photographer: Annie Bundfuss / Stylist: Sophie Kenningham
Hair stylist: Tim Pateman / Make-up artist: Lindsay Poole