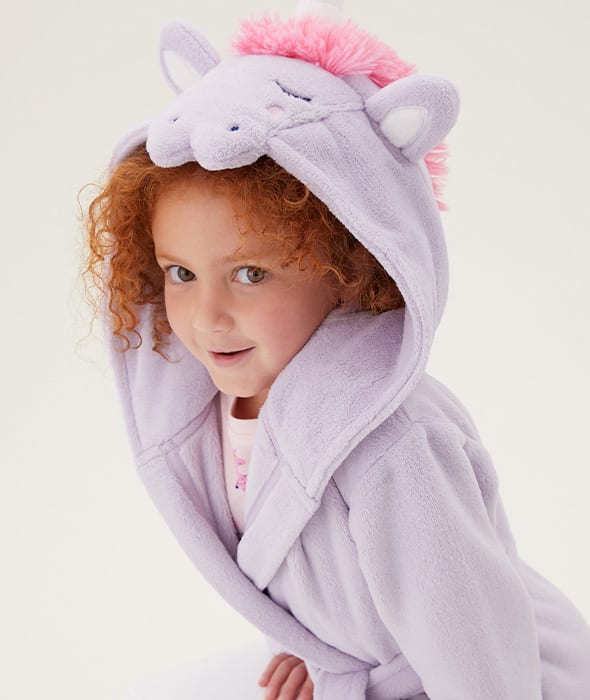 Think beyond the costume
Spooky prints are an easy way to embrace the Halloween mood without splashing out on a costume that your little one will quickly outgrow. For a more sustainable (and cost-effective) approach, choose Halloween kids' clothing and accessories that add a bit of supernatural style to their regular wardrobe, such as star-print clothing, stripy tights or skeleton-print pyjamas. They'll have fun mixing and matching their outfits long after their Halloween treats have been scoffed.
"PJs or onesies are
comfy alternatives to a costume for kids"
Get into character
Scary accessories are a good option for kids who are shy about going full-on frightening. A simple pair of cat ears, a rabbit hat or an animal mask all make for a stylish nod to the Halloween season and can be incorporated easily into their day-to-day look. Those feeling a little more confident can have fun with children's clothing featuring their favourite fictional characters, from Spider-Man to Harry Potter.
"SWAP a witch's hat
for adorable cat or rabbit ears for a look that lasts beyond October"
Try supernatural shades
The colour traditionally associated with 31 October is, of course, black, but for a fashion-forward approach, it's fun to mix in autumnal tones too. A splash of unexpected yellow or orange, combined with plums, browns and greys, will give their outfit a subtle Halloween feel and help them stand out in a sea of black. The best bit? Their clothes will be in style all season.
"Experiment with
COLOUR for a fashionable
Halloween look"