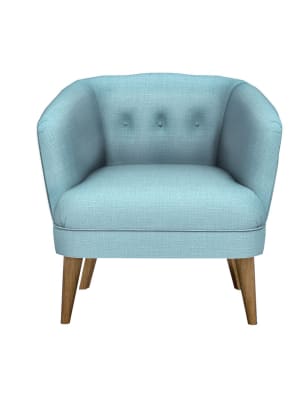 LOFT
Benni Armchair Veela Aqua - Self Assembly
Product code: T841644
Sorry, this item is no longer available
Product Description
A stylish modern tub chair with angled legs and buttoned back. Benni has a lovely neat scale making it perfect for smaller spaces.
Images displayed here act as a guide and may not be representative of the finished item. Fabrics are overlayed onto model images, so actual seams and pattern match may differ from what is shown.
Product Details

Dimensions

Height: 73 cm
Height In: 29 in
Width: 73 cm
Width In: 29 in
Depth: 72 cm
Depth In: 28 in

Item details

99% of our upholstery is manufactured in the UK
Seat cushions- foam
Back cushions- fixed foam back
Feet type- solid hardwood with a light finish
Stain resistant
Seat height- 43cm
Arm height- 61cm
Top back rail height- 73cm
Feet height- 21cm
C dimensions- 47cm

Delivery, Collection & Returns

FREE Collect in store - order online for delivery to your chosen store, collect from 12pm (midday) the next day

£3.99 Next day home delivery* - NEW now order up until 10pm - find out more >


Free standard home delivery on orders over £50**

- get your clothing, home, beauty and wine order within 3-5 working days. find out more >

£7.50 International home delivery to Europe - get your order within approx. 7-10 days
£15 International home delivery to the Rest of the World - get your order within approx. 10-14 days
Shop on our dedicated websites for Australia, Canada, New Zealand and USA.
Collect in store is not available outside the UK
Service terms and delivery times may be amended during peak periods or sales. Please see our Help section online or ask in store at the Customer Order point for full details.