MAKE MOTHER'S DAY
TASTE AMAZING
A little something special wouldn't go amiss this week, so spoil Mum with delicious food and drink
Brekkie in bed
Start the day as you mean to go on by treating the mum of your house to extra time in bed and a tray filled with treats, including beautiful blooms, a thoughtful card and breakfast that even little ones can help with.
Serve up a simple yet tasty breakfast of toasted crumpets topped with buttery scrambled egg, smoked salmon, chives and a squeeze of fresh lemon. To make the perfect scrambled eggs, whisk the eggs in a bowl (the perfect job for a mini sous chef) with a pinch of salt and pepper. Then melt a generous knob of butter in a large frying pan and add the egg. Heat on a low heat and fold regularly to prevent it catching. Cook until velvety and slightly runny, and then remove from the pan straight away to prevent the eggs from overcooking.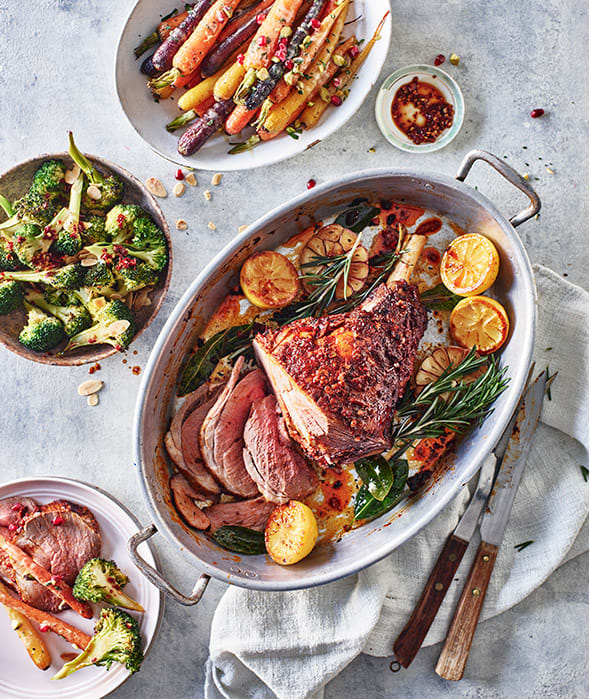 Middle Eastern lamb lunch
Dining in never tasted so good with our recipe for harissa-roasted lamb, rainbow carrots and charred broccoli.
Simply mix our Cook with M&S rose harissa paste with a glug of olive oil and lemon, and then rub all over the lamb leg in a roasting pan. Halve garlic bulbs and lemons and add to the pan alongside the lamb. Place in the oven and cook the lamb as per packaging instructions, until tender and fragrant. While the lamb is cooking, prepare your flavour-packed sides by roasting the rainbow carrots and broccoli florets in separate trays with olive oil. Once the carrots are cooked, drizzle with a mix of tahini and lemon juice, and scatter with pomegranate seeds and pistachios. When the broccoli is cooked and slightly charred, top with Cook with M&S easy chilli and flaked almonds.
Top tip: you can swap the lamb for chicken and the carrots can simply be glazed with honey, then topped with thyme.
Pretty puds and tasty tipples
Keep Mum sweet by whipping up our prosecco and rhubarb pavlovas in a flash. Simply cut the rhubarb into bite-sized chunks and cover in our Conte Priuli ORO prosecco, a spoonful of sugar and a splash of water. Simmer over a low heat until the rhubarb pieces are cooked but still holding their shape, then remove from the heat. Top meringue nests with zesty lemon curd, whipped cream and rhubarb. Want to take this pudding to even more delicious heights? Serve accompanied by rhubarb bellini cocktails by adding a spoonful of blitzed rhubarb to a champagne flute and topping with our light and fresh Conte Priuli ORO prosecco and a sliced rhubarb garnish.
Top tip: the rhubarb can be swapped for stewed frozen berries. Simply place the frozen berries in a pan with a splash of water and sugar and stew until deliciously soft and sweet. All that's left to do is to top the meringues with a layer of cream and the berries.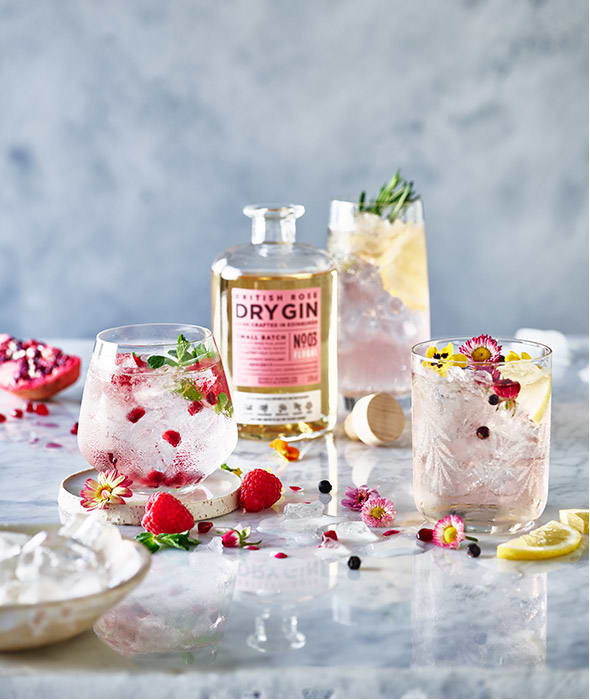 Raise a glass to Mum
Toast your incredible mum with an amazing gin cocktail. Pick up a bottle of our colour-changing gin, top with tonic and watch it magically change colour. Handcrafted by Edinburgh's Old Curiosity distillery, this small-batch gin is infused with delicate roses for a distinctively fresh and floral flavour. Serve with tonic, ice and a garnish of Mum's choice. If she loves to keep things classic, opt for slices of lemon and a sprig of rosemary. Or keep it fabulously floral by topping with pretty edible flowers, lemon and juniper berries. Fancy something fruity? Add pomegranate seeds, plump raspberries and a few mint leaves.