HOW TO DECORATE YOUR CHRISTMAS TREE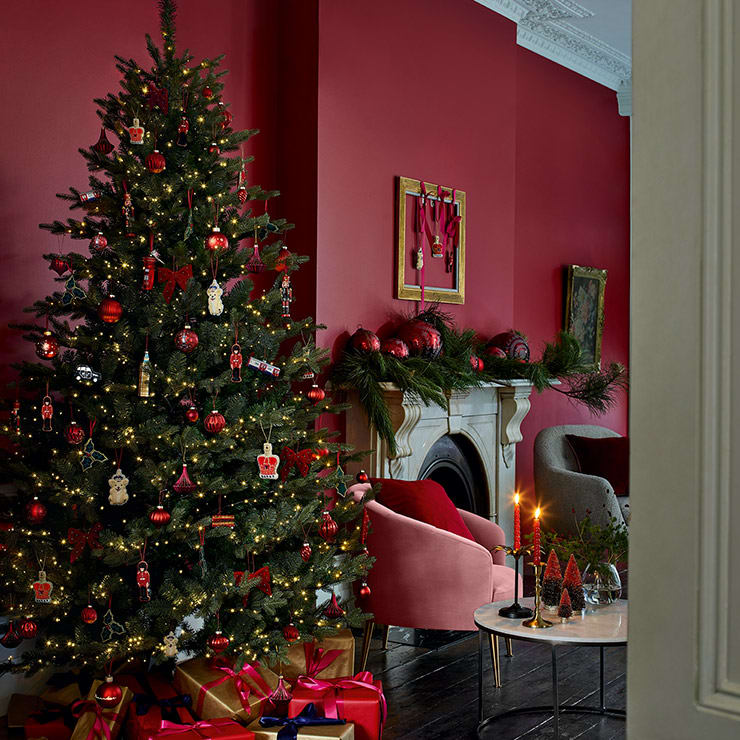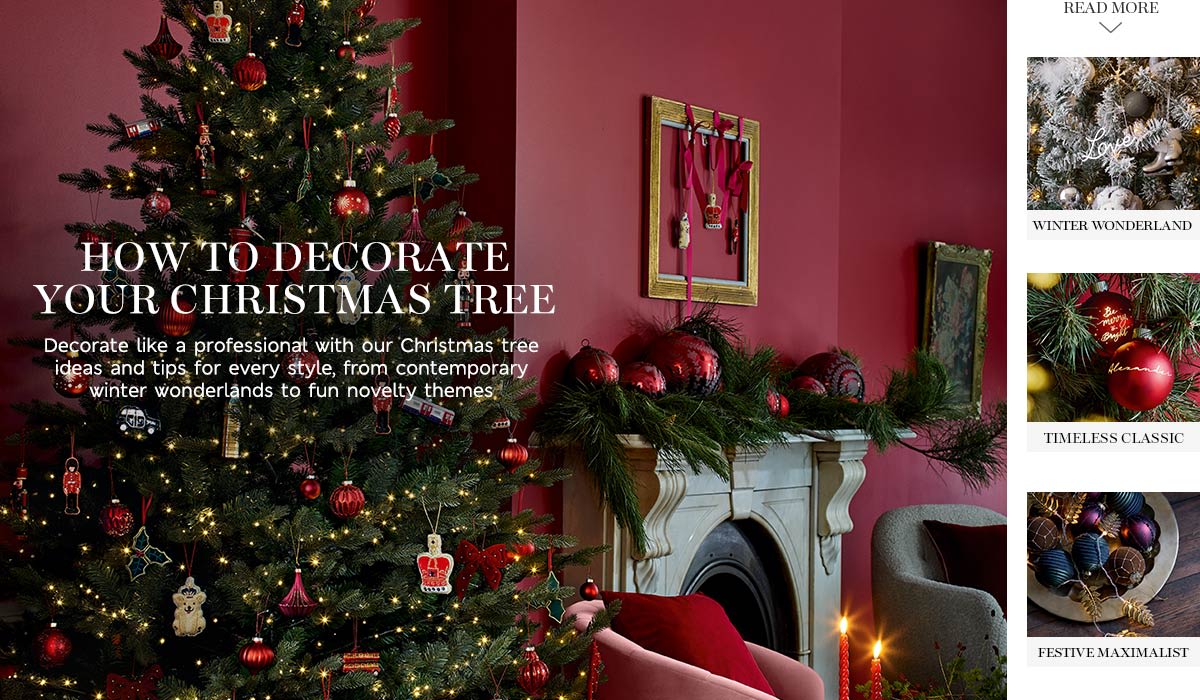 Decorate like a professional with our Christmas tree ideas and tips for every style, from contemporary winter wonderlands to fun novelty themes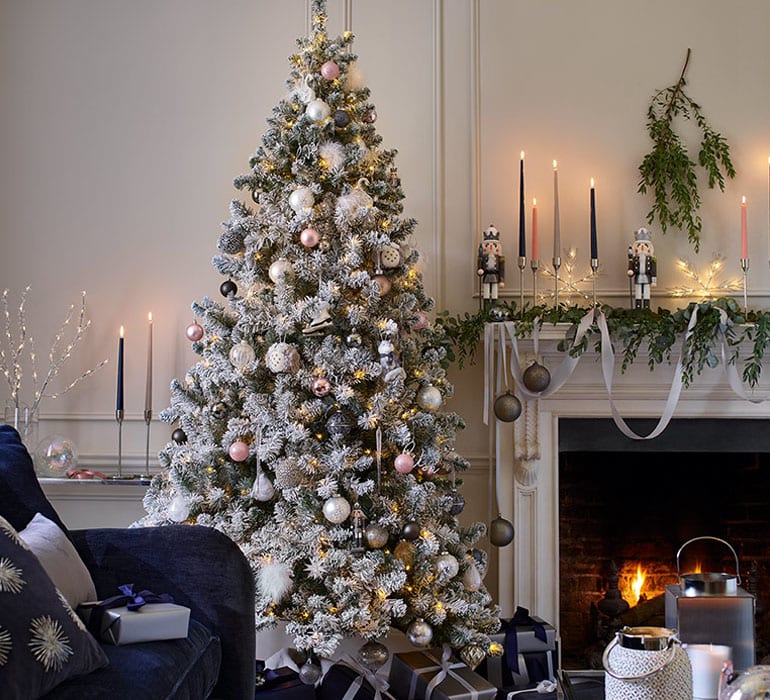 Walk in a winter wonderland
Choosing a theme before you begin decorating is a clever way to create a professional-looking Christmas tree. Want to make your own winter wonderland? Start with a snow-dusted tree and decorate with modern metallics: silver, granite and icy white. Add blush pink and black accents for a contemporary look with a touch of luxe. Playing with different textures is a great way to elevate your theme; try mixing glitter, glass and matte baubles. Take it one step further by sprinkling your tree with feathers and eye-catching ornaments in complementary colours for a festive showstopper.

Top tip: Before you get out the decorations, it's worth spending some time fluffing your artificial Christmas tree, spreading the branches out one by one to make the tree look fuller.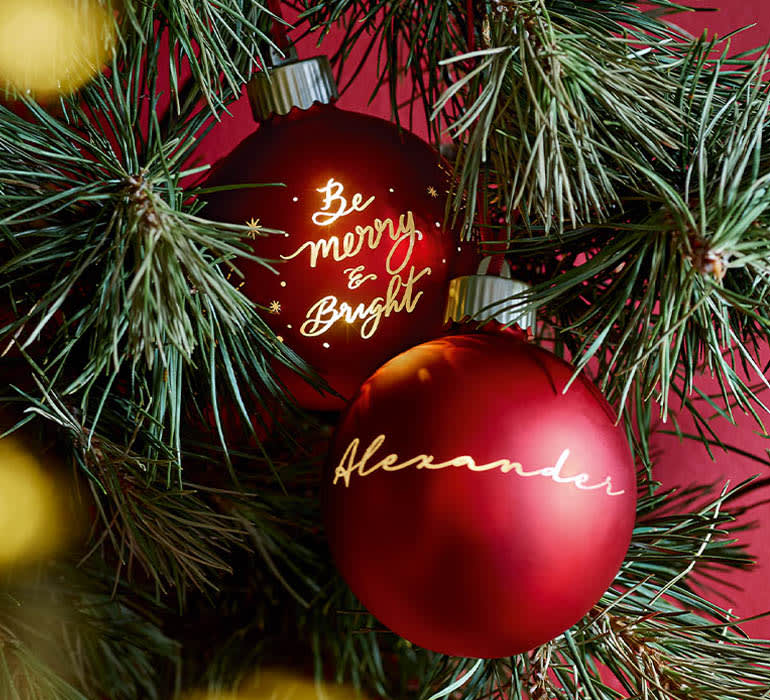 Keep it classic
Nothing says Christmas quite like red and gold. Start by wrapping your tree in warm fairy lights to create a cosy feel. Give this traditional theme a contemporary twist by adding geometric ornaments in different shades of red. Combine classic ornaments with our London-themed decorations with glitter highlights for a touch of fun and sparkle. Tie it all together with red studded bow decorations and get ready to celebrate the festive season in style. Want to make it extra special? Engrave our red glass bauble with a name or special message, which also makes a great gift. Watch the M&S Live Christmas event for even more gifting inspiration.

Top tip: Start by hanging the lights, whether you go for the more traditional horizontal round-and-around approach or the expert-approved up-and-down method popularised on TikTok.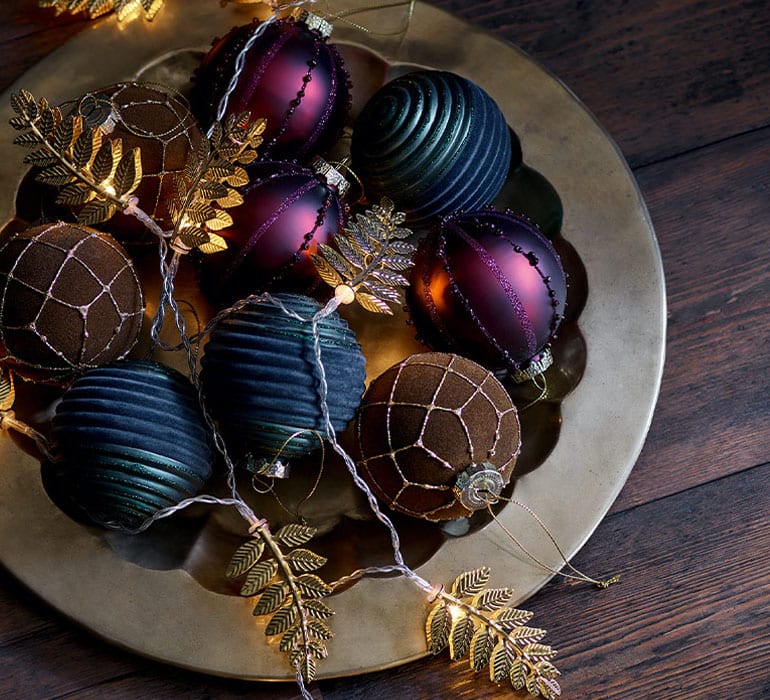 Go all out with festive maximalism
Maximalists, rejoice: Christmas is the perfect time to think BIG. Pack your tree with personality by combining a vibrant colour palette – we're loving blue, gold and purple – with quirky details. Finial baubles add extra interest. Go all out with standout ornaments, like golden animals, intricate leaves and glittering champagne bottles. Finish your tree with some extra-special pieces – you'll find sequins, suede, pearl embellishment, and light-up baubles within our Christmas decorations range this year – to give your theme a final flourish. Don't stop at the tree – discover festive inspiration for the whole house and easy Christmas table ideas.

Top tip: Not only does a tree skirt hide the legs of an artificial tree or the trunk of a real one, it can also be a continuation of your theme – whether you love maximalism or a serene winter wonderland.