TWO WEEKS TO GO: FILL YOUR SHELVES WITH FOODIE TREATS
Christmas might look a little different this year, but that's not going to stop me getting into the spirit. I'm planning to stock up on plenty of tasty goodies to make the season feel special: single-origin coffee, make-your-own gingerbread biscuits, trifle-flavour granola (yes, really), salted caramel truffles and single-estate honey. These are the M&S Foodhall buys that will keep me going until Boxing Day and beyond.
I'll be sure to pick up a jar of our brandy-spiked Collection mincemeat (I add a spoonful to scone dough before baking for my spiced Christmassy scones) and Collection cherries in kirsch and apricots in amaretto – both of which taste incredible spooned over vanilla ice-cream.
And our Cook With M&S honey and pumpkin spice glaze is a festive essential – toss carrots in it before roasting, add a dash to mulled wine, or brush over mince pies before you bake them.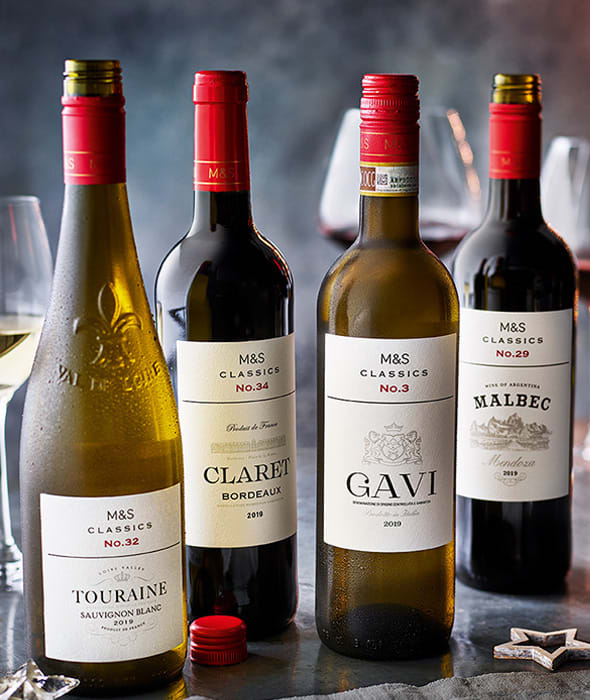 ONE WEEK TO GO: PICK YOUR PERFECT CHRISTMAS WINE
Choosing a great bottle for Christmas lunch needn't be daunting. I'm a huge fan of our Classics range, which launched this year and features the very best examples of the world's most iconic grape varieties.
My insider's pick for festive fizz is our Classics crémant. Beautifully crisp and zesty, it's just bagged a best-value sparkling award from the prestigious IWC, and it's a total steal at £10 (honestly – it could totally rival champagne).
For lunch, our Classics claret – another bargain at £7 – is a brilliant all-rounder and a great match for beef and turkey, while our crisp Classics Touraine sauvignon blanc is delicious alongside smoked salmon. For something light and refreshing to serve with canapés and nibbles, the Classics Gavi is my go-to and, when it comes to big, juicy reds, I can't get enough of our full-bodied Classics Malbec.
ONE DAY TO GO: COSY UP WITH AN EPIC HOT CHOCOLATE
I'm keeping my fingers crossed that a quieter festive season this year means less of the mad dash to get gifts wrapped and dinner prepped come Christmas Eve. So, I'm planning to cosy up in front of a festive film with a boozy salted caramel hot chocolate, using some special treats you can pick up exclusively in our Foodhalls this year.
To make it, mix up our Collection salted caramel hot chocolate with some warm milk until smooth. Add a dash of our luxury salted caramel brownie cream liqueur (side note – this is also amazing on ice-cream or in a chocolate trifle!) and top with our thick salted caramel cream: now that's what I call Christmas indulgence.