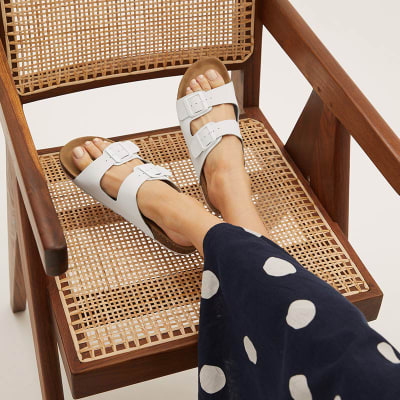 Your at-home pedicure kit
Perfectly painted toes are the ideal complement to this season's most-wanted sandals, so getting your feet looking good for the summer months and sandal weather is a must. A DIY pedicure is an easy spa treatment to do at home, and you'll also save cash by doing it yourself.
1.Firstly prep your nails by removing any existing nail varnish from your last pedicure. To make sure you get rid of every bit of polish, soak a cotton wool pad in nail polish remover and hold on each nail for 10 seconds before wiping off.
2. Soak your feet in warm water for several minutes to really soften the skin and cuticles. Choose a fine foot file to buff away hard skin (concentrate on the heels and balls of your feet and the edges of your toes). An exfoliating salt scrub gets between toes, too – use on dry heels and soles to maximise its scrubbing power, then rinse off.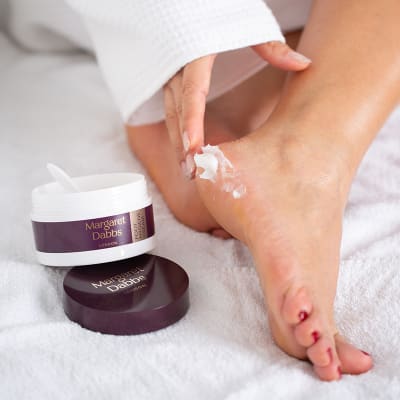 Trim and shape your toenails
3. Next, trim, and then file your nails to the desired length and shape. Pedicure tools are a quick way to help your feet and toenails look their best – glass nail files, unlike emery boards, can be used in any direction without weakening nail tips (plus, they last ages). Remember, polish stays on a smooth surface longer, so use the file flat against your nails to even out bumps or ridges. Give your cuticles some love by massaging in some cuticle oil. Remember to leave trimming cuticles to the experts as they can be quite delicate.
4. Skin on your feet is 12 times thicker than the rest of your body, so your regular moisturiser won't cut it. Massage your feet with deeply nourishing and rich foot treatments such as L'Occitane's Shea Butter Foot Cream, or for targeted help, try Margaret Dabbs' range of luxurious foot products.

Paint your toenails like a pro
5. Now the fun part: nail polish! Wipe away any moisturiser residue from nails, then apply a base coat (non-negotiable to prevent staining and it will also prolong the life of your polish). Use toe separators or failing that, tissue paper between your toes to make painting your nails easier. If your first coat of nail varnish looks patchy, don't stress – a second coat will even it out nicely. Noticed pesky bubbles in previous pedicures? Instead of shaking the bottle to mix it, tip it upside down and roll between palms.
6. If you have shaky hands, fix mistakes with this neat tip – after painting each toe, dip an angled make-up brush into nail polish remover and trace it around nails to clean up any polish that's spread onto skin.
7. Instead of tiptoeing around so you don't smudge your nail polish before it dries, use Leighton Denny's quick-drying Miracle Drops to seriously speed things up. To eke more mileage out of your home pedicure always finish with a top coat, keep Leighton Denny's Crystal Top Coat on standby – it glides on easily to leave a super-hard, protective shield.
Words: Dulcie Emerson and Sarah Lafarge