DADDY COOL
Whether you're a brand-new father or have been in the job for decades, these five men show you exactly how to do stylish dad dressing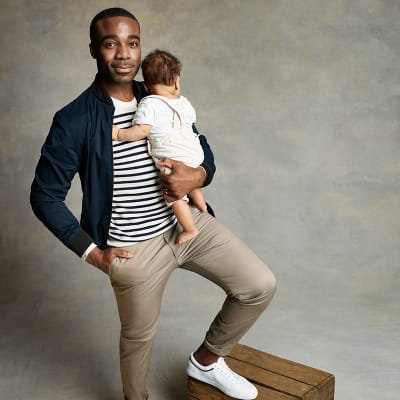 The new dad
TV presenter and Strictly Come Dancing winner Ore Oduba, 32, on how his life has changed since the arrival of baby Roman
"I love the idea that dads can dress cool. You know that mums look great and are incredible. And by wanting to support your wife, it's easy to neglect yourself. You put so much effort into trying to make your family thrive, but it's important that everyone feels good about themselves, because when you burn out, everyone could burn out. So, whether it's eating right, taking time to clear your mind or heading out for a run, you need to feel good about yourself. And if that's wearing lovely clothes that will do the trick too. I'm a huge fan of M&S. Bombers are a staple for me (they hide the love handles!) and I like trousers with stretch – great when you're running around.
"Celebrating my first Father's Day this year is going to be very special. The change in your life is seismic when you become a parent and, despite now looking at life through tired eyes, it's so much better."
Shop the look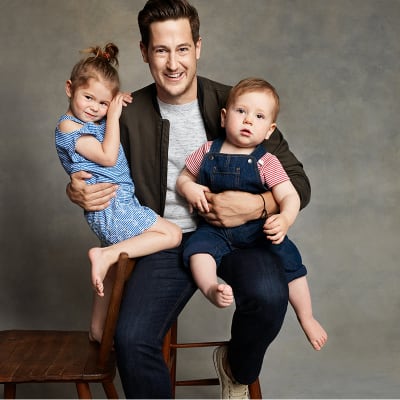 Dad to toddlers
Blogger Gregory Stanton, AKA @london_dad, on his changing style since becoming a father to four-year-old Etta and two-year-old Ezra
Gregory: "Three months after Etta was born I quit my job, because it was rubbish never seeing her. So instead of wearing a work 'uniform' every day, I could be more relaxed. I've had about 10 different looks since then, trying to figure out my own style! I think I've got there now. All the expensive fabrics have gone out of the window – with two little ones I need hard-wearing clothes that I can wash and tumble-dry. I love classic, neutral pieces – like this jumper – for simple, easy dressing.
"Last Father's Day Etta wrote 'Daddy' on the card for the first time. That was super-cool, a real tear-jerker. So I'm looking forward to what this year will bring."
Etta: "I'm going to buy Daddy toys for Father's Day. Frozen and Barbie. And play hide and seek. My favourite place to hide is under the trees in the park."

The retired dad
Gary Wright, father to M&S menswear editor Ian Wright, on finding his post-retirement style groove
Gary: "Since retiring, I don't have to wear a suit every day but it's still important for me to feel good. I like clothes that suit my age but aren't dowdy – even in retirement you still want to be noticed. I've also had a few hand-me-ups from Ian – he's even got me into slim jeans for the first time in nearly 50 years. I've been a fan of M&S quality and breadth of choice all my life – after all, I've got to spend my pension wisely!"
Ian: "Dad met Mum in the pub when his trendy spray-on trousers split asunder while being hoisted upside down by his mates to 'dance' on the ceiling. Mum happened to have a needle and thread to save his blushes. Fast forward a few decades and, save for a few dodgy pairs of trainers he keeps by the back door for 'gardening', he still scrubs up very well – I'm glad he's not given up on looking good!"
Dad to tweens
Van Helsing actor Will Kemp on dad dressing with tweens Thalie, 12, and Indigo, 9, in the house
Will: "I'm more aware of my style now the children are older. When they were younger it was function over fashion – every jumper I owned had a milky puke stain on the shoulder. Apart from the morning school run, where it's just throw on whatever, I've got a simple style: T-shirts, jackets and a retro plimsoll. I like adapting to the seasons, so this white tee and cool blue jacket is great because it feels really fresh and summery. I love seeing the children developing their own style now too – they're pretty cool dressers – and trust me, they always have plenty to say about what I wear!"
Indigo: "Daddy looks cool in this, but it's not as cool as my outfit."
Thalie: "Daddy's style is quite good – apart from when he wears his Papa Smurf T-shirt and pyjama bottoms, that's funny! Happy Father's Day Daddy, we love you."

'The Unlikely Dad'
Father's Day is a big family affair in Instagrammer @unlikelydad Tom's house, which he shares with husband Danny and their four-year-old son, Kai
"Danny and I concentrate more on celebrating our dads on Father's Day – we don't really think of it as our day too. I met Danny when I was 17, got married at 26 and children weren't on the agenda for a long time. Then, at 30, it felt like my body clock just pinged and I wanted to be a dad. Adoption isn't easy, but we had a good experience; it was nine months from first meeting to bringing Kai home. It sounds cheesy but it's better than I ever expected.
"My style has definitely changed. If you're climbing around soft play you have to be chill – the super-skinny jeans are gone and the sweats are in. I have to remind myself to make an effort – which is why this outfit is so good. Comfortable, but still cool."
Interviewers: Claire Askew and Ian Wright / Photographer: David Gubert / Art Director: Nicola Rose / Stylists: Chloe Forde and Louise Carmel Hall
Hair stylist: Ben Cooke / Make-up artist: Kim Jacob / Groomer: Hester Van Overbeek