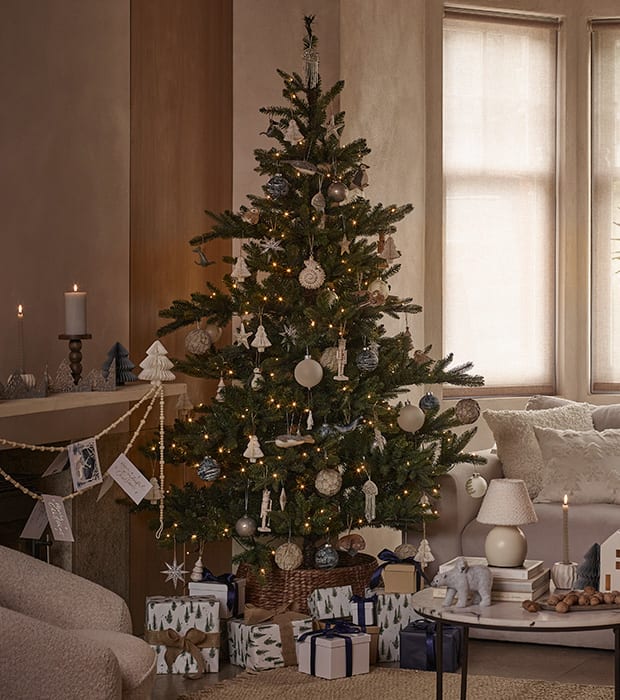 HOW TO DECORATE YOUR CHRISTMAS TREE
Decorate like a professional with our Christmas tree ideas and tips for every style, from chic neutral palettes to fun novelty themes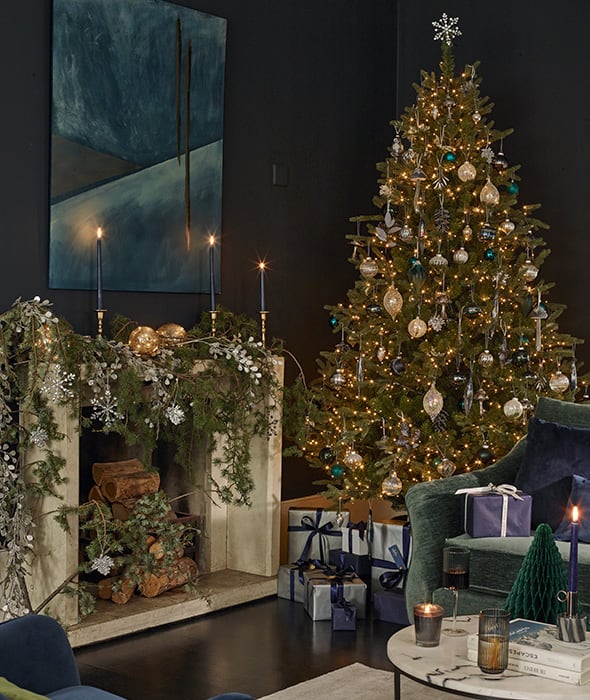 Enter an enchanted forest
Choosing a theme before you begin decorating is a clever way to create a professional-looking Christmas tree. Why not try an opulent enchanted forest theme? Illuminate your tree with warm white fairy lights, adding modern metallics and deep blue, green and grey accents for a contemporary look with a touch of luxe. Playing with different textures is a great way to elevate your theme – try mixing glitter, glass and matte baubles. Forest-themed decorations, such as leaves and toadstools, add a whimsical finishing touch.
Top tip: Start by hanging the lights, whether you go for the more traditional horizontal round-and-around approach or the expert-approved up-and-down method popularised on TikTok.
Create a peaceful scheme
In a palette of calming, earthy neutrals, our Cosy Retreat collection is inspired by the remote Icelandic scenery. Want to get the look on your Christmas tree? Choose tactile decorations inspired by nature. Add some of our coastal-inspired baubles, such as seals, penguins and jellyfish, for a unique yet sophisticated festive theme that's sure to have your guests taking notes.
Top tip: When sticking to a neutral colour palette on your tree, take the opportunity to play around with texture. Try incorporating decorations made from rustic ceramics, felt and linen.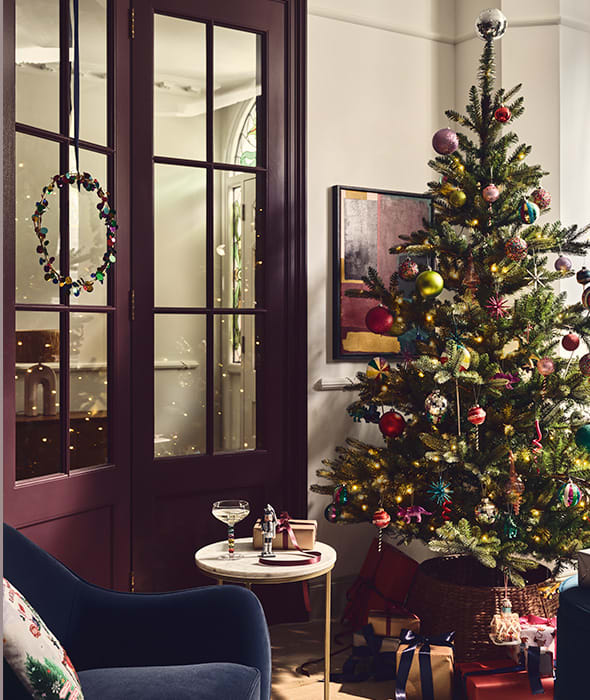 Get set to disco
Christmas is all about fun, and decorating your tree with bright hues and plenty of sparkle is a sure-fire way to get the party started. Pack your tree with personality by combining a vibrant, disco-themed colour palette – we're loving pinks, greens and purples – with quirky details. Dazzling glitter decorations add another layer of interest. Finish your tree with some extra-special pieces – you'll find fun felt characters including a dancing Santa and a hula-hooping hamster in our Christmas decorations range this year – to give your theme a final flourish. Don't stop at the tree – discover festive inspiration for the whole house, too.
Top tip: A tree skirt hides the legs of an artificial tree or the trunk of a real one – choose either a skirt that's a continuation of your theme or that blends into the background.
Keep it classic
Love a traditional Christmas decorating theme? Our Classic Heritage collection features mid-century-influenced baubles, vintage-style appliqués and lots of tactile velvet finishes. Nothing says Christmas quite like red and gold, and we've given these classic colours a contemporary update with rich tones of burgundy and antique brass. Start by wrapping your tree in warm fairy lights to create a cosy feel, then combine classic ornaments with opulent, regal touches like our crown decoration for a touch of sparkle.
Top tip: Using an artificial Christmas tree? Before you get out the decorations, it's worth spending some time fluffing the branches, spreading them out one by one to make the tree look fuller.