DECORATING YOUR CHRISTMAS TREE
Create a festive focal point with our Christmas tree ideas and tips for every style, from traditional looks to fun themes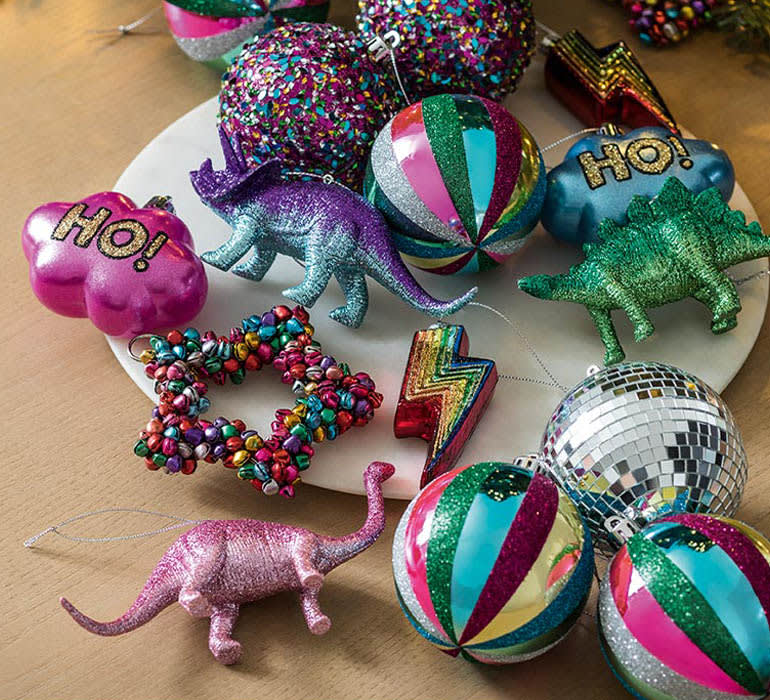 Multicoloured novelty baubles
For a modern look that's packed with personality, combine a bold, vibrant palette with a host of quirky details. Start by loading a traditional tree with brightly coloured striped, glitter and star-shaped ornaments. Max the fun with glittery dinosaurs, rainbow lightning bolts and colourful ho, ho, ho cloud-shaped decorations. Top with a neon star for a look that kids (and big kids) will love. Don't stop at the tree – discover festive inspiration for the whole house and easy Christmas table ideas.
Top tip: Before you start decorating, it's worth spending some time fluffing your artificial Christmas tree, spreading the branches out one by one to make the tree look fuller.
Silver and white Christmas decorations
There's more than one way to do a sparkly tree, as this relaxed metallic theme proves. Team vintage-look silver baubles in a variety of shapes and finishes with sparkling stars, resin reindeer and ceramic Christmas trees and give a showstopping snow globe bauble pride of place. Top with a light-up star and finish with a rustic wicker tree skirt for a truly magical tree.
Top tip: Decide on a Christmas tree that ties the decorations together. From a modern multicoloured theme to a shimmering winter wonderland or a nature-inspired woodland theme, the options are endless.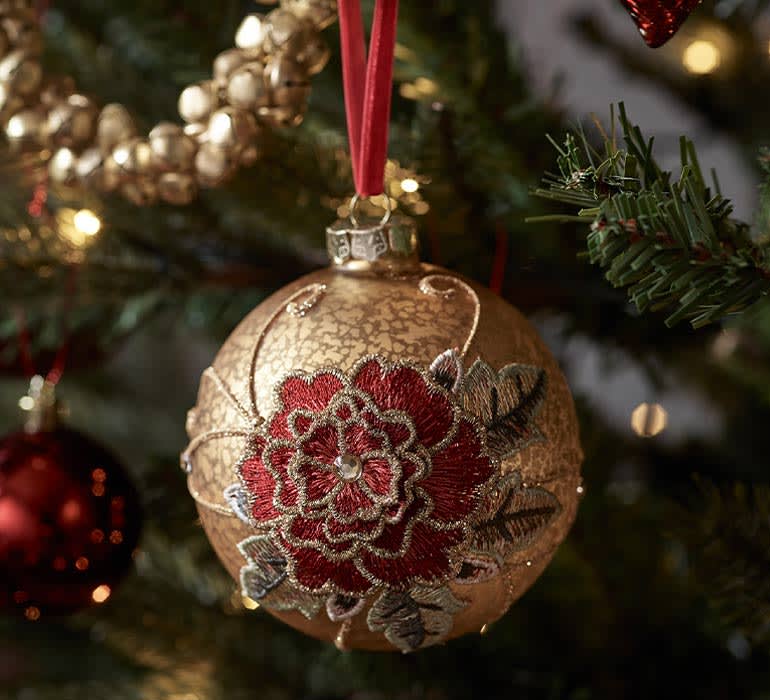 Classic red and gold Christmas tree
Give a timeless red Christmas tree theme a touch of luxe with a generous sprinkling of gold. Start with a set of shatterproof baubles in jewel-like red tones, then add nostalgic red Nutcracker figures, traditional Father Christmas ornaments, opulent red birds, golden bell wreaths and future-heirloom gold and red floral ornaments. Tie it together with a studded red velvet bow topper for an unexpected twist.
Top tip: Start by hanging the lights, whether you go for the more traditional horizontal round and around approach or the expert-approved up and down method popularised on TikTok last year.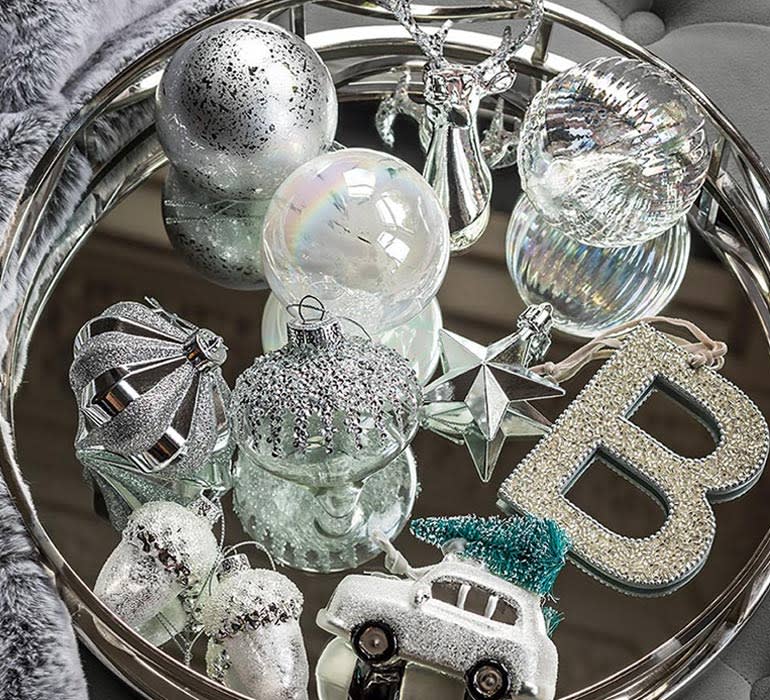 Luxe silver tree decorations
A snow-dusted tree is the perfect backdrop for white, silver and clear baubles and Narnia-esque snowflakes, hanging icicles and silver stags. Add some more unusual ornaments, such as a vintage car topped with a tiny tree or a regal swan complete with a silver crown. Personalise with applique letters for each family member. Finish with a contemporary light-up star and a faux fur tree skirt.
Top tip: Not only does a tree skirt hide the legs of an artificial tree or the trunk of a real one, but it can also be part of the theme like this faux fur tree skirt that fits with the overall winter wonderland look.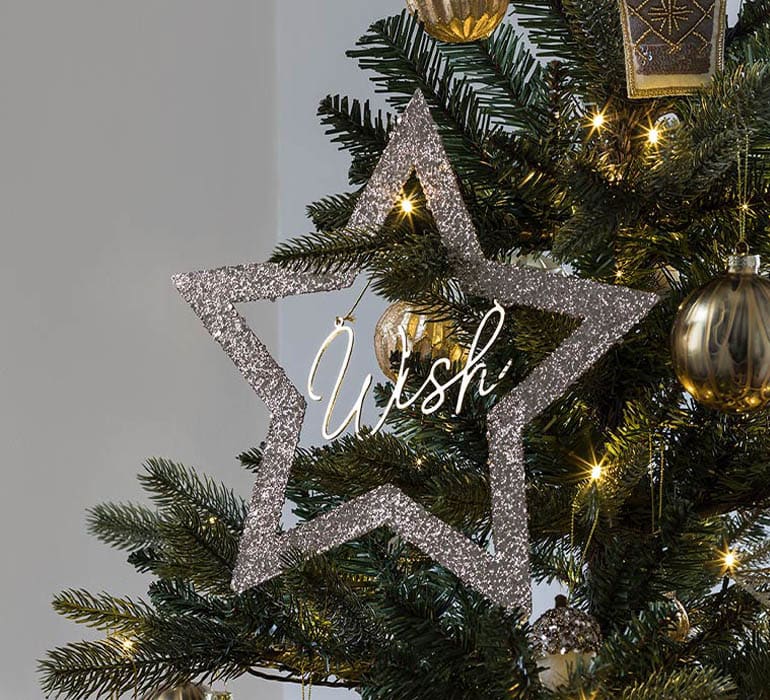 Glam gold tree decorations
If you can't amp up the glamour at Christmas, when can you? Create a gorgeous golden theme by combining metallic antique-style baubles with fabulous cocktail-shaped ornaments and festive words in gold script. Add personality with quirky nature-inspired decorations in a similar palette such as sparkling hedgehogs, glimmering acorns, cloche-covered mushrooms and bee applique decorations.
Top tip: Choose a tree topper that fits your Christmas tree theme and size of your tree, and don't forget to take the ceiling height into account.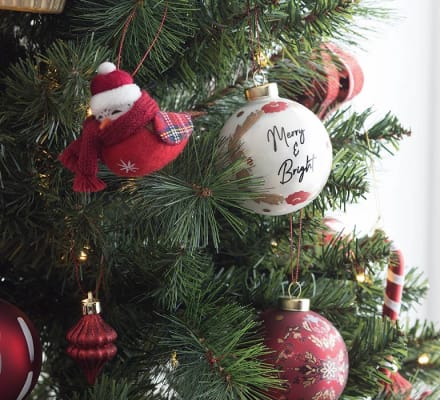 Modern red and white theme
Deck the tree with novelty decorations in a classic red and white palette. From felt robins and candy canes to an M&S Christmas sandwich and a knitted sweater, mitten and bobble hat set, playful decorations inject humour into an otherwise traditional Christmas tree theme. Mix in a selection of classic red decorations and top the tree with a jolly Santa to keep the overall theme festive.
Top tip: Start a tradition of having the kids choose a new bauble each year, that way, every time you get the decorations out, you'll be reminded of Christmases past.