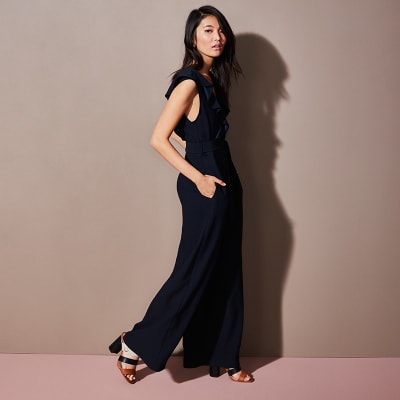 THE JUMPSUIT
Combining the gorgeous femininity of a maxi dress with the sharp style of trousers, it's no wonder jumpsuits have become a fashion staple, and this one is perfect for an elegant wedding look. A ruffled neckline adds eye-catching detail, while the nipped-in waist – coupled with wide-leg trousers – provides a flattering silhouette. Better still, the classic navy colour means you can transform this jumpsuit through numerous wears, experimenting with different bags, shoes and jewellery to refresh the look.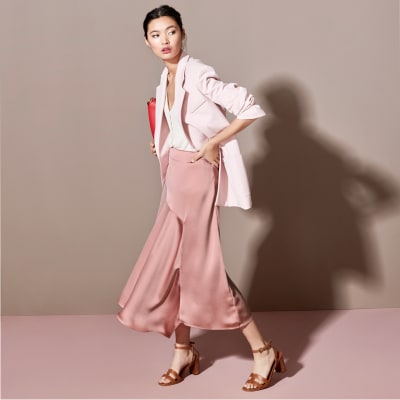 THE SATIN SKIRT
OK, so you're not into dresses – but can we tempt you with a gorgeous swishy skirt? Worn with a plain vest and oversized blazer, this look is the perfect blend of mannish tailoring and fabulous frippery. Pink is an occasionwear favourite this season (just look at the red-carpet dresses for evidence), and this is the best way to wear it without having any risk of looking like a bridesmaid. Très chic.

THE SHORTS SUIT
If a full-on trouser suit feels too formal, go for its summer companion. A favourite of Meghan Markle in her pre-duchess days, this shorts suit combines all the elegance of traditional tailoring with the playfulness of laidback summer style, resulting in a cute but confident look. Show off your legs by teaming with a pair of this season's barely-there heels or, for a more relaxed vibe, smart flats.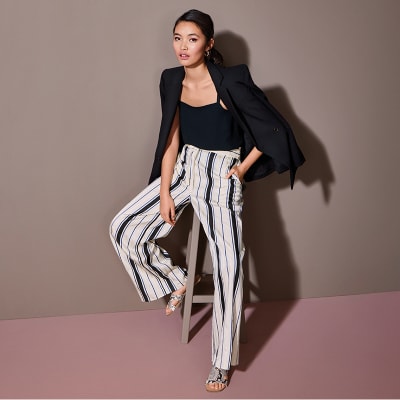 THE ON-TREND TROUSERS
We all want to be the woman who's cool enough to turn up to a wedding in trousers. And, while you're on a rule-breaking roll, why not prove you can wear black and white to a wedding – as long as they're not flying solo. A delicate cami top with wide-leg trousers is a cool, practical option, making you stand out for all the right reasons.
Editor: Sophie Hines Styling: Karen Preston Hair: Dayaruci Make-up: Emma Kotch
Nails: Joanna Newbold Model: Kat Wu at Premier