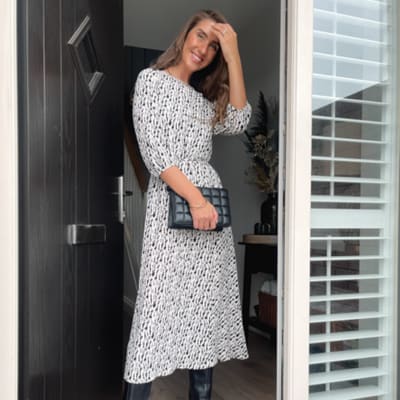 St Patrick's Day & me
"St Patrick's Day has always been about spending time with family and friends. Whether that means having people over to watch the parade on TV or going out for a big dinner and drinks with friends, it's always been a special day for catching up and really celebrating.
"I will always remember my childhood St Patrick's Days in County Donegal watching the parade with my parents, so it will feel good to be back again this year with my husband Jamie. Usually, we spend the day at home in Dublin, particularly in the last few years, so we're really looking forward to a change of scenery this year."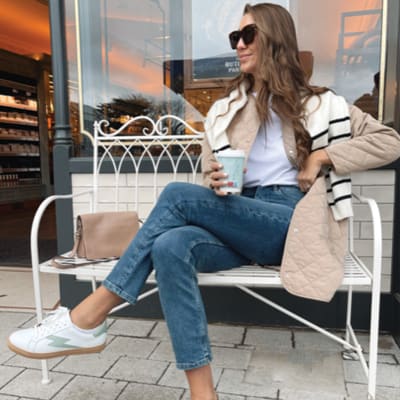 An outfit for every celebration
"This year, for the parade, I'll be comfy and casual during the day, wrapping up in a puffer coat for long walks on the beach. The Ivy skinny jeans are my go-to denim for everyday dressing – they fit so well and are amazing value, too. I have them in nearly every colour.
"In the evening, we have a family dinner planned, so I'll get more dressed up. I can aways count on M&S to have the perfect dress. There are so many great styles to suit everyone and most come in longer lengths, which is a bonus as I'm tall!"

Keep things comfortable
"M&S always have a great selection of skirts and this dotty number is really versatile. Wear it with tights now, and then in spring/summer with a tee and denim jacket.
"Comfort always comes first for me. If it's cold outside – whether at the parade or at the beach – I'll be wrapping up in plenty of layers. For the evening, I'll be wearing high heels and they must be comfortable. I love M&S heels and boots as they're built with Insolia technology to support your feet throughout the day. I have lots of pairs, collected over the years, that I bring out time and time again."
Shop cosy knitwear
Shop women's high heels
Discover Insolia technology
Words: Ellie Spicer Images: Clémentine MacNeice