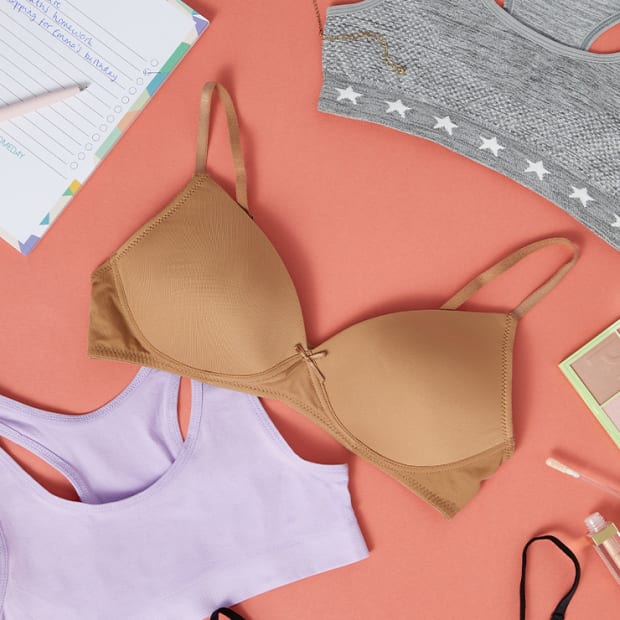 HOW TO CHOOSE
THE BEST FIRST BRA
Head of M&S lingerie design Soozie Jenkinson shares her top tips for buying a child's first bra, from finding the perfect fit to avoiding any embarrassment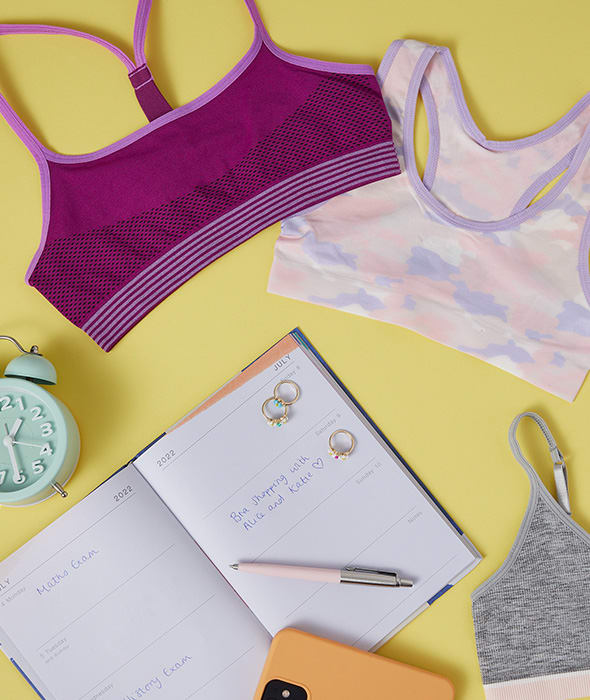 When to buy a first bra
Children grow at different rates and develop in their own unique way, so knowing when to buy their first bra can be tricky. Some girls may require support from age eight, whereas others may need to go bra shopping in their late teens. For kids, there can be a lot of feelings associated with having (or not having) a bra when their friends are already wearing one, so the first thing to do is listen to your child and keep an ear out for any mentions of bras, crop tops or "growing up". When young people go through puberty, their whole chest area becomes very sensitive, so your child may also experience some chest discomfort or become secretive about getting undressed in front of you. They might not always want to bring it up with you directly, so broach the topic gently and let them lead the way – it's a big milestone, after all!
How to measure for a first bra
One way to ensure your child wears the best first bra for them is to book their first bra fitting in your local store. Our experts are on hand to make the experience a positive one, taking any embarrassment out of the big moment and ensuring everyone leaves the store feeling good. Each appointment lasts 15-30 minutes and your child can keep their top on throughout the session. For kids who are particularly shy or uncomfortable, try our video call bra-fit service – you can video call us directly or book an appointment in advance. Alternatively, have a go at doing the measuring yourself, following our handy bra-size calculator.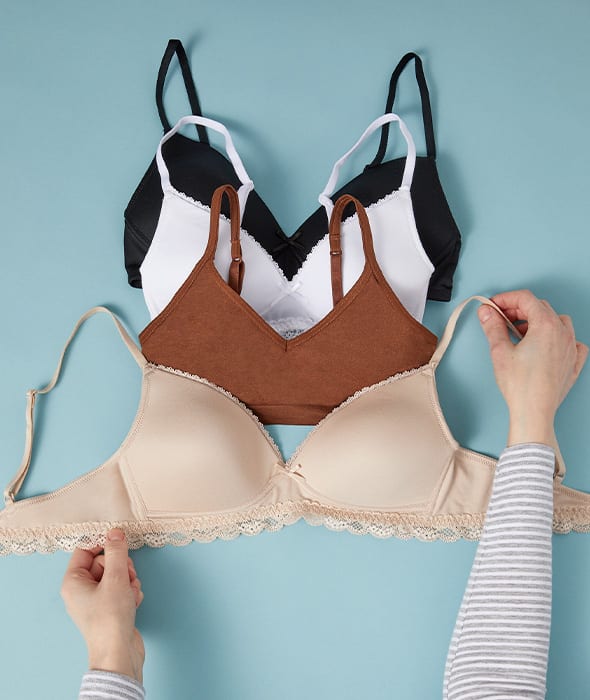 What first bra should I buy?
Our entire range of first bras is designed to prevent any damage to developing tissue, with microfibre elastic and threads that feel super soft against skin. As with adults, kids have busy social schedules and having the right bra for every occasion will make your child feel confident and supported throughout the day. For school, skin-toned bras are less visible beneath white shirts and polos, while a mixed-colour multi-pack will give them options for all their favourite outfits. For weekends or holidays, let them experiment with sporty crop tops or fun prints and patterns.
Does my child need a sports bra?
In short, if your child is wearing a bra, they will need a sports bra, too. Did you know that breasts can bounce up to 15cm in any direction while working out? Breast tissue is delicate, particularly in growing teens, so a first sports bra is a must for PE and after-school clubs. We have plenty of fun first sports bras in our collection – from vibrant citrus yellow and camo print to plain white and grey marl. For older teens with bigger busts, check out our great range of Goodmove sports bras.