DREAM DESTINATIONS
TOP TRAVEL HOTSPOTS FOR 2020
Take your pick from these inspiring locations – whether your focus is food, family time, culture or adventure, there's something for everyone
The family-friendly trip: Corsica
Why now?
Lying to the south of France, and west of Italy, this beautiful French island has flown under the radar for decades, but its time to shine has arrived, thanks to new direct flights from the UK. The birthplace of Napoleon Bonaparte, Corsica is a compelling mix of Mediterranean glitz and striking natural landscapes and offers everything from hiking and camping to fine dining. The coastal towns of Ajaccio, Bonifacio and Calvi blend buzzy harbours with golden beaches, while inland, the island's mountainous, craggy topography begs to be explored. Don't miss the dramatic Calanques de Piana, where towering, red-rock cliffs fall sharply into the sea, or the peaceful Scandola Nature Reserve, accessible only by boat. You'll spot seals and sea birds, and maybe even dolphins.
What to pack
Take a pretty bikini or swimsuit perfect for sunbathing, with a beach towel, sun hat and a tote to carry everything you need. Sturdy sandals or trainers will tackle any rough terrain between beaches.
The foodie extravaganza: Bologna
Why now?
In a country renowned for its excellent cuisine, Bologna is in Italy's foodie heartland, surrounded by producers of Parma ham, Parmesan cheese and balsamic vinegar. No wonder it's nicknamed La Grossa, or 'the Fat One'. In 2017 FICO Eataly World (affectionately dubbed 'Disneyland for food') opened a vast gastro-park showcasing Italian produce and the traditional methods behind it. After a visit, head to the Quadrilatero, the city's narrow network of medieval streets where the old market used to be. Today, it's still lined with speciality food stalls, selling everything from handmade tortellini at Tamburini to panettone at the Atti bakery. To work off some of the calories, scale the 498 steps to the top of one of Bologna's most famous sights, Asinelli Tower, which stands next to its sibling on Porta Ravegnana square.
What to pack
People are more casually dressed in this university town than in big cities like Rome or Milan. Team a casual dress with sandals, or a light T-shirt with a linen skirt or trousers, to take you through to aperitivo hour.
The exotic adventure: Chile
Why now?
This vast, diverse country offers everything from beaches and mountain ranges to deserts and glaciers. Nature lover? Head to Patagonia's Torres del Paine national park – home to lakes, icebergs, penguins and pumas (spot them as you trek or kayak along the craggy terrain). Fulfil your Wild West fantasies in the Atacama Desert, the driest place on earth. With red rock and stone, it's a striking, alien landscape (where Mars Rovers are tested before being shot into space) – walking the region's white salt flats feels like being on the moon. Don't miss the colonial charm of Santiago, where you can lose yourself in arty barrios such as Bellas Artes and Bellavista, and ride the funicular to the top of San Cristobal Hill for the best views of the city.
What to pack
Lightweight jackets and trousers will work best if you're hiking or taking part in other activities. Don't forget a hat or sunscreen, as the sun can be very strong here, even in glacier territory!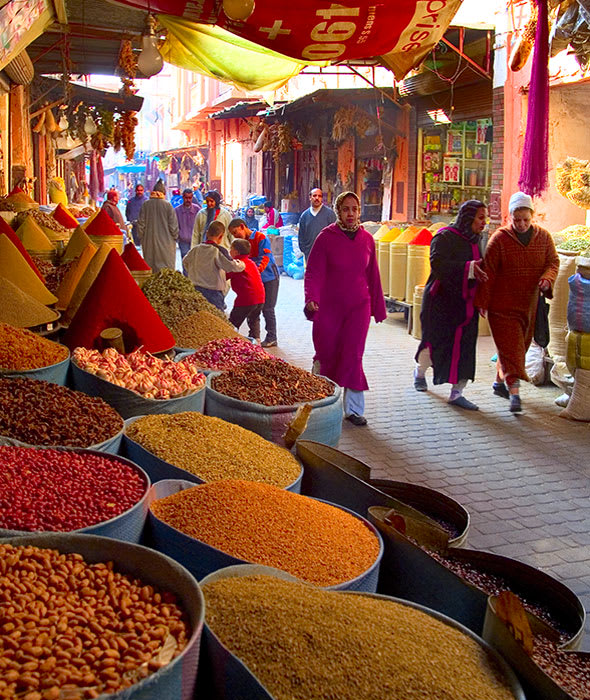 The cultural city break: Marrakech
Why now?
Since the Seventies, artists, models and celebrities – from Edith Piaf to the Rolling Stones – have flocked to Marrakech to soak up its desert sunshine, maze-like alleys, markets and handsome riad accommodation. Its status as a stylish destination was sealed when French designer Yves Saint Laurent bought a house, Villa Majorelle, and transformed its gardens, painting everything in striking shades of blue and yellow. The city is now home to a museum dedicated to his life and work opened next door, showcasing dresses, accessories, photography and more. Be inspired to barter for bargains in the city's noisy, chaotic, atmospheric souk – from leather slippers to exotic spices – before relaxing with a cocktail at the Churchill bar in the historic and elegant La Mamounia hotel.
What to pack
Channel your inner free spirit in a light, floaty kaftan that's perfect for dealing with Morocco's fierce heat, or team a linen shirt with cropped trousers. Flat strappy sandals will make walking around the narrow streets a breeze – at night, some statement earrings add instant dazzle.