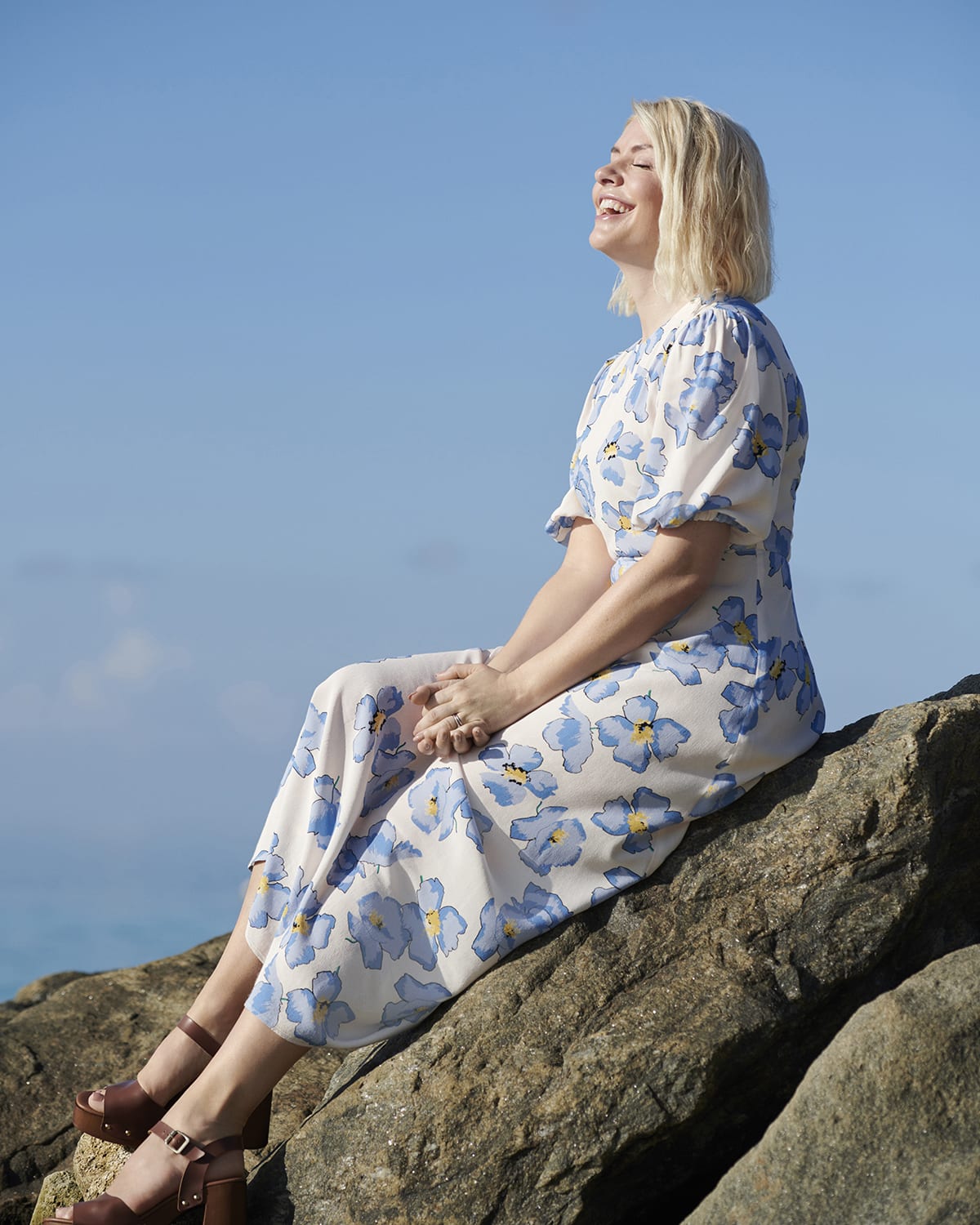 HOW TO STYLE THE DRESS OF THE SUMMER
We're all familiar with the staple hemlines of midi, maxi and mini dresses. But there's one versatile design we can't get enough of at M&S this season: the midaxi dress. Find out what's behind its rise and see our expert styling tips here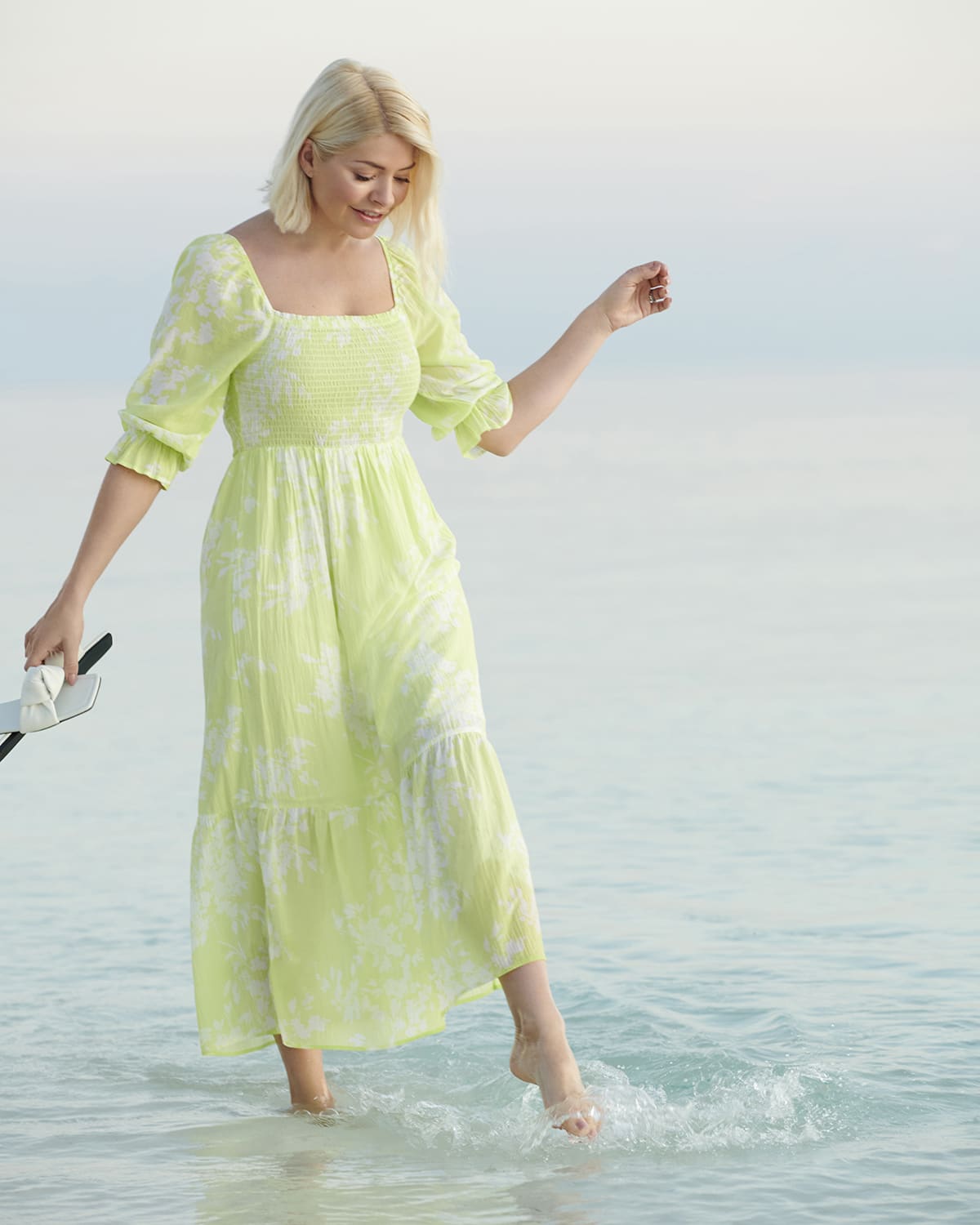 What defines a midaxi dress?
Creative stylist for M&S womenswear Ella Shippey offers her expert insight into the background of this style of the season, pictured here on Holly Willoughby as part of her M&S summer edit.
"Quite simply put, the midaxi dress is defined by its hemline, which sits comfortably between a maxi and a midi dress. It ends just above the ankle, slightly lower than mid-calf, offering both function and fun."
"More universally flattering than a midi and easier to wear than a maxi, it hits the perfect note between feminine and cool. In its many incarnations – form-fitting and slinky, oversized and printed, floral, graphic or plain – there's a style to suit everyone."
How was the midaxi dress born?
The midaxi dress takes its inspiration from maxi and midi dresses. The maxi dress has been a key fashion trend and womenswear staple for centuries. Floor-length gowns were the go-to option until the Twenties, when styles began to change and hemlines rose – introducing the midi dress. The midaxi draws on each of these styles but only recently became a key trend.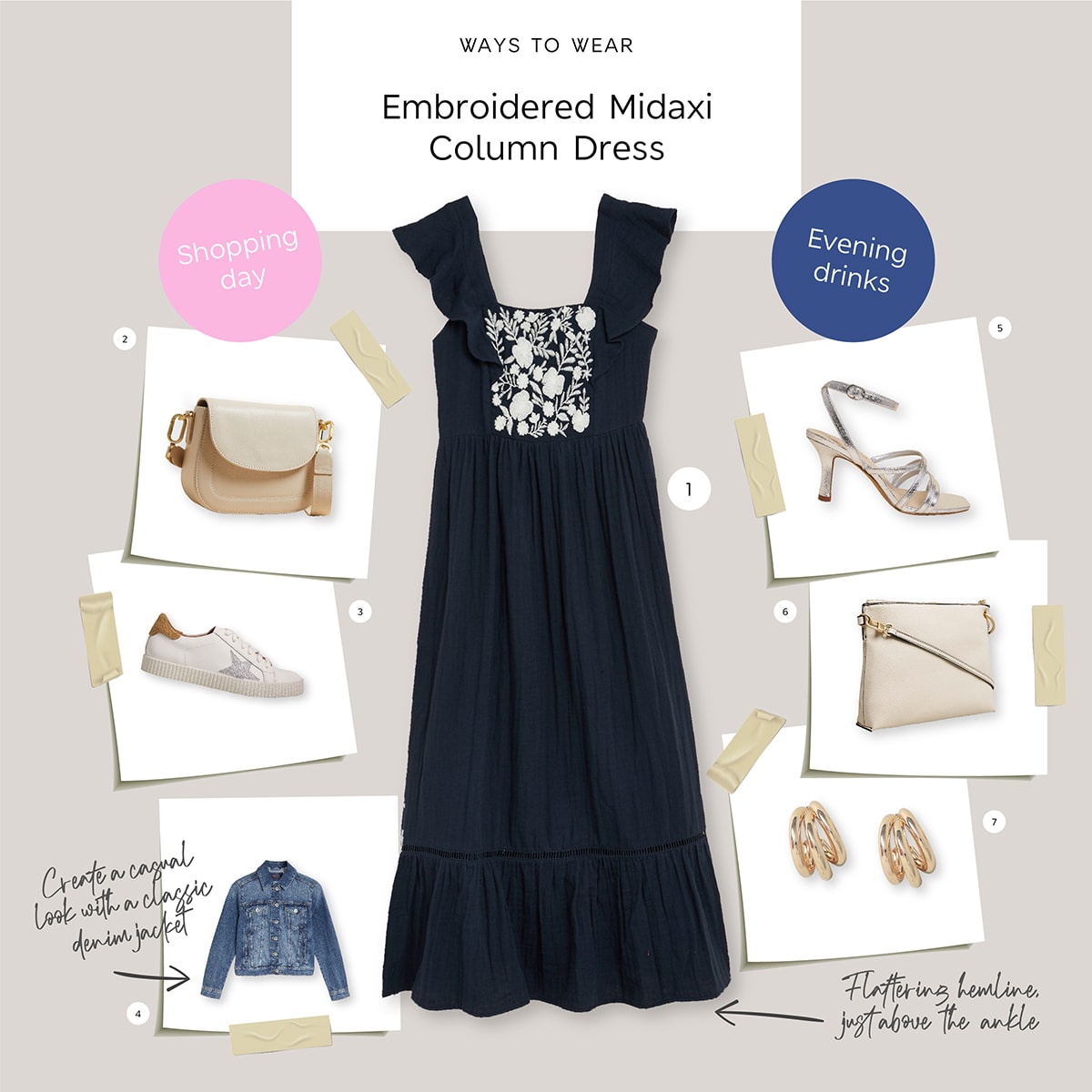 Take your midaxi from day to night
Who doesn't love a dress that can be worn during the day and long into the night? Whether the sun is shining or the stars are out, pairing your midaxi dress with the right accessories will see you serving looks from am to pm.
Ella advises:  "Great for any occasion, our cotton embroidered midaxi column dress blends feminine classic and contemporary design – with a flattering hemline, delicate frilled sleeveless shoulders and an elegant square neckline."
For a more casual day look, we recommend accessorising with a classic denim jacket and lace-up leather shoes. Then, when you're ready to switch to evening attire, style it with a cross-body bag to lift your outfit from day to night. Jewel up with hoop earrings to inject a little sophistication into your look.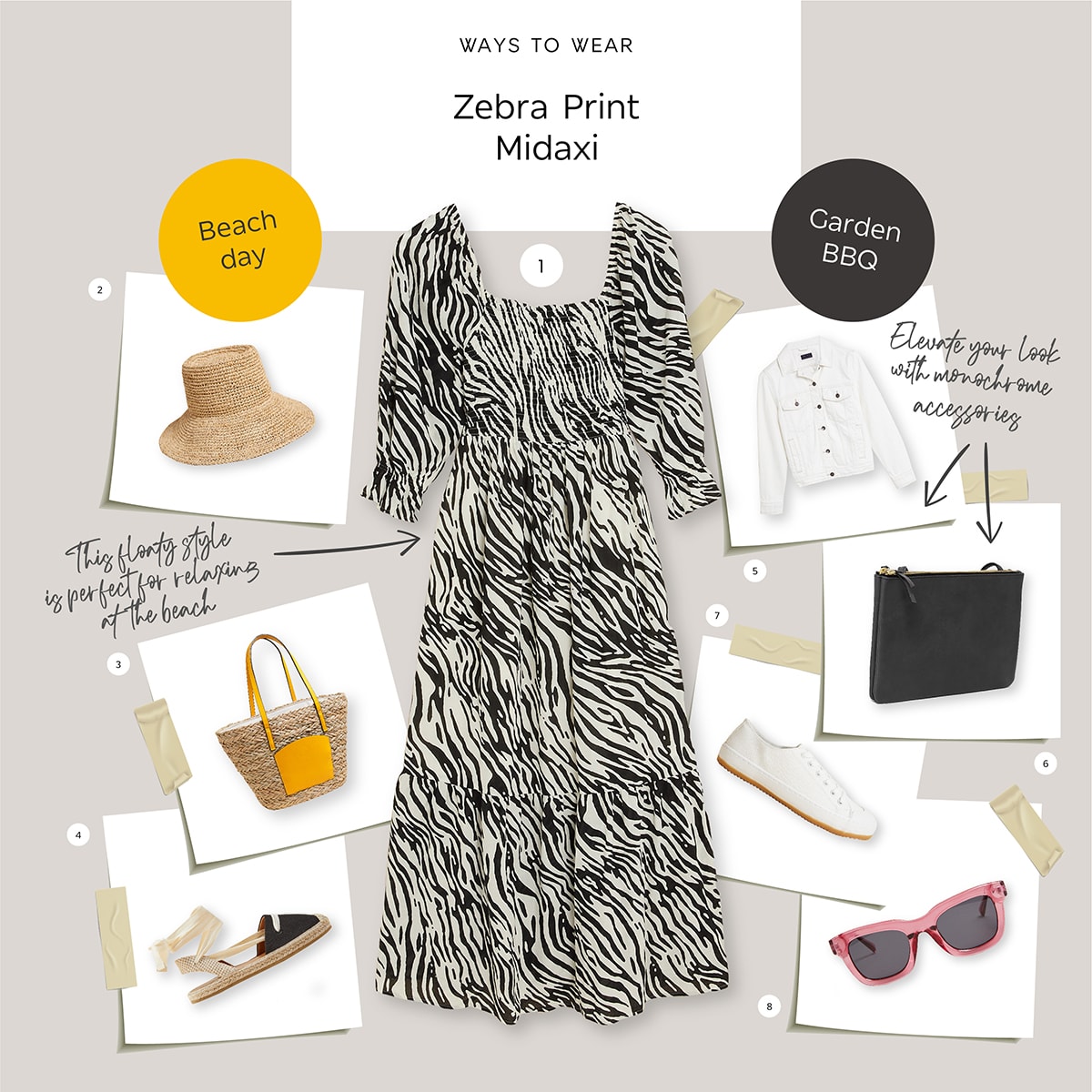 A floaty yet flattering fit
During the summer months, we welcome earlier mornings and longer days, meaning only one thing – more summer activities and lightweight looks! From beach days to barbecues, a midaxi dress is a style must this season.
Ella says: "If you're heading to the beach or strolling the quaint streets of a local town, you'll want a floaty option for maximum comfort. Bright and breezy florals or cute statement prints are huge this summer. Team your choice with chunky sandals or comfy sliders to keep cool." 
The zebra-print square-neck midaxi, with its statement print and sophisticated square neck, is a flattering fit that's both stylish and breathable. If you're hitting the beach, why not pair your midaxi with a straw tote bag and straw hat combo? Finish off this beachy look with a pair of espadrilles. 
For a chic shopping day or back garden barbeque, we suggest elevating your midaxi with some fresh white trainers and monochrome accessories such as a white denim jacket and a black leather double-zip cross-body bag. For a pop of colour, complete your ensemble with some pink square preppy sunglasses.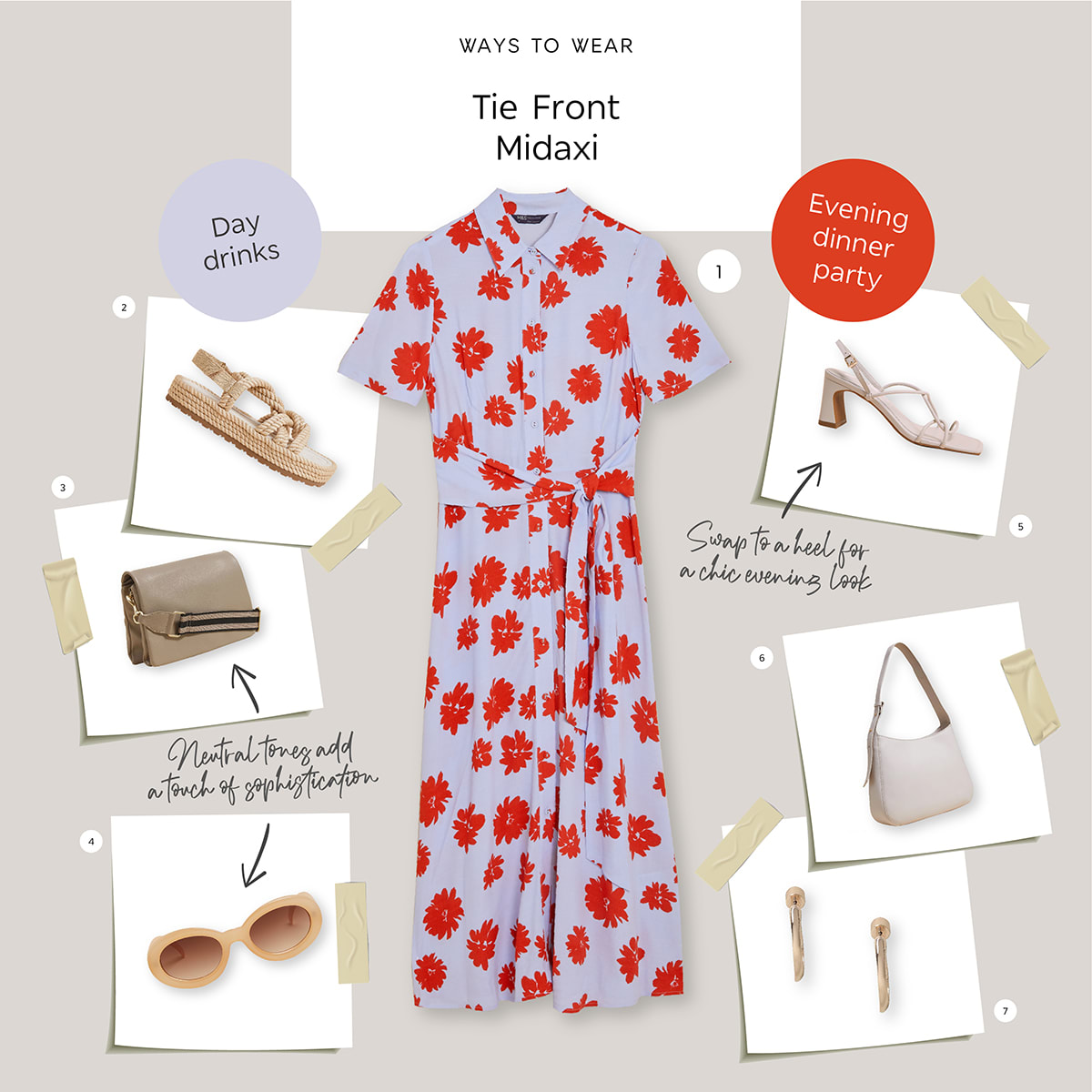 Shirt dress sophistication
Whether you're into your casual wear or love dressing up on the daily, there's a midaxi dress to suit all tastes. Keen to embrace the best of both worlds this summer? If you're jetting off on a city break or planning events closer to home with your loved ones, it's time to complete your wardrobe with easy-to-wear looks that are both practical and polished. 
Ella explains: "The dress and chunky sandals combination isn't going anywhere, and a midaxi dress is an ideal way to embrace this casual, elegant style in the summer. Opt for a bright and bold shirt dress that's beautifully versatile for all occasions." 
A floral tie-front midaxi shirt dress is the perfect sophisticated shirt-style dress – one that will add a pop of colour to both your day and evening events. For your next summer party, add some neutral tones with a pair of woven strappy sandals and a faux-leather messenger bag. To tie the look together, add a little drama with some chic oval sunglasses.
For an evening ensemble, swap your day shoes for some sophisticated strappy ivory sandals and add a cream bag. For a final bit of finesse, accessorise with some glamorous twisted hoop earrings. 
For more summer outfit inspiration, browse our full midaxi dress range.  
Why is the midaxi so popular?
This firm favourite is a popular go-to for easy, everyday attire – but why has this trend seen a burst in popularity in recent years?
Ella explains: "The midaxi dress is the style we didn't know we needed and now can't live without. It's a trend that's been simmering away on the catwalks for a few years but has really hit the big time this summer."
"Although it has technically been around for about five years, recent months have seen a rise in the midaxi as a trend in its own right. This is likely due to its versatility and the fact it's such an easy style to wear. The feminine hem looks chic with a chunky sandal, relaxed and delicate with a simple strappy heel, and equally cool and effortless with a trainer."
We looked into our sales data to understand more about how the midaxi dress has soared in searches over recent months. Since May 2021, the midaxi dress has seen a 600% increase in sales and a 1.7k monthly search rate online.
With more than 20,000 searches for 'midaxi dress' over the past 12 months, we're proud to stock more than 100 different designs and be part of this fashion moment.
Shop all dresses
Why have we seen a rise in the past few years?
What is it about the midaxi dress that's caused this spike in sales and searches?
Ella says, "The popularity of the midaxi is largely due to its versatility and durability for all occasions and seasons. As shoppers are becoming more environmentally conscious and interested in sustainable options, we're seeing that they're looking for investment pieces rather than quick, fleeting fashion."
"The midaxi fits perfectly in this category, with the timeless trend set to last for years to come due to its easy-to-wear style. At a time when we all need our clothes to work doubly hard for us, the midaxi can take us from work to wedding, BBQ to baby shower, office to out of office, and midday meeting to midnight dancing."