The plant-powered shelfie
To add freshness and colour to my home ready for summer, I'll be adding a selection of my favourite M&S plants to the shelves in my living room alongside books, art and framed photos. This houseplant trio is perfect, as the different sized pots create a striking look when grouped together and the plants are low maintenance. Simply position in a slightly shaded spot that avoids direct sunlight and draughts, and check the soil of each pot every three days or so. Add a little water when needed to keep the compost moist and your plants blooming. Our bottle foliage garden will also sit pretty on a shelf or sideboard. The contemporary glass vase is filled with a variety of green foliage, such as pilea and fern, and taps into the trend for terrariums. To keep it looking fresh, ensure the compost is kept moist but never waterlogged, and remove any dry or damaged leaves. To keep your plants happy and healthy, try misting them with water and feeding them with plant food during the warmer months.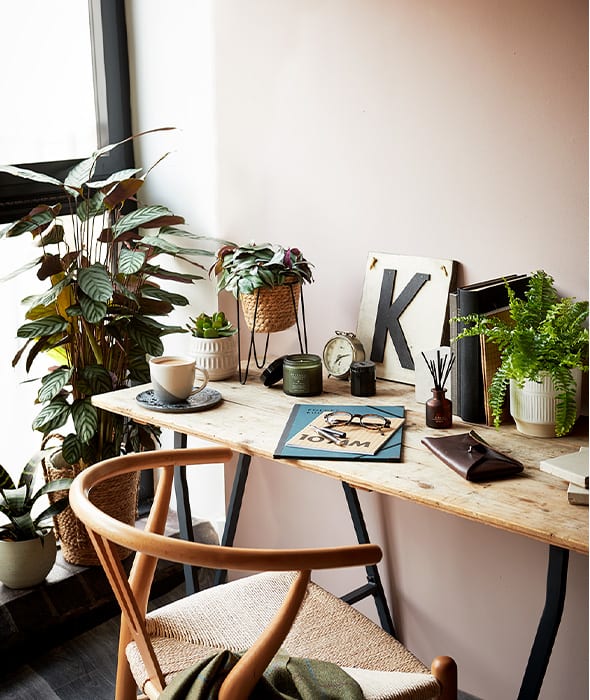 The creativity booster
This month, I'm upgrading my working-from-home set-up by surrounding myself with lots of lovely green plants. Not only do they look beautiful, but indoor plants are also proven to help improve mood, reduce stress and increase productivity and creativity, so it's a win-win! Adding greenery can also help improve the air quality in your home. Try choosing plants of varying sizes and adding to different levels. Choose our tradescantia, which comes in a natural straw weave basket with a stand to add height. Or make a statement with our large calathea planter that will be the focal point of any room. This large houseplant is best placed in a partly shady spot away from direct sunlight and draughts. Check the compost every few days and never allow the soil to completely dry out. Is your houseplant outgrowing its pot? To repot, lightly water it the day before to soften the soil, remove the plant, prune the roots, place in a pot that is roughly two inches larger in diameter, add compost, water and then watch your plant flourish! Or, if you're looking for something a bit more low maintenance, our range of artificial plants will brighten up any space with absolutely no care required.