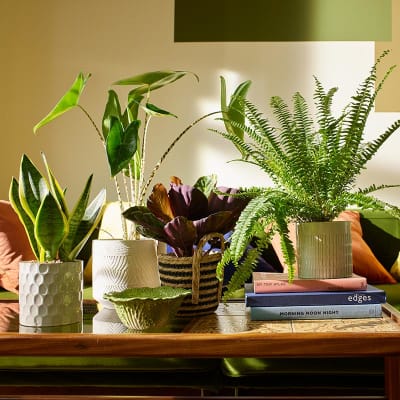 Go green
Whether you're a plant pro or a complete novice, there's a plant for every skill and style in our new collection of bang-on-trend houseplants. From easy-to-care-for ferns to tropical talking points, plants are a super-simple way to update and freshen up your space.
For maximum impact, try arranging a selection of plants on a sideboard or table at different heights to create an eye-catching focal point. Start with our alocasia plant – it boasts gorgeous large leaves that love light (but not direct sun), and features unusual zebra-striped stems. To keep it in tip-top condition, ensure the soil is kept moist and wipe the leaves regularly to remove any dust. Try pairing the alocasia with our sansevieria (also known as a snake plant). This almost-unkillable plant thrives in most environments – all it needs is light, watering every couple of weeks and dusting every so often. Snake plants are perfect for the bedroom, as they soak up oxygen during the day and release it at night.
What's more, some of our plants can be paired with your choice of pot – from handmade ceramic styles to wicker baskets – and all our plants are delivered for free.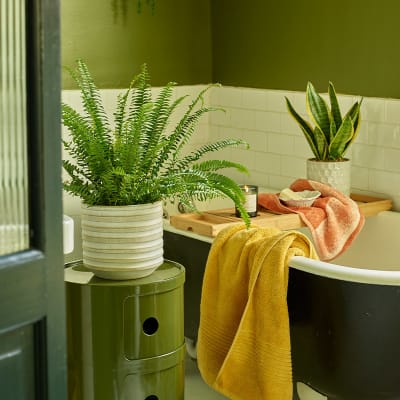 The bathroom beauties
Not only do plants look great in bathrooms, but some varieties also even thrive in the humid environment. Opt for our Boston fern, which comes in a ceramic pot, as it loves the moisture a bathroom setting provides and prefers rooms with low light. Just be sure to check the soil once a week, making sure it's moist, and allowing any excess water to drain off.
Humidity-loving calatheas, monsteras and succulents would also make great additions to your bathroom. Just check the care guide provided with your order for full details on what your plant needs to flourish.
Explore our full collection of houseplants online now.

The showstopping statement
When it comes to plants, sometimes bigger really is better! Our extra-large calathea plant (coming soon) has beautiful glossy green leaves with intricate pink patterns, and is housed in a boho-style wicker basket. This plant loves partial shade and regular misting. If a leaf or stem is looking a little sad or dry, simply remove with shears or scissors to encourage new growth.
Is your houseplant outgrowing its pot? To repot, lightly water it the day before to soften the soil, remove the plant and prune the roots. Then place the plant in a new pot that's roughly two inches larger in diameter, add compost, water the plant and watch it flourish.
Discover our amazing selection of indoor plants online – don't forget, selected plants can be ordered with a picture-perfect pot of your choice, and all our plants are delivered for free.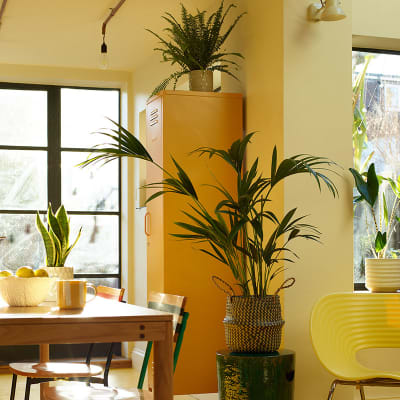 Kit out your kitchen
Light, airy kitchens with high ceilings and plenty of surfaces are the perfect setting for a selection of statement plants. I love adding greenery to different levels, whether that's on shelves nestled between mugs, on stools or even on top of the fridge for added interest.
My top pick? For a touch of seventies-inspired style, I love our extra-large palm (coming soon), which comes in a textured wicker belly basket. This big, bold plant is super easy to care for – just position it in a slightly sunny spot, mist regularly and water around once a week. Or choose our on-trend large monstera (also known as a Swiss cheese plant). This statement plant is super stylish and low maintenance, too – win, win! Just place it in a sunny spot, mist the leaves regularly and only water when the top two inches of soil are dry.
Our range of plants also make thoughtful gifts, so why not have a browse online if you know someone celebrating a birthday or moving into a new home? You really can't go wrong with some gorgeous greenery.
Words: Olivia Ferguson/ Images: Emma Lee/ Styling: Holly Sneezum/ Art direction: Helen Richardson