Colours and checks
"In my personal shopping days, I would always bring clients to get their coats from M&S. I love this stunning houndstooth one. The shape is amazing; it nips in at the waist, then kicks out slightly. It's such a dressy coat and would look brilliant layered over a little black dress at Christmas. What I love about houndstooth is you don't have to wear just black with it – a pop of colour really brings out the print. I've worn it with this lilac jumper but it would look gorgeous with a vibrant print or a red knit over the festive period.
"It's really uplifting to have a bit of colour in your autumn/winter wardrobe. This jumper isn't too long or too short, so you don't have to worry about where you're going to tuck it in.
"The Ivy skinny are my favourite style of jeans from M&S and these ones are blacker than black, high-waisted, and hold their shape really well. I've finished the look with these dressed-up, glamorous boots with a statement buckle detail. They're made with clever Insolia technology which makes them so comfortable."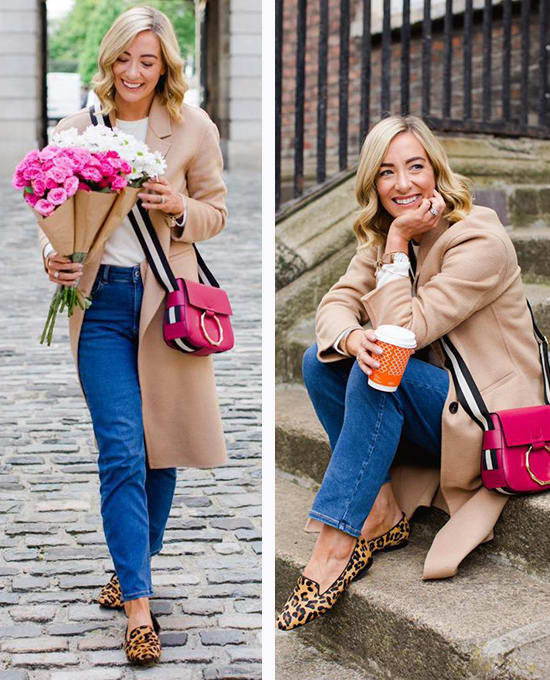 A camel classic
"Seasons change, but classics don't. Year after year we see camel coats back in fashion – they're timeless. I think this elegant style might be the camel coat. It's an absolute classic that deserves a place in every winter wardrobe but can be easily transitioned into spring. It's slightly lighter than the other coats I've worn, which means it's great for layering with knitwear. It's also cut in a longer length with a relaxed fit, which I really like.
"M&S is a household name in Ireland and it's so exciting to celebrate 40 years here with them. I feel honoured to have been part of the M&S family over this past year, and getting to work with them on fashion campaigns has been a dream come true."