SELF-CARE ON A STOPWATCH:
CALMING IDEAS FOR HECTIC DAYS
It's tricky to carve out a bit of 'me time' from a busy schedule. We've rounded up four simple self-care ideas – even if you only have 30 seconds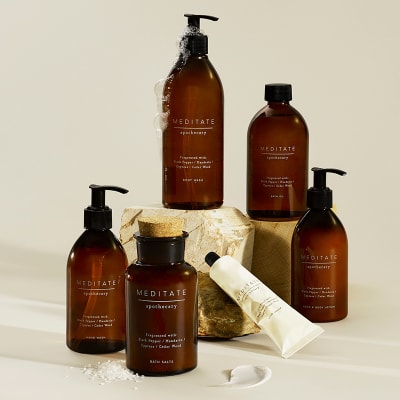 30 seconds: You'll be surprised by the power a few deep breaths can have to make your mind and body feel calmer when you're stressed. To supercharge the benefits, roll This Works Stress Check Breathe In aromatherapy oil on your pulse points then take five slow, deep breaths – simple as that. Struggling to keep your mind still? Repeat "I am breathing in, I am breathing out" in your mind to keep you on track.
One minute: Stress and anxiety might stretch your emotions, but it can have the opposite effect on your body. In those moments, try this self-care tip: the tension-busting super stretch. Sit down sit down then raise your hands towards the ceiling. Lace your fingers together and press your palms upwards to elongate your spine. Think about creating space between your ribs and your hips.
Five minutes: Eating healthily is often the first thing to suffer when worrying takes over – but a smoothie is a great quick way to top up your five a day. Aim for produce that's bright and fresh. Ingredients like spinach and sunflower seeds can be paired with freshly squeezed fruit juice to provide all-important, mood-boosting B vitamins.
15 minutes: We've all found ourselves vacantly doom-scrolling on our phones. It can feel mindless, but the reality is the opposite – hundreds of tiny decisions and a constant stream of information leaves our brains exhausted. Keep your hands busy with a spot of manicure maintenance instead. We love this Mini Mani Rescue kit by Leighton Denny. Follow with a slather of Apothecary Calm hand lotion.
Words: Dulcie Emerson and Alexandra Murphy