PUMPKIN SPICE UP YOUR LIFE
Add instant autumnal flavour to your favourite dishes with our new Cook With M&S pumpkin spice seasoning and Cook With M&S honey and pumpkin spice glaze. Need some inspiration? Scroll down to discover our incredibly delicious recipe ideas
Pumpkin spice pancakes with super-sticky apples
Pull out all the stops this weekend by rustling up our pumpkin spice pancakes. This delicious autumnal treat is topped with sticky apples and a drizzle of our Cook With M&S honey and pumpkin spice glaze for a double dose of pumpkin flavour.

Serves 4
135g plain flour
1 tsp Cook With M&S pumpkin spice seasoning
1 tsp baking powder
½ tsp salt
2 tbsp caster sugar
130ml milk
1 large egg, lightly beaten
2 tbsp melted butter, plus extra for cooking
8 apples, sliced
1 tbsp Cook With M&S honey and pumpkin spice glaze, plus extra for drizzling
1 tbsp maple syrup
Sift the flour, pumpkin spice seasoning, baking powder, salt and caster sugar into a large bowl.

In a separate bowl or jug, lightly whisk together the milk and egg. Add the melted butter and whisk again.

Pour the milk, egg and butter mix into the flour mixture. Beat until the batter is smooth.

Heat a non-stick frying pan over a medium heat and melt a knob of butter. Add a ladle of mix to the pan and cook.

Once bubbling, turn over and cook until both sides are golden. Repeat until you have used all the mix.

For the apples, melt a knob of butter in a frying pan. Add the apple slices, season with salt and cook for a few minutes.

Add the honey and pumpkin spice glaze and maple syrup, then cook until the apples are caramelised and softened.

To serve, top the pancakes with the apples and some extra glaze.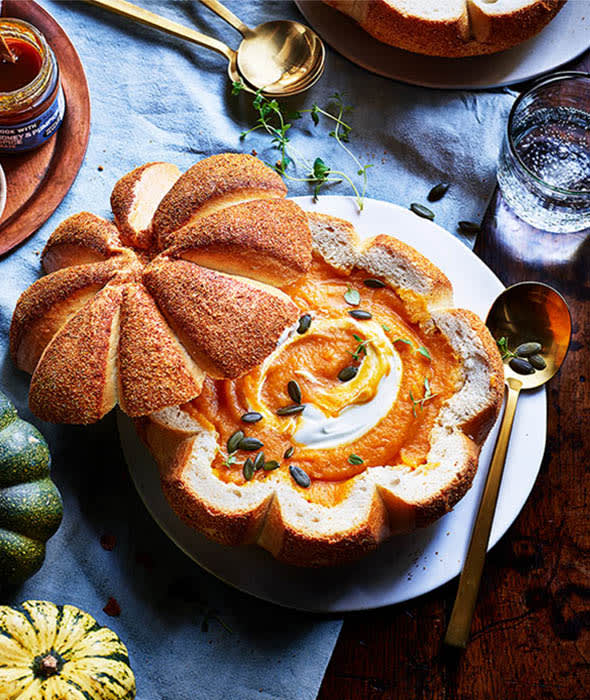 The ultimate pumpkin soup
Perfect for cosy autumn dinners, this flavour-packed soup stars seasonal veggies and the Cook With M&S honey and pumpkin spice glaze. Plus, it's served in our pumpkin bloomer, which is amazing to look at it and even more delicious to eat.

Serves 4
1.5kg mixed autumn vegetables, such as pumpkin, butternut squash and sweet potato, cut into chunks
4 tbsp olive oil
2 tbsp Cook With M&S honey and pumpkin spice glaze
1 litre vegetable stock
4 pumpkin bloomers
Natural yoghurt, pumpkin seeds and thyme, to serve
Preheat the oven to 200°C/180°C fan/gas mark 6. Add the vegetables to a large roasting tin. Pour over the olive oil, season, then add the honey and pumpkin spice glaze. Mix until the vegetables are coated.

Place in the oven and cook for about 30 minutes or until all vegetables are lightly caramelised and have softened. Remove from the oven.

Heat the vegetable stock in a saucepan and simmer. Add the roasted vegetables and bring to the boil.

Using a hand blender, blend until the soup is smooth. Add more stock if you prefer a lighter texture.

Cut the top off each bloomer and remove some of the bread inside to create a bowl.

Pour the soup into bloomer bowls and add a swirl of yoghurt, a scattering of pumpkin seeds and a few thyme leaves.
Pumpkin spice hot choc
Love a pumpkin spice latte? Try our idea for a pumpkin spice hot chocolate, topped with cream and pumpkin spice popcorn. Put ½ tsp of Cook With M&S pumpkin spice seasoning and your favourite hot chocolate powder in a mug, pour in hot milk and stir. For the popcorn, coat plain popcorn in sugar and melted butter, then sprinkle on some pumpkin spice seasoning and mix. Bake in the oven at 120°C/100°C fan/gas mark 0.5 until caramelised, then top the hot chocolate with whipped cream and the popcorn.

Pick up everything you need to make this delicious hot chocolate in store now.