MARVELLOUS MARSHMALLOW IDEAS
From the ultimate chocolate fondue to next-level-tasty fridge cake, be inspired by our recipes that put humble marshmallows centre stage
The Friday night fondue
It doesn't get any more indulgent than a chocolate fondue! To prepare the chocolate, place your chosen chocolate in a pan with a knob of butter and a splash of milk or double cream. Heat until the chocolate has melted and the mix is silky smooth. On a plate or board, arrange your favourite treats, marshmallows, and homemade marshmallow rice pop squares: to make these sticky sweet squares, melt 45g of butter in pan and then add 300g marshmallows, stirring until melted. Take off the heat and add the rice pops. Transfer to a lined tin and press down. Once set, cut into squares.
If you're following a plant-based diet, simply melt our suitable-for-vegans Ecuadorian dark 72% chocolate. For the rice pop squares, melt 45g Plant Kitchen sunflower spread with our new gelatine-free Plant Kitchen marshmallows then follow the same process as above.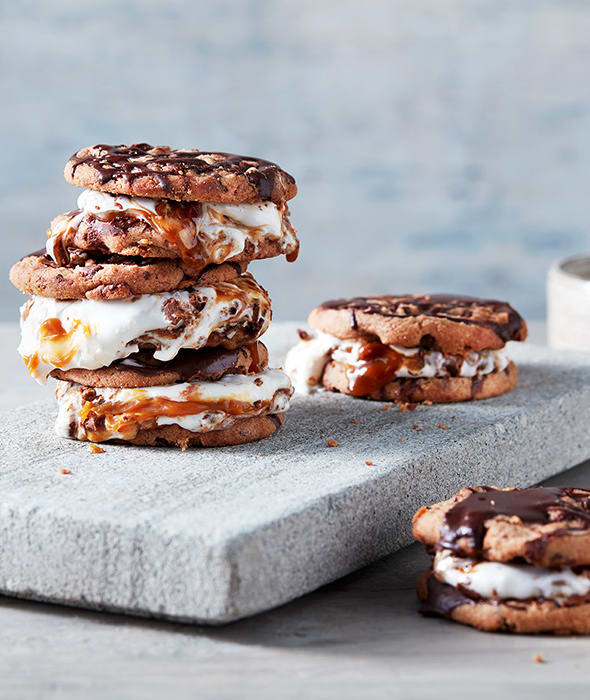 The super s'moreish treat
S'mores are not just reserved for campfire munching; they're easy to prepare at home. Simply sandwich a marshmallow and square of chocolate or chocolate spread between two biscuits, then wrap in a square of tin foil. Heat in the oven at 180°C/160°C fan/gas mark 4 (or over the barbecue or campfire if you're prepared to brave the elements!) for two minutes until the marshmallow and chocolate is irresistibly melted and gooey.
Take your s'mores to the next level by upgrading the biscuits to our extremely chocolatey cookies, or add a squeeze of toffee dessert sauce to the middle of s'mores.
The fuss-free fridge cake
Simply follow our classic method below, then make it yours by adding your favourite sweets, chocolates and fruit to the mix.
150g plain or chocolate digestives
150g unsalted butter or margarine
200g milk or dark chocolate
100g marshmallows, chopped, plus 15g to decorate
Grease and line a large tin with baking paper. Crush the digestives into small pieces. Set aside.
In a saucepan, melt the butter or margarine and the chocolate over a low heat until melted and smooth. Remove from the heat and allow to cool.

Stir in the crushed biscuits, most of the marshmallows and your other ingredients.

Tip the mixture into the baking tin and spread into the corners. Decorate with the remaining marshmallows, pressing lightly into the mixture. Chill for 2 hours. Cut into fingers or squares.