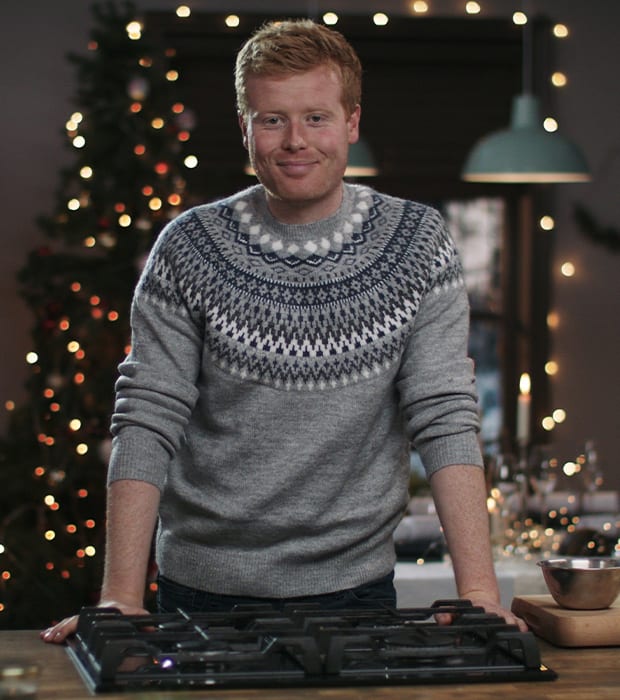 MARK MORIARTY'S TOP TIPS FOR A TASTY CHRISTMAS
The chef reveals his handy hints to help you have a special festive season, no matter your plans
Start in style
"Food has been more important than ever this year," says chef and M&S Food ambassador, Mark Moriarty. "People have been engaging with cooking a lot more and, with Christmas on the way, everyone's a bit more excited about the food element.
"Growing up, the Christmas starter in my family was always smoked salmon on brown bread, so Our Best Ever Smoked Salmon is one of my go-tos this year. The fish is oak smoked and sliced across the grain; it just melts in the mouth."
For a luxurious start to the big day, try Mark's homemade crumpets with crème fraiche, smoked salmon, prawns, dill and lemon.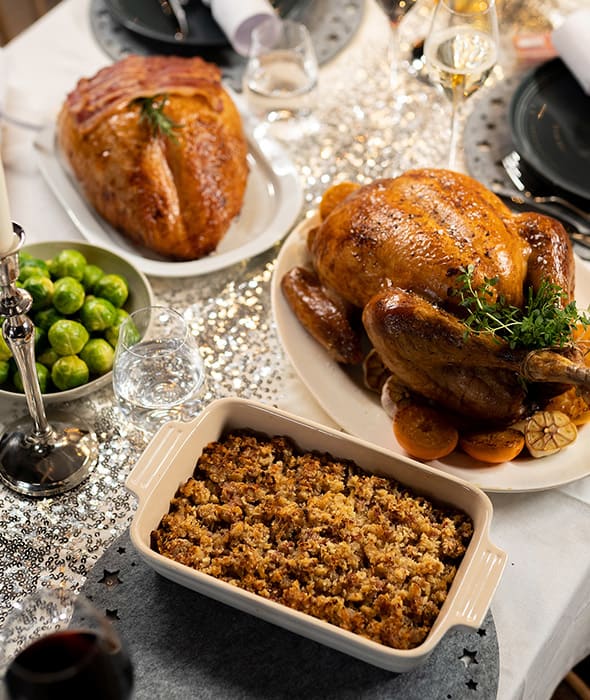 The main event
"You can get everything in your local Foodhall," says Mark, "from the plain turkey to fill with my classic pork sausage stuffing with a twist, to a beautiful bronze Irish turkey crown, with a bacon and chestnut stuffing and dry-cured bacon to put on top. It comes in a foil tray and has been treated perfectly so you just put it in the oven – you can even carve it straight from the tray. There's also a deboned rolled version, which is stuffed and covered with dry-cured bacon. It's perfect for two people, with a little bit left over for sandwiches!
"When it comes to the turkey, brining does wonders. Dissolve 100 grams of salt in a litre of water and put the crown or turkey in it for an hour, then take it out and cook it. You'll be shocked by the improvement to the moisture and seasoning.
"Finally, pick one or two sides plus a potato dish and have everything prepped in advance. I make my red cabbage and mashed potato ahead of time and pop them in the microwave. It means you'll be able to sit down and actually enjoy the dinner."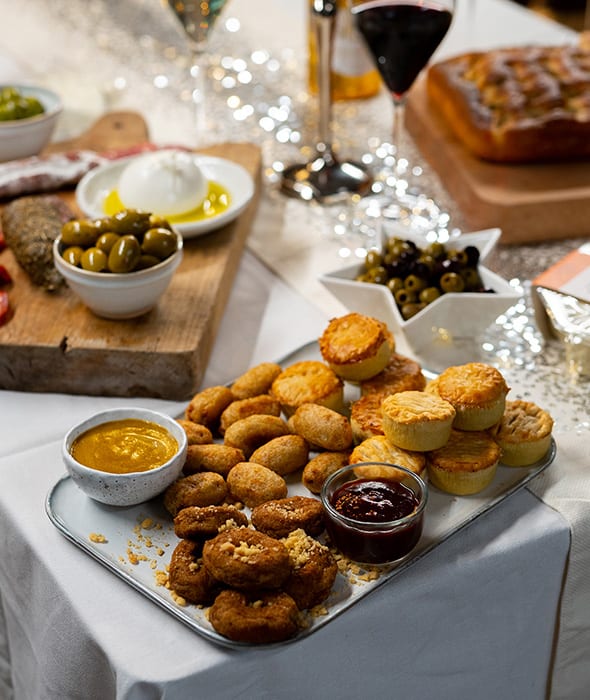 Party all day (and night)
Planning a virtual gathering this Christmas? Stock the fridge with plenty of nibbles to accompany the champagne, beer and cocktails as you celebrate over Zoom. Having a small get-together? "Pick up some M&S party food to have before the main meal, maybe with a glass of wine," says Mark. "The range goes from a full smoked salmon and prawn platter for 4-6 people, down to bite-sized pieces you can throw in the oven. This year, new lines include M&S chicken doughnut dippers, battered mini sausages chip-shop style and Plant Kitchen mini no-chicken kiev."
Book your slot to shop in store using our new Book & Shop service and, for more festive inspiration, check out Mark's delicious Christmas recipe videos on our Instagram.