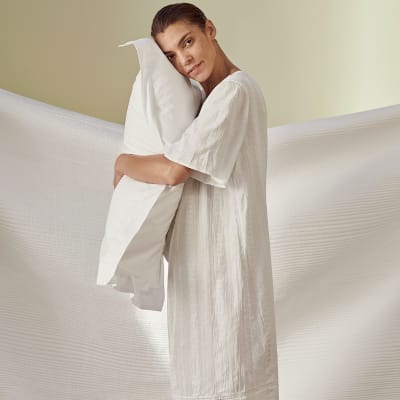 How to sleep when you're too hot? Clever bedding
If you struggle with overheating in bed, you'll be relieved to discover our Comfortably Cool range. The innovative materials work by moderating your body temperature, helping you to feel cool and fresh during the night. Start with a Comfortably Cool mattress topper – made with 100% sustainably sourced cotton cover and featuring Climate Control tech to help regulate your body temperature – followed by Comfortably Cool pillows and duvet. Check your duvet's tog rating. The higher the number, the warmer the duvet – our super-lightweight one-tog duvet is a customer favourite. Luxurious Egyptian cotton bed linen will help you maintain a comfortable temperature as you snooze.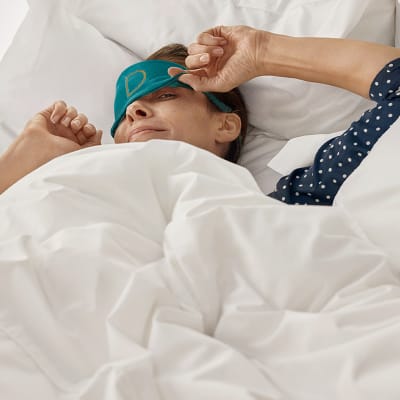 Catch more zzzs by preventing cold feet in bed
While lots of people overheat in bed, for others the opposite is true. Start by checking your duvet's tog rating: the higher the tog, the warmer the duvet. A 10.5-tog duvet is a good choice for most of the year, while a 13.5-tog winter duvet will keep out the chill during the coldest months. Cosy bedding is your next priority. Look for duvet covers and sheets in brushed cotton or jersey (the same rule applies to nightwear), plus a stylish bedspread or throw to layer over the end of the bed and provide an additional insulating layer over chilly toes. Lastly, pull on a pair of thermal socks or luxurious cashmere socks on chilly nights.

Can't sleep for dust allergies? Invest in anti-allergy bedding
One of the biggest causes of allergies is dust mites, tiny insects found in household dust. Symptoms are similar to those of pollen allergies: sneezing, runny nose and itchy eyes, but can also include wheezing and shortness of breath – the last thing you want when you're trying to nod off. Focus mite-busting efforts in the rooms where you spend most time: the living room and the bedroom. Endorsed by the British Allergy Association, our anti-allergy pillows are scientifically proven to reduce dust mite allergens, as are our anti-allergy duvets. Bamboo-blend bedding is not only super soft but naturally antibacterial too, making it an affordable eco-friendly choice for sensitive sleepers.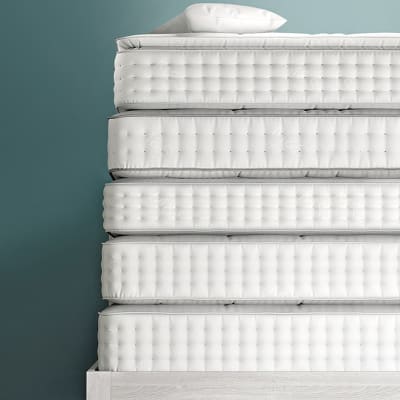 How a mattress could make a bad back feel better
Back pain can be caused by many factors, but your mattress could be the culprit. The thinking today is that a very firm mattress isn't always the best support for a bad back. Your sleeping position is an important factor as it determines which part of the body you put most pressure on. If you're a side sleeper, consider a slightly softer mattress which will relieve pressure on shoulders and hips. For back sleepers, support for the lower back is crucial – a medium-firm mattress a good choice as it will provide good support but be flexible enough to adjust to the lumbar curve. Front sleepers may prefer a firm mattress, which will support the spine and alleviate neck tension. Read our how to sleep better guide to set yourself up for a dream night's sleep.
Words: Miranda Eason and Dulcie Emerson