Never queue at the checkout again
Whether it's lunch between meetings or something to cook tonight, Sparks members can now enjoy easier, faster shopping in all stores with Mobile Pay Go. No more queuing!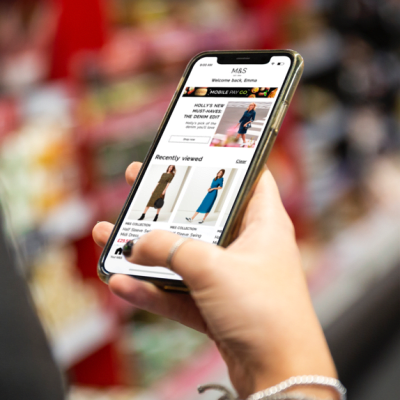 Open
The M&S app on your phone and launch Mobile Pay Go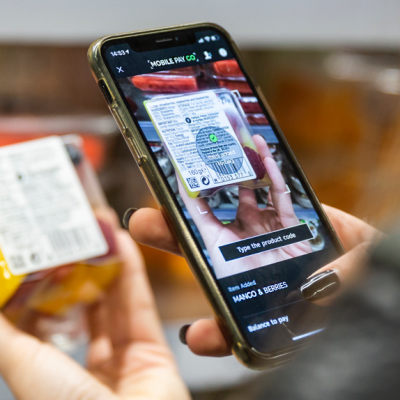 Scan
The barcode of each product as you go, up to a total value of £45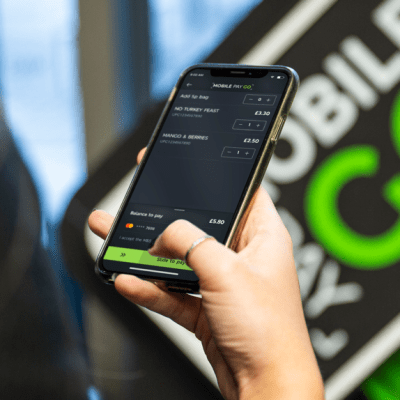 Pay
From your phone using a card or Apple Pay. Never queue again!
Find your nearest store offering Mobile Pay Go
Aberdeen City Centre

2 St Nicholas Street, Aberdeen, United Kingdom, AB10 1BU

Phone: 01224 64428

Aberdeen Stoneywood

Beech Manor, Aberdeen, United Kingdom, AB21 9AZ

Phone: 01224 417146

Aberystwyth

Park Avenue, Aberystwyth, United Kingdom, SY23 1PB

Phone: 01970 229245

Altrincham

56 George Street, Altrincham, United Kingdom, WA14 1RH

Phone: 0161 928 8455

Archway

1 Archway Mall, Upper Holloway, London N19 5RG

Phone: 020 7096 2602

Armagh

Unit 2 Spires Retail Park Moy Road, ARMAGH, United Kingdom, BT61 8DB

Phone: 02837 518182

Ashford Warren Retail Park

Unit B, Ashford, United Kingdom, TN24 8XH

Phone: 01233 210995

Bankside

Unit 21 90 Southwark Street, Bankside, United Kingdom, SE1 0HX

Phone: 020 7633 0068

Banstead

1-13 High St, Banstead SM7 2NE

Phone: 01737 851 096

Barnes

28-29 Barnes High St, Barnes, London SW13 9LW

Phone: 020 3285 6291

Basingstoke

9 Paddington House Festival Place, Basingstoke, United Kingdom, RG21 7L

Phone: 01256 466466

Beaconsfield Simply Food

9-10 Grove Court Station Road, Beaconsfield, United Kingdom, HP9 1QW

Phone: 01494 675761

Beckenham Simply Food

44-46 High Street, Beckenham, United Kingdom, BR3 1AY

Phone: 020 8663 0682

Belfast Boucher Road

Unit 8 Balmoral Plaza Boucher Road, Belfast, United Kingdom, BT12 6HR

Phone: 0289 066 4206

Belfast Upper Road Simply Food

248-266 Upper Newtonards Rd, Belfast, United Kingdom, BT4 3EU

Phone: 0289 065 9423

Berwick Upon Tweed Simply Food

Unit C Tweedbank Retail Park, Berwick Upon Tweed, United Kingdom, TD15 2AS

Phone: 01289 306763

Bexleyheath

55 The Broadway, Bexleyheath DA6 7JN

Phone: 020 8301 2233

Birmingham

42 High St, Birmingham B4 7SS

Phone: 0121 643 4511

Bishopsgate

Bishopsgate Foodhall, 15 Bishopsgate, London EC2N 3NW

Phone: 020 3281 6212

Blackheath Simply Food

17 Stratheden Parade Blackheath, London, United Kingdom, SE3 7SX

Phone: 020 8293 3573

Blackpole Simply Food

Unit 1 Blackpole Retail Park, Worcester, United Kingdom, WR3 8PQ

Phone: 01905 950138

Blackpool

49 Church Street, Blackpool, United Kingdom, FY1 1HT

Phone: 01253 623831

Bognor Regis Foodhall

Arun RP Shripney Road, Bognor Regis, United Kingdom, PO22 9NF

Phone: 01243 629516

Bourne Foodhall

The Burghley Centre, Bourne, United Kingdom, PE10 9EG

Phone: 17783 01030

Borehamwood

Unit 1 Theobald St, Borehamwood WD6 4PR

Phone: 020 8953 3257

Braehead

Braehead Shopping Centre, Kings Inch Road Glasgow, United Kingdom, G51 4BP

Phone: 0141 886 4391

Brent Cross

Brent Cross Shopping Centre Hendon, London, United Kingdom, NW4 3FE

Phone: 020 8202 1122

Brentwood

43-45 High Street, Brentwood, United Kingdom, CM14 4RH

Phone: 01277 228971

Bridgnorth Simply Food

Handyman House 43 St John Street, Bridgnorth, United Kingdom, WV15 6AG

Phone: 01746 769305

Bridgwater Simply Food

Unit 2C Bridgwater Retail Park, Bridgwater, United Kingdom, TA6 4AB

Phone: 01278 557971

Brighton Carden Avenue Simply Food

Unit 1 Brighton Retail Park, Brighton, United Kingdom, BN1 8LW

Phone: 01273 559706

Brixton

446 Brixton Rd, Brixton, London SW9 8ED

Phone: 020 7274 6811

Bromley

123 High St, Bromley BR1 1JL

Phone: 020 8460 9131

Brooklands

Spares Logistic Centre, Barnes Wallis Dr, Weybridge KT13 0XF

Phone: 01932 356345

Broughton Park

Chester Road, Broughton, United Kingdom, CH4 0DE

Phone: 01244 879924

Broughty Ferry Simply Food

114 Brook Street, Broughty Ferry, United Kingdom, DD5 1DS

Phone: 01382 772 941

Camden Town

143 Camden High St, Camden Town, London NW1 7JX

Phone: 020 7267 6055

Canary Wharf

Jubilee Place 45 Bank Street, London, United Kingdom, E14 5NY

Phone: 020 7513 2839

Canterbury

4 St Georges Street, Canterbury, United Kingdom, CT1 2SR

Phone: 01227 462281

Carlisle

42 English Street, Carlisle, United Kingdom, CA3 8HS

Phone: 01228 522 478

Carlisle Kingstown

Park House Road, Carlisle, United Kingdom, CA3 0JR

Phone: 01228 892 099

Carmarthen

14 Red Street Carmarthen, Dyfed, United Kingdom, SA31 1RS

Phone: 01267 233 416

Carrickfergus Simply Food

75 Belfast Road, Carrickfergus, United Kingdom, BT38 8PH

Phone: 02893 447 318

Castlepoint

Yeomans Way, Bournemouth, United Kingdom, BH8 9UL

Phone: 01202 363 600

Chancery Lane

Chancery Lane Simply Food, Heron House, 323-324 High Holborn, Holborn, London WC1V 7PD

Phone: 020 7242 6538

Charlton

1-5 Gallions Rd, Greenwich Peninsula, London SE7 7FA

Phone: 020 3284 5282

Chelmsford

62 High Street, Chelmsford, United Kingdom, CM1 1DH

Phone: 01245 269555

Chelmsford Westway

1 Clock Tower Retail Park, Chelmsford, United Kingdom, CM1 3FJ

Phone: 01245 847895

Chelsea

Kings Road, 85 Kings Road Chelsea, London, United Kingdom, SW3 4NX

Phone: 020 7376 5634

Cheltenham

173 High Street, Cheltenham, United Kingdom, GL50 1DF

Phone: 01242 521531

Cheshunt

Brookfield Centre Halfhide Lane, Cheshunt, United Kingdom, EN8 0TZ

Phone: 01992 636441

Chiswick

236 Chiswick High Rd, Chiswick, London W4 1PJ

Phone: 020 8994 2236

Clapham

45 St John's Rd, London SW11 1QP

Phone: 020 7228 2545

Clapham South

2A Balham Hill, Balham, London SW12 9EA

Phone: 020 8772 1153

Cleveleys Simply Food

96 Victoria Road West, Cleveleys, United Kingdom, FY5 1AG

Phone: 01253 854682

Colchester

38 High Street, Colchester, United Kingdom, CO1 1DH

Phone: 01206 57024

Coleraine Simply Food

13 The Diamond, Coleraine, United Kingdom, BT52 1DE

Phone: 028 703 57723

Colliers Wood

1 Merton High Street Colliers Wood, London, United Kingdom, SW19 1DD

Phone: 0208 233 3300

Cookstown Simply Food

Unit A Orritor Road Retail Park, Cookstown, United Kingdom, BT80 8BH

Phone: 02886 762833

Coventry Binley Simply Food

Binley Shoppng Centre, Coventry, United Kingdom, CV3 2TA

Phone: 02476 636321

Cranleigh Simply Food

Warrens Yard 94 High Street, Cranleigh, United Kingdom, GU6 8AJ

Phone: 01483 548053

Crescent Link Simply Food

Crescent Link Retail Park Londonderry, Derry, United Kingdom, BT47 6SA

Phone: 02871 318 907

Crouch End

The Exchange, 71 Crouch End Hill, Crouch End, London N8 8DB

Phone: 020 8347 6283

Croydon

116 N End, Croydon CR9 1SH

Phone: 020 8680 4161

Dalston Foodhall

51-57 Kingsland High St, Dalston, London E8 2JS

Phone: 020 3889 5736

Dartford

Westgate Road Unit 3 Prospect Place Park, Dartford DA1 1DY

Phone: 01322 279461

Dulwich

84/90 Lordship Lane, Dulwich, United Kingdom, SE22 8HF

Phone: 020 8970 7501

Dumbarton Simply Food

19 St. James Retail Park, Glasgow Road Dumbarton, United Kingdom, G82 1RB

Phone: 01389 768678

Dumfries

59-65 High Street, Dumfries, United Kingdom, DG1 2DB

Phone: 01387 267621

Dunblane Simply Food

Stirling Road, Dunblane, United Kingdom, FK15 9EY

Phone: 01786 822396

Dundee

41 Murraygate, Dundee, United Kingdom, DD1 9PF

Phone: 01382 229261

Dundee The Docks Simply Food

Gallagher Retail Park, Dundee, United Kingdom, DD1 3JS

Phone: 01382 452823

Ealing Broadway

69-79 The Broadway, Ealing, London W5 5JW

020 8566 1234

Earls Court

226-268 Earls Ct Rd, Earl's Court, London SW5 9AS

020 7370 5894

East Dulwich Station

18-22 Grove Vale, East Dulwich, London, United Kingdom, SE22 8EF

020 3640 6407

East Kilbride Kingsgate Simply Food

Units 8/9 Kingsgate Shopping Park, East Kilbride, United Kingdom, G74 4UN

Phone: 01355 264458

Edgware Road

258 Edgware Road, London, United Kingdom, W2 1DU

Phone: 020 7723 5554

Edinburgh Fort Kinnaird

Unit 6 Fort Kinnaird Retail Park, Edinburgh, United Kingdom, EH15 3RD

Phone: 0131 669 1707

Eltham

115 Eltham High St, Eltham, London SE9 1TQ

Phone: 020 8859 0916

Enfield Town

Shopping Precinct, 54 Church Street, Palace Gardens, Enfield EN2 6SN

Phone: 020 8367 6133

Epsom

20 Ashley Ave Ashley Centre, Epsom KT18 5DA

Phone: 01372 729511

Fareham Whiteley Village

Whiteley Village Whiteley Way, Fareham, United Kingdom, PO15 7PD

Phone: 01489 565560

Fenchurch Street

168 Fenchurch St, Langbourn, London EC3M 6DE

Phone: 020 7481 4645

Fife Central Retail Park

Fife Central Retail Park, Kirkcaldy, United Kingdom, KY2 6QL

Phone: 01592 669431

Finsbury Pavement

70 Finsbury Pavement Moorgate, London, United Kingdom, EC2A 1SA

Phone: 020 7786 9494

Fleet Simply Food

126 - 129 Fleet Road, Fleet, United Kingdom, GU51 4BE

Phone: 01252 624912

Flowerdown

Unit 3 Flowerdown Retail Park, North Somerset, United Kingdom, BS22 8FD

Phone: 01934 886705

Foyleside

Foyleside Shopping Centre, Orchard Street Londonderry, United Kingdom, BT48 6XY

Phone: 02871 377377

Gerrards Cross Simply Food

10 Packhorse Road, Gerards Cross, United Kingdom, SL9 7QE

Phone: 01753 891940

Glasgow Argyle Street

2-12 Argyle Street, Glasgow, United Kingdom, G2 8AA

Phone: 0141 552 4546

Glasgow Bishopbriggs Simply Food

Unit 13 Stathkelvin Retail Park, Glasgow, United Kingdom, G64 2TS

Phone: 0141 772 6285

Glasgow Fort

Provan Walk, Glasgow, United Kingdom, G34 9DL

Phone: 0141 301 1006

Glasgow Pollok

763 Barrhead Road, Silverburn Shopping Centre Glasgow, United Kingdom, G53 6AG

Phone: 0141 302 2000

Glenrothes Simply Food

Unit 1 North Street, Glenrothes, United Kingdom, KY7 5PP

Phone: 01592 807825

Glenrothes Simply Food

Unit 1 North Street, Glenrothes, United Kingdom, KY7 5PP

Phone: 01592 807825

Gloucester

12-28 Eastgate Street, Gloucester, Gloucestershire, United Kingdom, GL1 1PA

Phone: 01452 301780

Gosport

Unit 4 Cotsworth Road, Gosport, United Kingdom, PO12 4FA

Phone: 02394 211374

Grantham Simply Food

Unit 1 London Road, Grantham, United Kingdom, NG31 6EN

Phone: 01476 468568

Green Park

Simply Food Devonshire House Green Park 78, Piccadilly, London W1J 8AQ

Phone: 020 7491 0690

Greenwich Simply Food

Su 1 And 2 Cutty Sark Station, London, United Kingdom, SE10 9EJ

Phone: 020 8853 1840

Hackney

351 Mare Street, London, United Kingdom, E8 1JB

Phone: 020 8986 3821

Hammersmith

27 King Street, London, United Kingdom, W6 9XW

Phone: 020 8741 8311

Hampstead

10 Pond St, Hampstead, London NW3 2PS

Phone: 020 7435 0619

Harpenden Simply Food

15-20 Church Green Parade, Harpenden, United Kingdom, AL5 2TW

Phone: 01582 763166

Harrow

31 St Anns Rd, Harrow HA1 1NB

Phone: 020 8861 0661

Haverfordwest

Unit 1 Withybush Retail Park, Pembrokeshire, United Kingdom, SA61 2PY

Phone: 01437 783921

Hayle

West Cornwall Retail Park Marsh La, Hayle, United Kingdom, TR27 5LX

Phone: 01736 759 376

Haywards Heath

Unit 1 The Orchards, Haywards Heath, United Kingdom, RH16 3TH

Phone: 01444 454542

Hemel Hempstead

237 Marlowes, Hemel Hempstead, United Kingdom, HP1 1BL

Phone: 01442 247414

Huntingdon

1A Chequers Shopping Centre, Huntingdon, United Kingdom, PE29 3FG

Phone: 01442 247414

Ilford

135 High Rd, Ilford IG1 1DE

Phone: 020 8514 3474

Inverness

Eastgate, Inverness, United Kingdom, IV2 3TL

Phone: 01463 224 844

Inverurie Simply Food

Units 4 and 5 Station Square, Burn Lane Inverurie, United Kingdom, AB51 4UZ

Phone: 01463 224 844

Islington

5 Liverpool Rd, The Angel, London N1 0RR

Phone: 020 7837 2744

Kew

Mortlake Road Kew Retail Park, Richmond TW9 4AD

Phone: 020 8876 6864

Kensington

113 Kensington High Street, London, United Kingdom, W8 5SQ

Phone: 020 7938 3711

Kilburn

66 Kilburn High Rd, North Maida Vale, London NW6 4HJ

Phone: 020 7624 7322

Kilmarnock

72 King Street, Kilmarnock, United Kingdom, KA1 1PB

Phone: 01563 531311

Kings Road

85 Kings Road Chelsea, London, United Kingdom, SW3 4NX

Phone: 020 7376 5634

Kingsley Village

Unit G Kingsley Village Retail Park, Saint Columb, United Kingdom, TR9 6NA

Phone: 01637808906

Kingston

26 Clarence St, Kingston upon Thames KT1 1NU

Phone: 020 8549 9933

Launceston

Retail Park, Hurdon Road, Launceston, United Kingdom, PL15 9DJ

Phone: 01579 550996

Leeds Central Square

Unit 2/3/4, Central Square, 2-4 Wellington St, Leeds LS1 4EA

Phone: 0113 208 3089

Leicester Thurmaston Simply Food

Thorpe Lane, Leicester, United Kingdom, LE4 8GP

Phone: 01162 607533

Leighton Buzzard

Unit B Grovebury Retail Park, Leighton Buzzard, United Kingdom, LU7 4EG

Phone: 01525 305093

Lewisham

122 Lewisham High St, Lewisham, London SE13 6JG

Phone: 020 8318 9444

Lisburn

157 Hillsborough Road Sprucefield, Lisburn, United Kingdom, BT27 5UJ

Phone: 028 9266 1000

Livingston

Block F THE Centre, Livingston, United Kingdom, EH54 6HR

Phone: 01506 473 200

Llanelli Parc Trostre

Unit 2C and 3 Parc Trostre, Llanelli, United Kingdom, SA14 9UY

Phone: 01554 776664

Loughton

161-163 High Rd High Street, Loughton IG10 4LF

Phone: 020 8508 6723

Longbridge

20 High Street, Longbridge, United Kingdom, B31 2UQ

Phone: 01216 951852

Lowestoft

82 London Road North, Lowestoft, United Kingdom, NR32 1ET

Phone: 01502 501111

Lytham St Annes Simply Food

333 Clifton Drive South, Lytham St Annes, United Kingdom, FY8 1LP

Phone: 01253 722 375

Maidenhead

60 High St, Maidenhead SL6 1PY

Phone: 01628 783601

Malvern

Unit 1 Malvern Retail Park, Roman Way Malvern, United Kingdom, WR14 1PZ

Phone: 01684 577818

Manchester

Manchester, 7 Market Street, Manchester, M1 1WT

Phone: 0161 831 7341

Manchester Piccadilly Gardens

6 Unit, 6a Piccadilly, Manchester M1 4AJ

Phone: 0161 236 8897

Manchester Spinningfields

Quay St, Manchester M3 3EB

Phone: 0161 933 6634

Marble Arch

458 Oxford St, Marylebone, London W1C 1AP

Phone: 020 7935 7954

Marlow Simply Food

22-26 Spittal Street, Marlow, United Kingdom, SL7 1DB

Phone: 01628 485840

Martlesham Heath

Martlesham Heath Retail Park, Beardmore Park Ipswich, United Kingdom, IP5 3RX

Phone: 01473 623482

Merryhill

The Merryhill Centre Pedmore Road, Brierley Hill, United Kingdom, DY5 1QS

Phone: 01384 74574

Merthyr Tydfil

Cyfarthfa Retail Park, Merthyr Tydfil, United Kingdom, CF48 1HY

Phone: 01384 74574

Mill Hill

3-7 The Broadway Mill Hill, London, United Kingdom, NW7 3LN

Phone: 020 8906 8220

Milton Keynes

32 Sunset Walk Saxon Gate East, Central Milton Keynes, United Kingdom, MK9 3PD

Phone: 01908 662323

Mumbles

49 Newton Road, Swansea, United Kingdom, SA3 4BD

Phone: 01792 966282

Muswell Hill

x126-138 Muswell Hill Broadway, Muswell Hill, London N10 3RU

Phone: 020 8365 2882

Neath

21 Green Street, Neath, United Kingdom, SA11 1DH

Phone: 01639 63512

New Change

3A New Change, London EC4M 9AF

Phone: 020 7248 2737

Newry The Quays

Units 4&5 The Quays Shopping Centre, Newry, United Kingdom, BT35 8QS

Phone: 02830 442419

Newtownbreda

Forestside Shopping Centre, Belfast, United Kingdom, BT8 6FX

Phone: 028 9064 6630

Norwich

Rampant Horse Street, Norwich, United Kingdom, NR2 1QR

Phone: 01603 761199

Notting Hill Gate

Simply Food, 146-154 Notting Hill Gate, Notting Hill, London W11 3QG

Phone: 020 7243 6413

Oban

Unit 1 Oban Retail Park, Lochavulli, Oban, United Kingdom, PA34 4BW

Phone: 01631 705428

Omagh

Showgrounds Retail Park, Sedan Avenue Omagh, United Kingdom, BT79 7AQ

Phone: 0288 225 1649

Orpington Nugent Park

Nugent Park, Cray Ave, Orpington BR5 3RP

Phone: 01689 834 404

Pantheon

173 Oxford Street, London, United Kingdom, W1D 2JR

Phone: 020 7437 7722

Paternoster Square

Simply Food, Juxon House, 1 Ave Maria Ln, Paternoster Sq., London EC4M 7DX

Phone: 020 7236 2402

Perth

75-85 High Street, Perth, United Kingdom, PH1 5TJ

Phone: 01738 635252

Perth Inveralmond

Highland Gateway, Ruthvenfield Road, Inveralmond Perth, United Kingdom, PH1 3EE

Phone: 01738 625120

Peterborough Serpentine Green

Unit 20 Serpentine Green Shopping C, Peterborough, United Kingdom, PE7 8BE

Phone: 01733 794017

Pinner

4 Bishops Walk, Pinner HA5 5QQ

Phone: 020 8868 3815

Preston

118 Fishergate, Preston, United Kingdom, PR1 2BT

Phone: 01772 555656

Queens Park

Queen'S Park Foodhall, 31 Salusbury Road, London, NW6 6BF

Phone: 020 3282 8003

Reading

12 Broad St, Reading RG1 2BH

Phone: 0118 959 1711

Richmond

13 George St, Richmond TW9 1JY

Phone: 020 8948 0044

Rickmansworth

193 High St, Rickmansworth WD3 1BB

Phone: 01923 896667

Rushden Lakes

Unit 6 A45 South Terrace B, Rushden, United Kingdom, NN10 6FH

Phone: 01933 375299

Selly Oak

2-3 Selly Oak Shopping Park, Birmingham, United Kingdom, B29 6SQ

Phone: 0121 752 1482

Shoreham

Holmbush Centre, Upper Shoreham Road Shoreham-by-sea, United Kingdom, BN43 6TD

Phone: 01273 871091

Solihull Sears

Unit 2 Sears Retail Park, Solihull, United Kingdom, B90 4QY

Phone: 0121 744 9539

Southbank

Unit 1C, B1 Southbank Place, York Rd, London SE1 7ND

Phone: 020 8036 3925

Southfields Simply Food

Wimbledon Park Road, Southfields, United Kingdom, SW18 5RJ

Phone: 020 3126 6882

Southgate

Winchmore Hill Rd, London N14 6AQ

Phone: 020 8886 8471

Southport

34 Chapel Street, Southport, United Kingdom, PR8 1AD

Phone: 01704 542424

South Woodford

George Ln, South Woodford, London E18 1AY

Phone: 020 853 29771

St Albans

21 St Peter's Street, St Albans, United Kingdom, AL1 3DP

Phone: 01727 840935

St Andrews Simply Food

223 Largo Road, St Andrews, United Kingdom, KY16 8NH

Phone: 01334 458004

Staines

105 High St, Staines TW18 4PJ

Phone: 01784 464173

Stirling

37 Port Street, Stirling, United Kingdom, FK8 2EN

Phone: 01786 450909

Stratford City

Unit D3 Westfield Shopping Centre, London, United Kingdom, E20 1EH

Phone: 020 8282 8800

Streatham Hill

142 Streatham Hill, London, United Kingdom, SW2 4RS

Phone: 020 3911 8995

Summertown Simply Food

1242-254 Banbury Road Summertown, Oxford, United Kingdom, OX2 7BY

Phone: 01865 316873

Sunbury Cross

Staines Rd W, Sunbury-on-Thames TW16 7BB

Phone: 01932 785538

Surbiton Simply Food

78 Victoria Road, Surbiton, United Kingdom, KT6 4NS

Phone: 020 8399 9433

Sutton

146 High St, Sutton SM1 1NQ

Phone: 020 8661 7755

Swiss Cottage Simply Food

151 Finchley Road Swiss Cottage, London, United Kingdom, NW3 6JH

Phone: 020 7586 0187

Talbot Green

Unit 7 Talbot Green Retail Park, Talbot Green, United Kingdom, CF72 8RB

Phone: 020 7357 9489

Teddington

99-107 High St, Teddington TW11 8HG

Phone: 020 8977 6037

Temple Fortune

820-832 Finchley Rd, Golders Green, London NW11 6XL

Phone: 020 8905 5636

The More

Unit C, The More, More London Riverside London More Riverside Simply Food, London Bridge, London SE1 2DA

Phone: 020 7357 9489

Tiverton Simply Food

The Old Brewery Site Phoenix Lane, Tiverton, United Kingdom, EX16 6LU

Phone: 0188 425 4517

Tolworth

Simply Food, 67-73 Tolworth Broadway Tolworth Towers, Tolworth, Surbiton KT5 9EN

Phone: 020 8390 8022

Tottenham Court Road

55 Tottenham Court Rd, Bloomsbury, London W1T 2EQ

Phone: 020 7580 2967

Tring Simply Food

8 Dolphin Square, Tring, United Kingdom, HP23 5BN

Phone: 0144 282 5743

Trowbridge

Cradle Bridge County Way, Trowbridge, United Kingdom, BA14 8FS

Phone: 01225 458712

Truro Lemon Quay

Lemon Quay, Truro, United Kingdom, TR1 2LW

Phone: 01872 271511

Twickenham

2-4 Heath Rd, Strawberry Hill, Twickenham TW1 4BZ

Phone: 020 8607 9396

Upminster Simply Food

51-53 Station Road, Upminster, United Kingdom, RM14 2SU

Phone: 01708 250 626

Uxbridge

54 High St, Uxbridge UB8 1TL

Phone: 01895 259821

Victoria Cardinal Place Street

Cardinal Place Victoria Street, London, United Kingdom, SW1E 5JE

Phone: 020 7828 5190

Walworth Road

311 Walworth Rd, Walworth, London SE17 2TG

Phone: 020 7703 6263

Wanstead Convenience

57 High Street, London, United Kingdom, E11 2RL

Phone: 020 3846 6758

Waterside

35 North Wharf Road, London, United Kingdom, W2 1NW

Phone: 020 3961 9789

Watford

91 High St, Watford WD17 2DH

Phone: 01923 252504

West Hampstead

Unit 1 Hardy building, West Hampstead, United Kingdom, NW6 2BR

Phone: 020 8970 7204

Westhill

18 Westhill Shopping Centre, Old Skene Road Skene, United Kingdom, AB32 6RL

Phone: 01224 744 651

Westwood Cross

Unit A Westwood Cross Centre, Margate Road Thanet, United Kingdom, CT10 2BF

Phone: 01843 609531

West Wickham

92-100 High St, West Wickham BR4 0NF

Phone: 020 8777 2681

Weymouth

6 St.mary Street, Weymouth, United Kingdom, DT4 8PF

Phone: 01305 783881

Whetstone

1430 High Rd, Whetstone, London N20 9DR

Phone: 020 8445 8635

Wimbledon Simply Food

Centre Court Shopping Centre, 4 Queens Road Wimbledon, United Kingdom, SW19 8YE

Phone: 020 8944 5839

White City

Ariel Way Westfield Shopping Centre, London W12 7GA

Phone: 0208 266 2200

Whitstable

Unit 2 Prospect Retail Park, Whitstable, United Kingdom, CT5 3SD

Phone: 01227 387198

Woolwich Simply Food

4 Victory Parade, London, United Kingdom, SE18 6FL

Phone: 020 7129 7806

Worthing

51 Montague Street, Worthing, United Kingdom, BN11 3BW

Phone: 01903 212381

Maldon Simply Food

40 40a 42 High Street, Maldon, United Kingdom, CM9 5PN

Phone: 01621 843617

Marshalswick

The Ridgeway, St Albans, United Kingdom, AL4 9TU

Phone: 01727 226556

Basildon Mayflower Simply Food

Mayflower Retail Park Gardiners Lin, Basildon, United Kingdom, SS14 3HZ

Phone: 01268534182

Braintree Simply Food

Unit 7 Braintree Retail Park, Braintree, United Kingdom, CM77 8YJ

Phone: 01376 396 028

Welwyn Garden City

The Howard Centre, Welwyn Garden City, United Kingdom, AL8 6HA

Phone: 01707 373757

Rayleigh

12-24 Estwood Road, Rayleigh, United Kingdom, SS6 7JQ

Phone: 01268508321

Walton On The Naze

Arthur Ransome Way, Walton On The Naze, United Kingdom, CO14 8FT

Phone: 01255 442621

Canvey Island

Unit 5 Canvey Retail Park, Canvey Island, United Kingdom, SS8 0EJ

Phone: 01268269898

Merchant Square Cafe

North Wharf Road, London, United Kingdom, W2 1NW

Cheltenham Kingsditch

Unit 7 Kingsditch Retail Park, Tewkesbury Road Cheltenham, United Kingdom, GL51 9PG

Phone: 01242 529823

Chippenham

Bath Road, Chippenham, United Kingdom, SN14 0UL

Phone: 01249 474658

Cirencester Simply Food

42 Dyer Street, Cirencester, United Kingdom, GL7 2PF

Phone: 01285 651789

Devizes Simply Food

Monday Market Street, Devizes, United Kingdom, SN10 1DW

Phone: 01380 724952

Spalding Simply Food

Unit D Winfrey Ave, Spalding, United Kingdom, PE11 1DA

Phone: 01775 760351

Peterborough Queensgate

Queens Gate Centre, Peterborough, United Kingdom, PE1 1NT

Phone: 01733 311331

Bury St Edmunds

23 Buttermarket, Bury St Edmunds, United Kingdom, IP33 1DT

Phone: 01284 768451

Great Yarmouth Gapton Hall

Unit G Gapton Hall Retail Park, Great Yarmouth, United Kingdom, NR31 0NL

Phone: 01493 681216

Norwich Longwater

Unit E1, Norwich, United Kingdom, NR5 0JT

Phone: 01603 605586

Stamford Simply Food

41-45 High Street, Stamford, United Kingdom, PE9 2BD

Phone: 01780 767936

Peterborough Brotherhood

Brotherhood Retail Park, Peterborough, United Kingdom, PE4 6ZR

Phone: 01733 572841

Streatham High Road

352 Streatham High Road, Streatham, United Kingdom, SW16 6HP

Phone: 02035 975045

Milton Keynes Stadium

Unit A Retail Development, Milton Keynes, United Kingdom, MK1 1ST

Phone: 01908 368545

Princes Risborough Simply Food

2 Horns Lane, Princes Risborough, United Kingdom, HP27 0AN

Phone: 01844 275 910

Amersham Simply Food

38-40 Sycamore Road, Amersham, United Kingdom, HP6 5DR

Phone: 01494 726214

Wycombe Marsh Simply Food

Unit 4D Wycombe Retail Park, London Road High Wycombe, United Kingdom, HP11 1FY

Phone: 01494 526073

Bracknell

1 The Avenue, Bracknell, United Kingdom, RG12 1BD

Phone: 01344609998

Bolton

35 Deansgate, Bolton, United Kingdom, BL1 1HQ

Phone: 01204 528491

Chorley

Unit 1 Market Walk Extension, Chorley, United Kingdom, PR7 1FD

Phone: 01257446985

Lancaster

32 Penny Street, Lancaster, United Kingdom, LA1 1UA

Phone: 01524 64712

Penrith Simply Food

22-27 King Street, Penrith, United Kingdom, CA11 7AG

Phone: 01768239446

Kendal

Library Road, Kendal, United Kingdom, LA9 4QB

Phone: 01539 720 665

Deepdale Preston

Unit J Deepdale Shopping Centre, Preston, United Kingdom, PR1 6QY

Phone: 01772 759461

Bolton Middlebrook

54 The Link Way, Middlebrook Retail Park Horwich, United Kingdom, BL6 6JA

Phone: 01204 693546

Macclesfield

33 Mill Street, Macclesfield, United Kingdom, SK11 6NE

Phone: 01625 429327

Stretford Foodhall

1A White City Retail Park, Greater Manchester, United Kingdom, M16 0RP

Phone: 0161 451 5046

Sale Simply Food

25 Washway Rd, Sale, United Kingdom, M33 7AD

Phone: 0161 969 5943

Cheshire Oaks

Cheshire Oaks, Cheshire, United Kingdom, CH65 9GZ

Phone: 0151 472 1200

Liverpool Queens Drive

Queens Drive Liverpool, West Derby, Liverpool, United Kingdom, L13 0DL

Phone: 01514718876

Liverpool Edge Lane

Unit 12 Liverpool Shopping Park, Montrose Way, Liverpool, United Kingdom, L13 1AD

Phone: 01515591116

Formby Simply Food

The Cloisters Halsall Lane, Formby, United Kingdom, L37 3PX

Phone: 01704 833825

Ormskirk Simply Food

19-21 Aughton Street, Ormskirk, United Kingdom, L39 3BH

Phone: 01695 574278

Alnwick

Unit 1, Northumberland, United Kingdom, NE66 2DJ

Phone: 01665 667003

Enniskillen

Unit A Erneside Shopping Centre, Enniskillen, United Kingdom, BT74 6JQ

Phone: 028 6632 4649

Belfast Aldergrove Simply Food

175 Airport Road, Crumlin, Co Antrim, United Kingdom, BT29 4DW

Phone: 0289 433 9813

Malone Lisburn Rd Simply Food

Unit 1 515 Lisburn Road, Belfast, United Kingdom, BT9 7EZ

Phone: 02890 538731

Ballymena

The Fairhill Shopping Centre, Broughshane Street Ballymena, United Kingdom, BT43 6UG

Phone: 028 2565 1129

Belfast

48 Donegall Place, Belfast, United Kingdom, BT1 5BY

Phone: 02890 235235

Bangor Northern Ireland

Unit 29 Bloomfield Centre, South Circular Road Bangor, United Kingdom, BT19 7HB

Phone: 028 91270674

Straiton Simply Food

1 Straiton Park Way, The Peel Centre Straiton, United Kingdom, EH20 9QY

Phone: 0131 440 3017

Coatbridge Faraday Simply Food

UNIT 4 Faraday Retail Park, Coatbridge, United Kingdom, ML5 3SQ

Phone: 01236429586

Falkirk Retail Park

Unit 11 Central Retail Park, Falkirk, United Kingdom, FK1 1LW

Phone: 01324406101

Aberdeen Union Square

Units RTU 2 and 3, Union Square Shopping Park Aberdeen, United Kingdom, AB11 5PF

Phone: 01224 581440

Aberdeen Bridge Of Don

Denmore Road, Aberdeen, United Kingdom, AB23 8JW

Phone: 01224 973695

Dunfermline

118 High Street, Dunfermline, United Kingdom, KY12 7DP

Phone: 01383 727363

Fort William

Unit 3 Fort William Retail Park, Fort William, United Kingdom, PH33 6PP

Phone: 01397600208

Anniesland Simply Food

Great Western Road, Glasgow, United Kingdom, G13 2TH

Phone: 01419 547439

Newton Mearns Simply Food

250 Ayr Road Newton Mearns, Newton Mearns, United Kingdom, G77 6AA

Phone: 0141 639 9536

Uddingston

Bothwell Road, Uddingston, United Kingdom, G71 7HA

Phone: 01698468235

Ayr Heathfield

UNIT 17 Heathfield Road, Ayr, United Kingdom, KA8 9BF

Phone: 01292 512115

Glasgow Sauchiehall Street

172 Sauchiehall Street, Glasgow, United Kingdom, G2 3EE

Phone: 0141 332 6097

Irvine Simply Food

River Way Retail Park New Street, Irvine, United Kingdom, KA12 8AG

Phone: 01294 275612

Milngavie Simply Food

Unit 1 Main Street, Milngavie, United Kingdom, G62 6BH

Phone: 0141 956 5029

Broadstone

182 Lower Blindfold Road, Poole, United Kingdom, BH18 8DP

Phone: 01202048565

Cowes Simply Food

Terminus Road, Isle of Wight, United Kingdom, PO31 7XH

Phone: 01983329296

Chichester East Street

16 East Street, Chichester, United Kingdom, PO19 1HS

Phone: 01243 782598

Bexhill

Unit 10 Bexhill on Sea Riverside Re, East Sussex, United Kingdom, TN40 2JS

Phone: 01424 819 230

Dover St James

Unit 17 St. James Street Retail Park, Dover, United Kingdom, CT16 1QD

Phone: 01304 808899

Eastbourne

133 Terminus Road, Eastbourne, United Kingdom, BN21 3NR

Phone: 01323 648431

Hastings

Priory Meadow Shopping Centre, Queens Road Hastings, United Kingdom, TN34 1PH

Phone: 01424 426707

Northampton Sixfields Simply Food

Unit 9 Sixfields Retail Park, Northampton, United Kingdom, NN5 5DG

Phone: 01604581142

Corby

Courier Road, Corby, United Kingdom, NN17 5DT

Phone: 01536 384441

Coventry Arena Park

Unit 4-5 Arena Park Foleshill Road, Longford, United Kingdom, CV6 6AS

Phone: 02476 666826

Wellingborough Simply Food

22 Castlefields Retail Park London, Northamptonshire, United Kingdom, NN8 2DP

Phone: 01933 271496

Oadby Simply Food

27 The Parade Leicester Road, Oadby, United Kingdom, LE2 4DF

Phone: 0116 271 6904

Warwick Simply Food

Unit 2-4 Westgate House, Market Street Warwick, United Kingdom, CV34 4DH

Phone: 01926401841

Swansea

270 Oxford Street, Swansea, United Kingdom, SA1 3BB

Phone: 01792 476788

Pontardulais

Unit 7 Pontardulais Retail Prk, Pontardulais Road FforestFach, United Kingdom, SA5 4BA

Phone: 01792 588901

Barnstaple

78 High Street, Barnstaple, United Kingdom, EX31 1HX

Phone: 01271 378551

Taunton

The County East Street, Taunton, United Kingdom, TA1 3LU

Phone: 01823 288051

Crewe Grand Junction

Unit 5 Grand Junction RP, Earle Street Crewe, United Kingdom, CW1 2RP

Phone: 01270 417223

Shrewsbury

5 Castle Street, Shrewsbury, United Kingdom, SY1 2BD

Phone: 01743 232552

Nantwich Simply Food

Beam Street, Nantwich, United Kingdom, CW5 5LY

Phone: 01270 629548

Meole Brace Simply Food

Unit 9 Hereford Road, Shrewsbury, United Kingdom, SY3 9NB

Phone: 01743 493246

Oswestry Simply Food

Smithfield Road, Oswestry, United Kingdom, SY11 2EL

Phone: 01691 681033

Telford

210-212 Dean Street, Telford, United Kingdom, TF3 4AP

Phone: 01952 292299

Mere Green

304 Lichfield Road, West Midlands, United Kingdom, B74 2UG

Phone: 01216 237155

Moseley

St Mary's Row, Birmingham, United Kingdom, B13 9EF

Phone: 0121 6237564

Princess Park Simply Food

Princes Park Chester Road North, New Oscott, United Kingdom, B73 6RB

Phone: 0121 355 4311

Kidderminster

Units 18-19 Weavers Wharf, Lower Mill Street Kidderminster, United Kingdom, DY11 6UU

Phone: 01562 515511

Harborne Simply Food

28-40 High Street Harborne, Birmingham, United Kingdom, B17 9NE

Phone: 0121 428 1315

Evesham Simply Food

Evesham Shopping Park unit 3 & 4, Evesham, United Kingdom, WR11 4AB

Phone: 01386 765912
"I was able to buy lunch in under 40 seconds – in fact, it was more like
15 seconds.

"

Sam Richardson

lovemoney.com