WEDDING PLANNERS
REVEAL WHAT TO WEAR
With a job that takes them to countless big days every year, it's no wonder wedding planners have some brilliant advice on what we should all wear. We asked four experts to share their top tips on how to ace wedding-guest style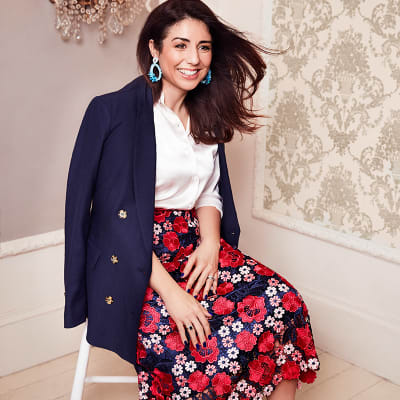 Lindy Dowling
Wedding and event planner
"I first got into wedding planning around seven years ago, as I've always been highly organised. The best thing about my job is seeing the bride beaming on her wedding day after all our plans have come together – I love that part.
"My top tip for a wedding guest outfit is to wear something vibrant and colourful – don't just fade into the background! I recommend avoiding anything too tight for a wedding, as it's a long, often-hot day and you don't want to be uncomfortable."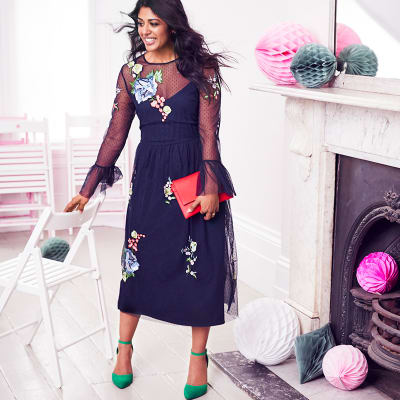 Sundari Ferris
The Wedding Stylist
"I can tell if a wedding guest looks and feels confident. When they walk in, you can see they're comfortable in what they're wearing – not constantly fiddling with straps or pulling their dress up. This navy dress is great because it's easy to wear and nips in at the waist, with lovely embroidery.
"When I'm in wedding planner mode, my outfit is completely different – I tend to wear all black while I'm running around setting up, and then will change into a very simple fit-and-flare dress for the actual wedding ceremony. People think it's such a glitzy job, but there is a lot of hard work involved – it's definitely not all glamour!"

Susie Young
Knot & Pop
"I'm a modern, creative wedding planner and it's important for my style to reflect this. This dress is quite demure but the split adds a bit of edge. I love the gorgeous pale blue colour, great for summer, and the subtle floral print. With such a pretty dress, I'd toughen it up with a smart, over-sized blazer.
"My top tips for wedding-guest dressing include choosing the right footwear – I've definitely seen quite a few spiky heels sinking through grass! Be confident in your own style. And, if you're going as a couple, try to be complementary with your outfits, but not too matchy-matchy."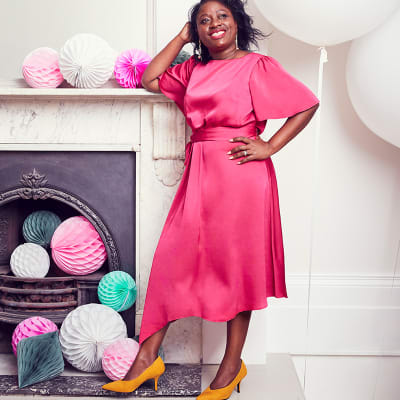 Rugie Wurie
Mrs Wedding Planner
"Two of the biggest fashion faux pas I see at weddings are parents wearing white (it's an absolute no-no) and guests who don't wear the right underwear for their outfit. The latter is definitely a problem because you'll feel self-conscious all day.
"Personally I like to feel comfortable and elegant. I love the bright colour of this dress – I wouldn't wear anything grey or gloomy to a summer wedding – and the feel of the fabric. I think understanding your form and what complements your shape is the sure-fire way to feel your best."