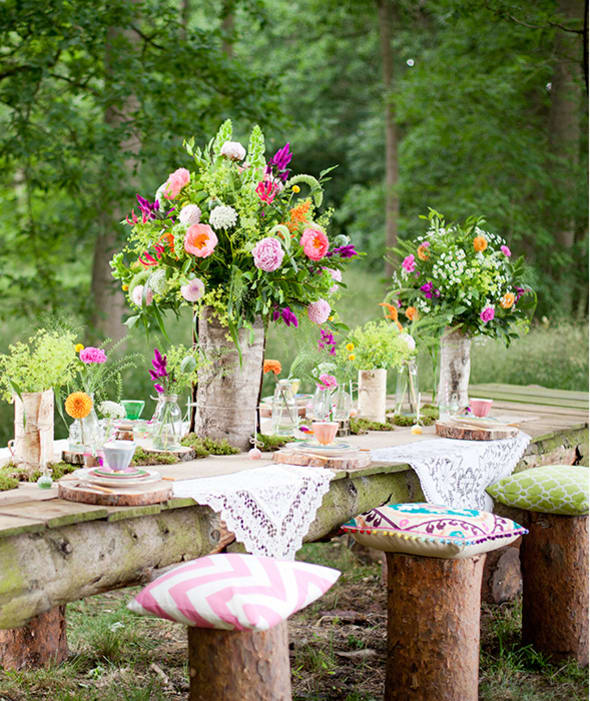 Your style is: relaxed rustic
About you: You've always dreamed of getting hitched outdoors… the sunshine, the smell of fresh flowers, the bird song… sigh! A relaxed vibe is key for you – no formalities please, just lots of laughter, and did we mention sunshine?
Your wedding: Laid back, mismatched and pretty – the al fresco venue is ideal for your favourite rustic details, like cushions on tree-stump stools and DIY-look bunting. Mini maids will be in sweet, informal dresses with sandals, while page boys jump around in cool stripes. The table setting will be low key: teacups and saucers, mismatched plates and, of course, heaps of fresh flowers in bottles, jars and a mix of different-shaped vases.
Your style is: traditional elegance
About you: Once you tried on that satin, floor-skimming wedding dress with its cathedral-length veil and exquisite beading, you knew there was only one kind of wedding for you: traditional, elegant and beautiful. A five-star hotel would be your dream setting – ornate gold walls, plush furniture and formally laid tables with oversized blooms.
Your wedding: In keeping with your invitations, the wedding details will be suitably refined. Think cut-crystal glasses, bone china plates and crisp table linen. Your groomsmen and page boys will all be in tails, naturally, and your bridesmaids in matching Grecian dresses. Your guests will be sipping grand cru vintage champagne from coupes while nibbling on delicious canapés and admiring your statement cake: five tiers of immaculately iced deliciousness chosen to coordinate with your gown.
Your style is: cool contemporary
About you: You're all about fuss-free but stylish details. Your bridal gown is most likely a satin sheath dress with an elegant low back, paired with diamanté jewellery for understated sparkle.
Your wedding: Pared-back and tasteful – bunting has no place on your bridal mood board. You love clean lines and a neutral palette, which is reflected in your choice of modern tableware, from plain linen to elegant tea lights, offset beautifully by faux white and green florals. Your bridesmaids will be in – gasp! – black, and your groom in an evening jacket. Your mother has equally good taste, wearing black lace and a contrasting hat. The wedding cake is classic with a modern twist: three tiers with bow detailing. However, even though you favour sleek, simple design, when it comes to your wedding-night lingerie, all bets are off!