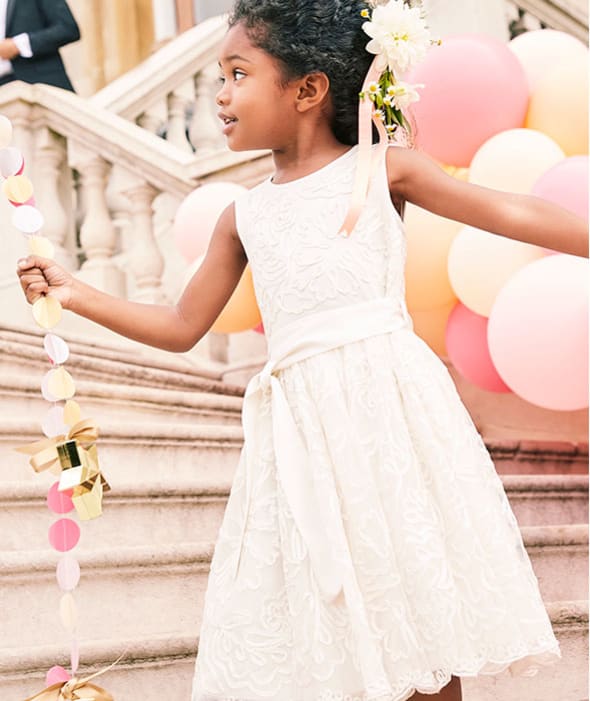 For the guests
DO arrive bearing gorgeous gifts
Unless the happy couple have a wedding list or honeymoon fund, you don't want to turn up empty-handed, but neither do you want to get them something they don't want or need. You can't go wrong with an M&S voucher, or if you're looking for something more romantic, the bride and groom will surely appreciate a bottle of our premium champagne and a pair of tasteful flutes to drink it from.
DON'T forget to RSVP
Not only does it help the bride with her admin, it's simply good manners. And, while you're at the post box, why not send the happy couple a congratulations card, too?
DO make an effort with your children's clothes
It's commonplace now for couples to have a 'no kids' policy at their big day, but if your little ones have been invited, show your appreciation and ensure they're suitably dressed – as well as comfortable. There are so many fun options, from formal suiting to fabulous partywear.
Look the part
DO give it some glamour when it comes to accessories
This is a party, so let's celebrate! Add some va-va-voom to your outfit with a trendy mini cross-body bag, a leopard-print clutch or a glittery shoulder bag.
DON'T shy away from wearing darker colours
Once upon a time, wearing black to a wedding was a big no-no. Now, pretty much anything goes, from metallics to full-on fashion-forward dresses (think rich gold velvet). You might want to leave that white dress at home, though…
DO stick to a dress code
Most weddings these days don't specify a dress code, which usually calls for a smart-casual approach. This probably means a snappy suit for him (with or without a tie or dickie bow) and a fail-safe elegant dress for her – hat or fascinator optional. If the invite says black tie, then men should opt for a tuxedo and women a longer hemline or even a cocktail dress. Increasingly, guests are encouraged to wear bright colours – a great excuse to reveal your fun and fearless side.
Bridesmaid know-how
DO begin the big day with a bit of bubbly
Nothing kicks off the celebrations and, let's face it, helps give the bride a bit of Dutch courage, like a glass or two of champagne. Make her day extra special with one of our premium bottles.
DO remember to tell the bride how amazing she looks…
It will make her feel more confident and ease her nerves, which will, in turn, make your job easier. While you're at it, let her know how proud and honoured you are to be her bridesmaid – and how much you love your dress (even if you didn't get to choose it).
DON'T let the bride forget anything
Maids of honour, listen up. She's been planning her wedding for months, but don't expect her to remember all the little details when she's battling the big-day nerves. So make sure she doesn't forget her bouquet and be on hand with any little extras she might need: tissues, make-up, perfume, mints – you name it.