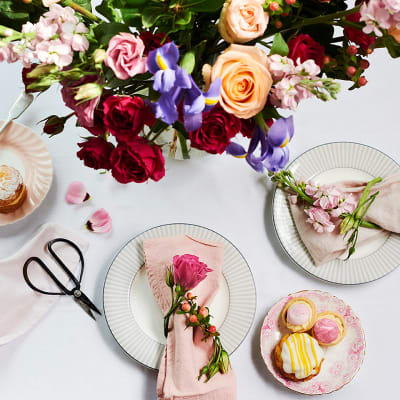 Make a beautiful bouquet the star of your afternoon tea
For an afternoon tea set-up that's guaranteed to wow your guests, let beautiful blooms take centre stage. First, set the table with a crisp white tablecloth and pile the sarnies and sweet treats on to pretty serving plates. For the flowers, simply mix the flower food that comes with your bouquet with fresh water in a vase and arrange the trimmed stems so that they look great from every angle, no matter where you're sat at the table. Place extra stems on a linen napkin of each table setting. To keep your flowers looking lovely long after the tea has been munched, keep the flowers out of direct sunlight and heat, refresh the water regularly and re-trim the stems.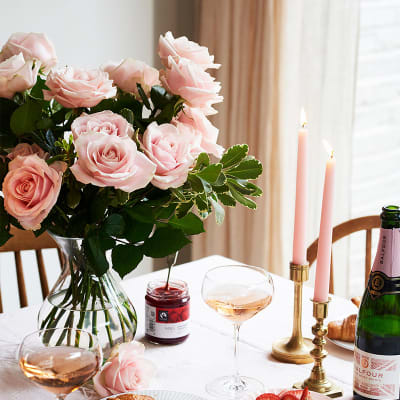 Set the mood for your romantic brekkie with blush-tone roses
When it comes to showing how much you care, it doesn't get any more romantic than a bouquet of roses. Set the scene for your loved-up breakfast with light-coloured table linens, candles, fizz and, of course, roses. To arrange the bouquet, first remove the guard petals that protect the flowers and any excess leaves from the stems that will fall below the water line. Use sharp, clean shears or scissors to trim the stems at a 45-degree angle so they are around 2cm taller than the vase. Place the stems in a clean vase that's filled with water and flower food.
Discover our full range of flowers online, including beautiful roses, and get the perfect bunch delivered to your door for free.

Have fun with flowers at your garden party
Pull out all the stops at your next garden gathering by spending some extra time setting the table before your guests arrive. Simply gather an eclectic selection of varying-sized vases, fill them with water and place the trimmed stems from your favourite bouquet in each vase. Set the table with plates, cutlery, wine glasses, tumblers and linen napkins, then scatter more flowers all around. For a personal touch, get creative and make handmade menus, then decorate each plate with a few stems of extra foliage.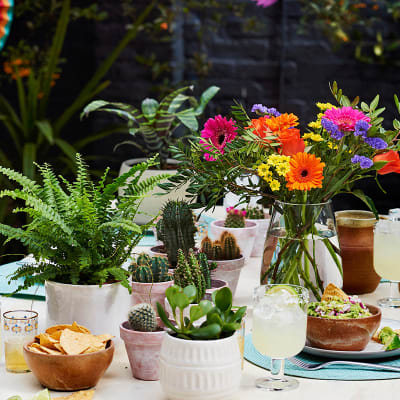 Invite some spiky guests to your Mexican feast
Take taco Tuesday up a gear by transporting your family to the sunny shores of Mexico with this creative table-setting idea. Alongside your guacamole, salsa, tortilla chips, cocktails and mocktails, arrange a selection of houseplants, succulents and cacti. For a pop of colour, order one of our vibrant and super-eye-catching bouquets and arrange in a glass vase. Complement the bouquet with contrasting-hued napkins, table mats and candles for extra impact and fiesta-inspired fun.
Order picture-perfect plants and bold and bright blooms online.

Use blooms to brighten your family Sunday lunch
Add colour and freshness to your Sunday lunch table with minimal fuss by getting a stunning new-season bouquet delivered to your doorstep. First choose a vase that complements the colours and style of the blooms. Remove any wilted petals and excess leaves from the stems, measure the flowers against your chosen vase and trim to size, cutting on the diagonal – this will allow the flowers to soak up more water and bloom for longer. Fill the vase half full with water and plant food, then add any foliage first, followed by the statement stems. For extra impact, add a small vase or bottle with one or two stems to each place setting with a hand-written name card.
Browse the full range of new-season flowers online.
Words: Olivia Ferguson / Images: Issy Croker/ Art direction & styling: Emily Ezekiel