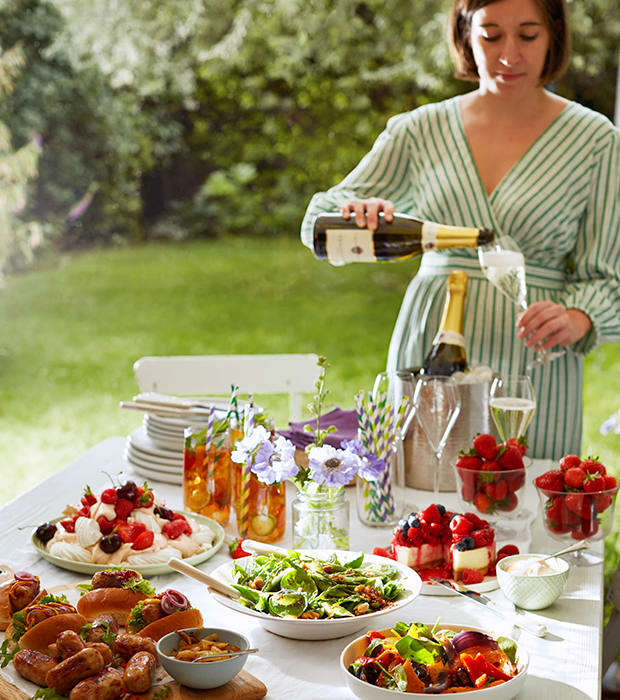 From sunshine-ready cocktails to the easiest-ever berry dessert, get everyone together for a garden party with these no-fuss hosting ideas from deputy food editor Heather Taylor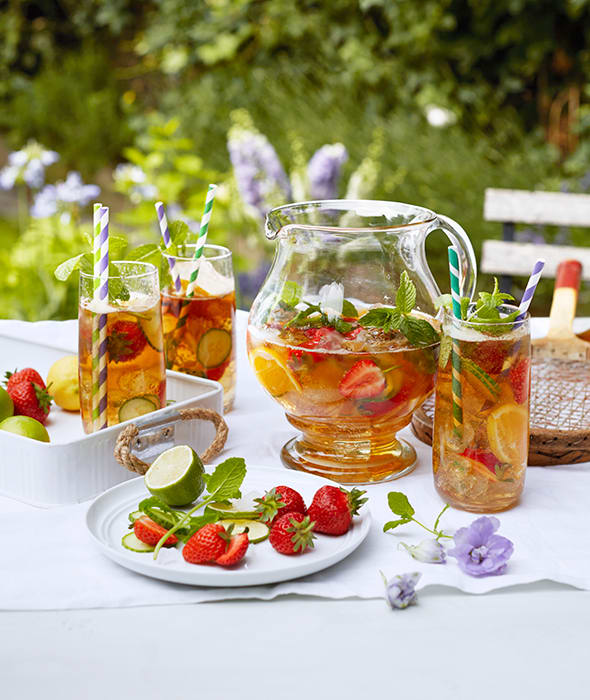 Pour please-everyone welcome drinks
Nothing spells summer like a fruit-filled cocktail in the garden, and our Summer Cup is just the thing to sip while the tennis is on. An aromatic blend of gin with melon, cucumber, spices and lemon peel, it's given a citrussy tang with a hint of earl grey tea. Simply pour into a large jug filled with ice and top up with soda water and as much fresh fruit as you fancy – Red Diamond strawberries, lime and orange wedges and fresh mint all work well. For a non-alcoholic version, top up our peach iced tea with soda water and add ice and fruit. And don't forget the fizz – stock up on Conte Priuli prosecco and make berry bellinis by blitzing Red Diamond strawberries, then topping up with bubbles. Cheers to the great British summer.
Let guests have it their way
Nobody wants to be stuck in the kitchen at a party, so create a DIY British sausage station with flavour-packed toppings and sauces for everyone to help themselves. Cook our fiery chilli cheese posh puppies (look out for mini hot dog buns in store) and outdoor-bred posh dogs, then add bowls of mustard and our Mexican chipotle salsa and smokehouse ketchup. Make a quick pickle with finely sliced red onions and radishes steeped in a little white wine vinegar, and caramelise some onions by slow-cooking them in butter with a spoonful of brown sugar. Alongside, serve our easy ready-made salads, which come in summery flavours such as samphire and sugar-snap peas or roasted butternut squash and red pepper.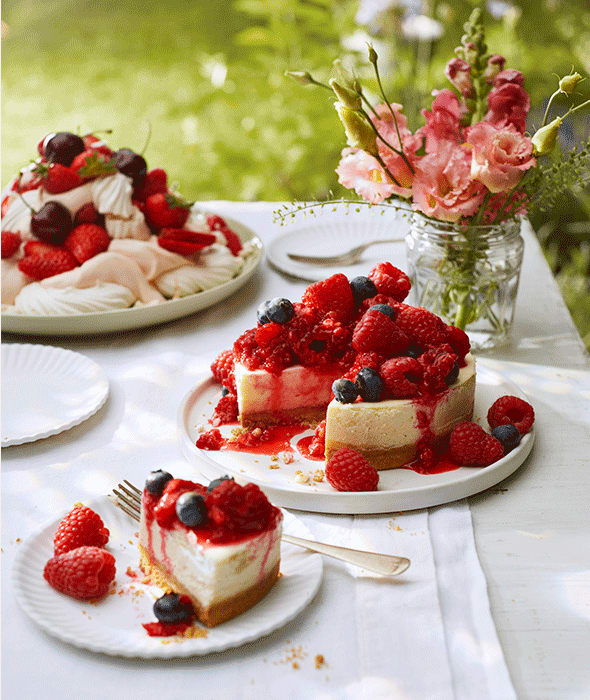 Keep them sweet with simple
summer puds
Our incredible M&S Select Farms British berries are at their best right now, from jammy, juicy Sapphire raspberries, to intensely sweet Red Diamond strawberries and super-size king cherries. Put them to good use in some stress-free desserts. Try topping our ready-made New York cheesecake with whole fruits and a few berries simmered into a compote, letting the ruby-red juices run down the sides. Or make an easy 'pavlova' by layering up meringue nests on a platter with our new pink gin cream (extra-thick cream with a hint of berry gin that gives it a pink hue) and lots more fresh berries – it's really just an assembly job, but looks like it takes a lot of effort. To decorate the table, split our pretty avalanche roses bouquet into jam jars strung with ribbon around the rims.