STEP UP YOUR WORK STYLE
In a work rut? Alice Olins and Phanella Mayall Fine from career-coaching initiative Step Up Club talk to us about ringing the changes, from major new career paths to shaking up your office look
Alice Olins and Phanella Mayall Fine run Step Up Club, which offers coaching for women looking for a new direction in their careers. Here, they talk setting up a business, workplace confidence and how their personal style has changed.
How did Step Up Club start?
Alice: Phanella (pictured right) and I had very different careers originally – I was a journalist and Phanella was a fund manager. I've been good friends with Phanella's husband for a long time, then I met her at a party and we ended up talking about women's career issues. I had gone freelance after having children and wasn't enjoying it, while Phanella, despite being very successful, was unhappy in her career path. We realised we had different but complementary skills and decided to write a book for women at a crux point in their careers – that was the start of Step Up Club.
Get the look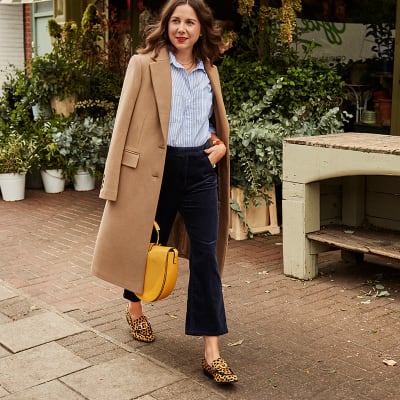 What does Step Up Club do now?
Alice: After writing the book, we started talking on panels and met many women with the same story. At a point between their thirties and forties, these women were reassessing their careers, either triggered by motherhood or by realising their career wasn't going in a direction that made them happy. We started Step Up School to help women like this. It's our foundation course and covers the most integral pillars of career development, covering everything from building your personal brand to networking. We've also created an online course and hope to grow nationally and internationally in the future.

Why is choosing great workwear important?
Phanella: Confidence in your appearance is very important – that's why we have a session focusing on style at our Step Up School. Good clothes mean you feel great and influence the way people perceive you. When I started working as a junior lawyer, we all wore black suits but now you can wear a bright suit, dresses, great separates – there are lots of options. Even if you are not particularly into fashion, it's worth taking time to think about what you wear to work, as it can have a big impact on how people react to you.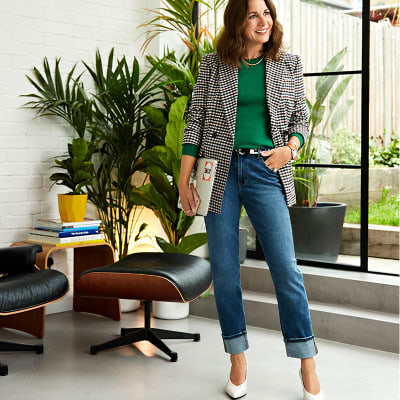 What's the best way to step up if you're in a career rut?
Phanella: Go back to the drawing board and think about what success looks like to you. You may have followed a particular path thinking it would make you feel successful, but it hasn't. Consider what has made you happy in the past, what you value, what gets you out of bed in the morning. Once you start thinking about the potential elements you want in a new career, it's much easier to find potential opportunities.

How has working together impacted your style?
Phanella: We've definitely had a big influence on each other's style. When we started working together I dressed more formally because I was used to working in the corporate world.
Alice: I'm much more smart and polished because of Phanella – when I used to work in newspapers, I dressed so casually! I still feel like I always wear more relaxed clothes, whereas she is very pulled together, but we have rubbed off positively on each other.
Editor: Sophie Hines / Photographer: Eva K Salvi / Stylist: Louise Carmel Hall
Hair stylist: Luke Benson / Make-up artist: Lindsey Poole