THE COUNTDOWN
TO CHRISTMAS
Sarah Tomczak, executive editor of Red magazine, reveals the key events she will enjoy with daughters Coco and Sylvie as we count down to Christmas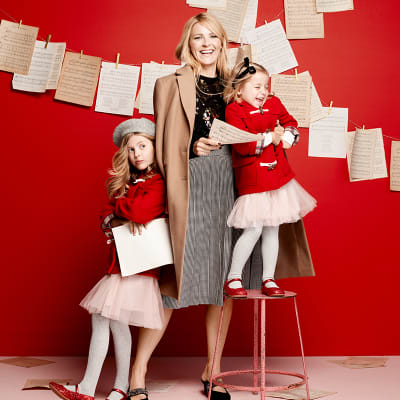 The carol concert
Christmas music is the first thing that draws you into the festive season. I try to avoid it until after Bonfire Night, but then I'm all-in – the carols, the pop songs, all of it. One of the major dates in our family diary is the Christmas Eve carol service – our annual visit back to the tiny country church where I married my husband. Coco, six, and Sylvie, three, always sneak up to the altar so they can stand right next to the vicar to sing the carols. We all belt them out at the top of our voices (because when else can you do that in public?). It's also an excuse for us to dress up and put on a bit of sparkle, be it a sweater or Dorothy shoes. I never fail to get misty-eyed during Oh Come All Ye Faithful, but the best bit is the mince pies and mulled wine at the end.
Shop the look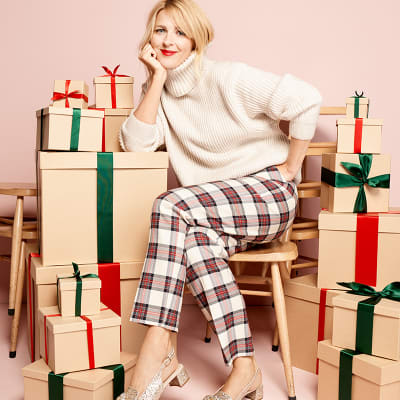 Wrapping the presents
If I'm honest, I get as much joy from the planning and preparation of Christmas as I do the actual celebrating. I make lists of what I plan to buy for people, tear recipes out of magazines and decide on my decorating 'vision' months in advance. But top of my list is gift wrapping – each year I have a different scheme and I wrap everything identically (apart from the kids' because they might get suspicious about Santa's lack of involvement otherwise). This winter, as well as surrounding myself with brown paper and reams of ribbon, I'll be wrapping up in a chunky-knit sweater too. This thick ribbed one has become the hardest working piece in my wardrobe – as great over a dress as with checked trousers.

Christmas tree shopping
British winters don't always call for giant coats and sometimes some good layering can be just as effective. I love a fine-knit polo neck under just about everything and corduroy is a nice alternative to denim. Just don't forget to add a hat, scarf or woolly tights. Buying the Christmas tree is another family event for us. We buy it on a Saturday, stand it in a bucket of water overnight and then decorate it together on the Sunday... And then when the kids go to bed I spend hours redecorating it more tastefully!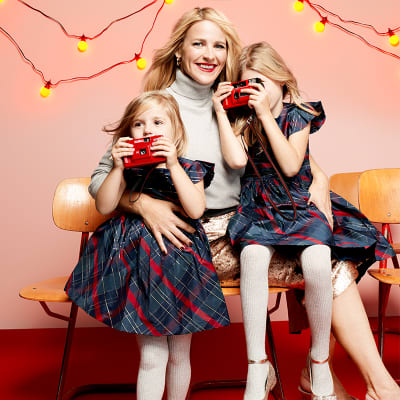 A trip to the theatre
I go to the theatre more at Christmas than the rest of the year put together. Whether that's the school nativity (so far Coco has been an angel, a star and a donkey) or the ballet (Matthew Bourne's Swan Lake was breathtaking). Coco and I have also started a tradition of seeing a show together at Christmas, just the two of us. We put on something special (is there anything more festive than sequins and tartan?), go to the theatre and, afterwards, to dinner. Last year I chose The Snowman and Coco chose burgers and ice-cream sundaes. It was pretty magical. This year I plan to do the same with Sylvie too.

The Christmas party
This time of year can be a bit of a social whirlwind and I often find myself going to two or three events in an evening. Instead of donning a party dress, I think it's more practical (and actually far cooler) to dress up some slightly more casual pieces. I love black and navy together, and a velvet blazer layered over knitwear is always chic. I'm a late adopter of leopard print, but this season I couldn't resist. The real secret to this outfit though is the accessories: a glittery clutch, velvet kitten heels and a messy up-do make this ensemble perfect for parties. Oh, and call me crazy, but I almost never wear tights. I think a few years of living through New York winters emboldened me and I believe everything looks better with bare legs! But when it gets very bitter, I will succumb to knee-high boots.
Editor: Sophie Hines / Photographer: David Gubert / Stylist: Oonagh Brennan / Stylist's assistant: Gabriella Minchella / Hair stylist: Bjorn Krischker
Make-up artist: Karina Constantine / Manicurist: Emma Welsh