DRESSING FOR SUCCESS
Four women at the top of their career game reveal the workwear that gives them confidence, and share some handy advice for those wishing to emulate their success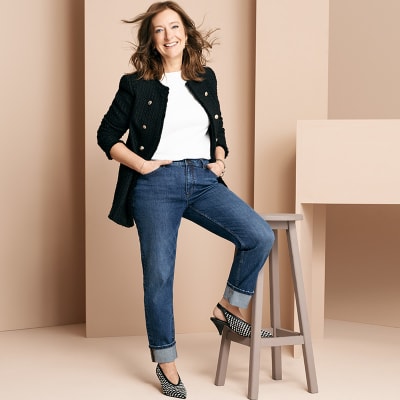 THE FASHION BOSS
JILL MCDONALD, MANAGING DIRECTOR OF CLOTHING, HOME AND BEAUTY AT MARKS & SPENCER
"My job is to ensure M&S creates stylish must-haves customers can trust. I've loved fashion since I was six years old, and I love working with our design and buying teams at M&S to mix and match different looks. When my career started, there was very much a set work outfit – a smart skirt suit or dress – but it's more versatile now. I love the fact you can wear jeans with a jacket, or tapered joggers with a cashmere jumper.
"What's most surprised me about M&S clothing is the sheer number of truly brilliant pieces. I always visited for cosy knitwear or Flexifit underwear, but the jeans have been a revelation to me, for both comfort and fit. This autumn I'm looking forward to shoe shopping; we've got great stuff in the pipeline, from beautiful leopard-print boots to lovely leather court shoes."
Shop the look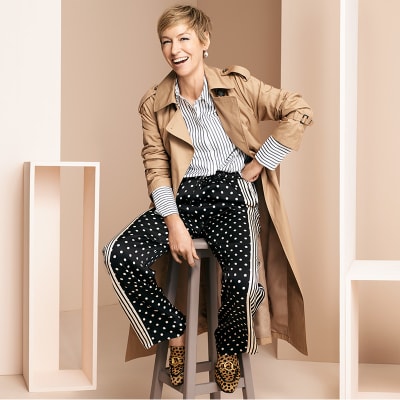 THE MAGAZINE EDITOR
JO ELVIN, EDITOR OF YOU MAGAZINE
"I'm a huge fan of print and colour – I love the pattern clash on these trousers. My go-to work look doesn't particularly differ from what I'd wear at the weekend; I'm lucky that I have a job where I can wear jeans, patterned shirts and sparkly flats as I would at home. When I've got meetings, I'll opt for block-heeled shoes and a nice dress.
"Working with fashion editors, designers and stylists through my job has given me a lot more confidence in my style – it's a magpie situation where I've picked up little things along the way.
"The biggest lesson I've learned in my career is that you can't live in fear of making mistakes. Be confident, but not arrogant, and have conviction in your decisions."

THE ENTREPRENEUR
ANNA JONES, CO-FOUNDER OF ALLBRIGHT, AN ACADEMY AND MEMBERS' CLUB FOR WORKING WOMEN
"I left my role as CEO of a big magazine publisher last year to set up the AllBright Club, a members' club and digital academy for women. I believe that women can excel in their careers by expanding their network; one of the main things I've learned in my career is that you can learn from and be inspired by people beyond your own sector.
"As a CEO, there's an expectation that you'll be suited and booted, but since becoming an entrepreneur, I've softened my style. I have to look polished though, as I'm often with our members, brands and investors. My go-to look is a nice skirt – I like tailoring with a twist so this leather option is great.
"Outside of work I'm in a T-shirt and jeans, gardening or running around the park with my two kids!"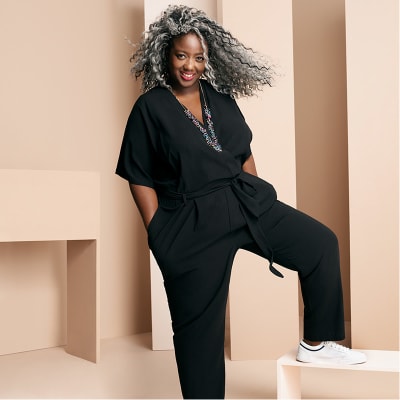 THE CHAMPION FOR WOMEN IN TECH
ANNE-MARIE IMAFIDON, CEO OF SCIENCE AND TECH SOCIAL ENTERPRISE STEMETTES
"My role involves managing a team to organise events and opportunities for girls in the world of science, technology, engineering and maths. I'm constantly on phone calls, in meetings and talking to our partners. To be successful you can't be afraid of hard work. I also admire people who take the initiative – they pre-empt what needs to be done rather than waiting to be told."
"Comfort is really important to me when dressing for work – I love a plain jumpsuit or black dress. Then I'll dress it up with statement jewellery. I love necklaces; the bigger and brighter the better. You can wear plain outfits every day and people won't notice because the changing jewellery distracts them! I like to keep it casual though – when I went to Buckingham Palace to collect my MBE I wore Toms trainers."
Shop the look

Jumpsuits offer a fuss-free look
Coming soon
Editor: Sophie Hines / Photographer: David Gubert / Stylist: Karen Preston / Hair stylist: Ben Cooke
Make-up artist: Karina Constantine