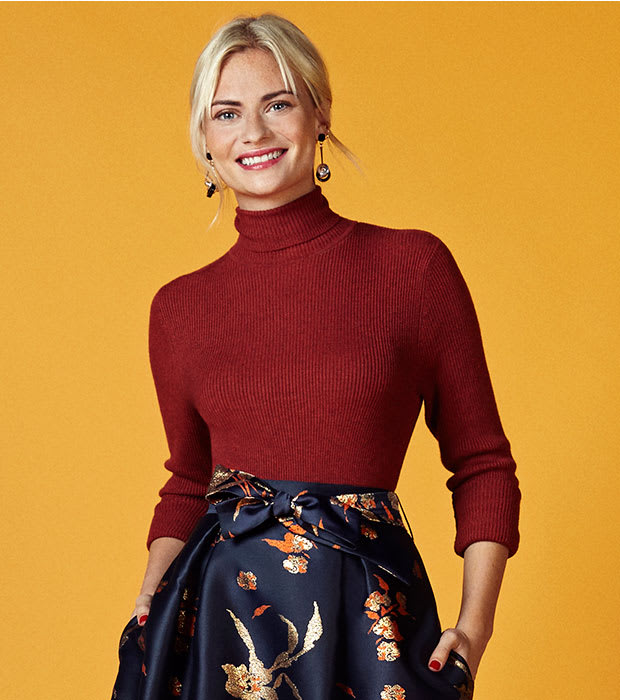 PANDORA SYKES
STYLES THE
NEW SEASON
The Sunday Times Style's Wardrobe Mistress and fashion features editor Pandora Sykes chooses her favourite autumn looks and reveals her must-haves for staying chic at all times
Cool classic
"Wide-leg tweed trousers are an autumn wardrobe staple, particularly for taller women – which I am not," admits Pandora. "If you're short, like me, add a pair of high, pointed courts and make sure you show off the waistband to lengthen the look.
"I've teamed these trousers with a cold-shoulder knit, a standout piece from the M&S autumn/winter collection. It's soft and cosy, and the cut-out shoulders give it a modern twist. It would work just as well in the day or evening.
"This cross-body bag is the perfect size: big enough to store water, a book and your other essentials, but delicate enough to hang on the pretty gold chain and not engulf your outfit. The snakeskin detail gives it an expensive-looking finish and burgundy is a great colour for autumn."
Easy elegance
"There's such a simplicity to a fitted roll neck and a midi skirt," explains Pandora. "It's an outfit that hides all manner of sins. This rust-coloured ribbed top is soft on the skin and layers beautifully under shirting and pinafores – so it's a good extra to have in your wardrobe.
"To balance a voluminous A-line skirt, you want a fitted upper half, so tuck the jumper in to keep the look streamlined. I like to tie my hair up when I wear a tighter top like this and add statement earrings.
"The metallic detailing makes this skirt look expensive and luxurious. It's the kind of piece you'd expect to find at Marks & Spencer: a really great skirt that needs only simple basics to hit the high notes."