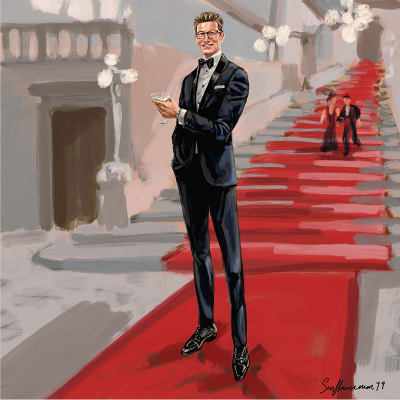 Dress code: black tie
Black tie is probably the most formal dress code you'll face with a wedding, and it means the bride and groom are expecting guests to pull out all the stops for their special day, so keep it classic. This textured navy dinner suit with contrast lapels stands out, although an all-black combo is equally smart, while a dress shirt and bow tie are non-negotiable. Braces lend a debonair and practical touch and high-shine shoes add to the sense of occasion. Keep your pocket square as sharp as your shirt cuffs.
SHOP THE BLACK-TIE LOOK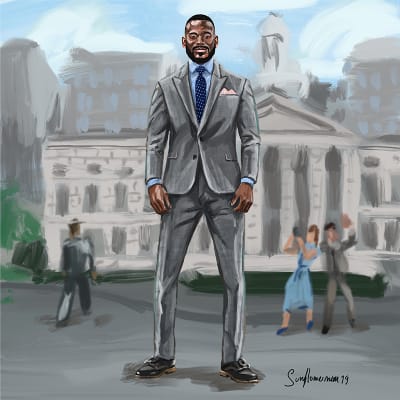 Dress code: city wedding
If the couple in question are a pair of city slickers, capture that man-about-town feel and you'll have it nailed. This sharp grey Prince of Wales check suit is perfectly urbane and has the added benefit of being suitable for work, so you'll get more wear out of it: clever chap. Contrast the serious suit with a more playful polka-dot on the tie and pocket square to elevate the look beyond the office – smart black leather monkstraps make the ideal dancing shoes.

Dress code: country wedding
Be it a stately home, huge barn or marquee on a perfectly manicured lawn, a country wedding has its own set of requirements. A gentle nod to a lord of the manor look will make you feel right at home – a tactile linen jacket and contrasting trousers bring a smart texture that works well with a knitted tie. Muted natural tones perfectly echo the surroundings, but add some flashes of eccentric pale pink with socks and keep the fit sleek to stop the ensemble coming off too trad.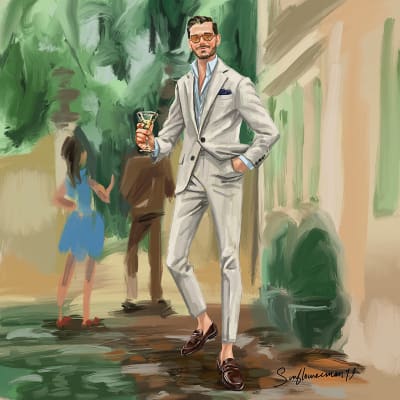 Dress code: wedding abroad
If the happy couple have planned a wedding overseas, chances are they're looking for nuptials in the sun. This calls for an outfit that is both travel-friendly and hot-weather appropriate. Handily, our linen miracle suit ticks both boxes: it's light and airy to stop overheating during drinks receptions on sun-drenched terraces, while the in-built tech means it won't come out of the suitcase looking like a creased mess. Swap the tie for sunglasses and go for no-show socks in leather loafers to really nail a sophisticated European air.
SHOP THE WARM-WEATHER LOOK

Dress code: evening guest
OK, so you didn't get invited to the ceremony but that's not to say you shouldn't make an effort for the evening. However, shop cleverly and you'll end up with an outfit full of classic pieces you'll wear long after the big day. Start with a blazer, just like this sophisticated checked navy version, but forgo a full suit in lieu of skinny or slim-fit chinos. The blazer's patch pockets stop it looking worky. Brown leather derbies and a beautiful pure-cotton twill white shirt are as classic as they come, so add impact with a bright knitted tie.
Words: Ian Wright / Illustrations: Sunflowerman