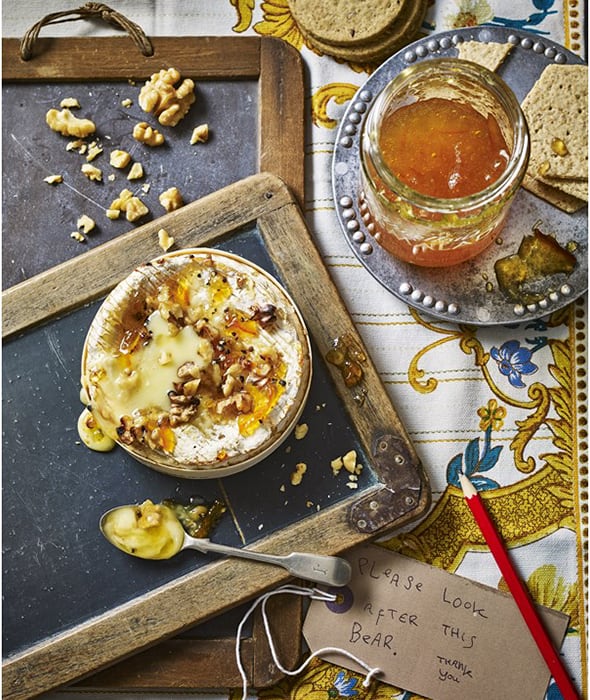 Extra-sticky marmalade baked camembert
"Mrs Bird doesn't usually like it when I make a mess in the kitchen, but this dish is all about leaning across the table together and dipping into oodles of gooey cheese.
"Mr Brown says it reminds him of the fondue he used to have on skiing holidays, but this version is obviously a lot, lot better because it's got marmalade in it. And it's super easy: all you have to do is spoon a few big blobs of my special marmalade with a handful of chopped walnuts over a whole camembert and bake it until it's melty and wobbly in the middle.
"I've got to say it was the most fun I've ever had at the dinner table, as everybody leaned in to scoop their fork or a piece of bread into the melted loveliness. Although it did make me wish I had longer arms…"
Marmalade loaf cake
"When we make a cake at 32 Windsor Gardens, I'm in charge of all the important mixing and stirring, which is a very skilled job. Quite often, Mrs Bird asks me to stop after only a few seconds, probably because she's worried that I'm working too hard. Then I help to lick the bowl clean. And the spoon. And my fur. And the tablecloth.
"This particular cake is easy and fun to make, and it's got a zing of citrus that will wake your tastebuds up when they're tired after all that Christmas feasting. I like to watch it bake in the oven, slowly rising and going a lovely warm orangey colour. Mr Brown prefers watching TV, but – honestly – this is much more interesting."
Buttery marmalade French toast
"If you'd said you could make marmalade sandwiches taste even better, I wouldn't have believed you. But then I tried this. It's so zesty and warming and delicious – like all the best things about breakfast rolled into one. I'm licking my lips just thinking about it.
"I do wonder why they call it 'French' toast, though. Mr Brown once told me that if my boat from Darkest Peru had landed in France, not the UK, I might be called Gare du Nord instead of Paddington. But that would be silly, because I'm really no good at gardening at all…
"Anyway, when you want breakfast to be more of a special occasion than just a slice of toast or a lazy bowl of cereal, this is perfect. And it's small enough to fit into Jonathan's and Judy's lunch boxes, so it'll make a special treat for school this winter."