WEAR IT YOUR WAY:
LINEN
It's the ultimate summer fabric, but this season linen has a new look. Here's how some of our favourite folk are wearing it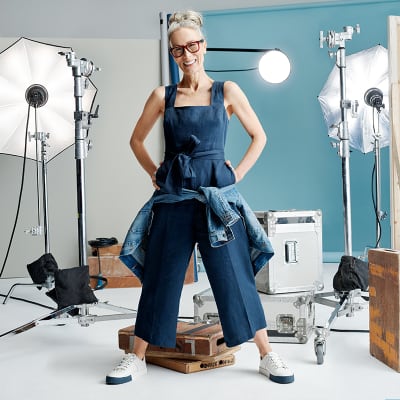 Caryn Franklin,
fashion and identity commentator
"I love comfy clothes that I can throw on but are still a flattering shape on the body. Sustainability is important to me, so I look for good-quality fabrics that will last a long time without losing their lustre.
"I don't believe in 'age-appropriate' dressing; it's about finding clothes that suit your body shape and personality. There's plenty of evidence to show that what we wear can affect how we think and feel, so it follows that if you're wearing something you feel good in, you'll project more confidence."
Shop the look
Stuart Derbyshire-Cooke,
psychotherapist, and
Ben Derbyshire-Cooke,
hair stylist
Stuart: "I really like this jacket – it reminds me of the checked suit I wore to our registry office wedding. You could also put a white or pale blue shirt underneath it.
"Being a similar height, we share a lot of clothes, but I've got a wardrobe and Ben's got a room! I'm a really simple dresser and I live in blue or grey – because of my job, I'm generally smarter and classic."
Ben: "Linen has just got that summer feel to it. Tailored linen is lovely. When it's got a bit more structure to it, it can look really cool. I really like the shirt Stuart's wearing – I'm into something that's a little bolder."

Yihui Wang, model
"I love linen for a lightweight summer look. This blazer is a great way to wear tailoring when the weather gets warmer. As a model, I'm often rushing between castings, so I can't have anything heavy or uncomfortable. This would be great for summer evenings on holiday, too!"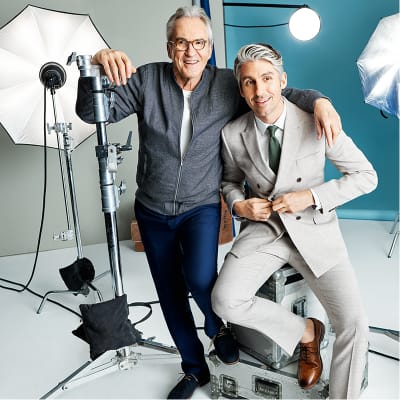 Larry Lamb, actor,
and George Lamb,
TV presenter
Larry: "In the past I've had things in my wardrobe it wasn't worth buying mothballs for! But I love linen – one of my favourite jackets, approved by George, is in linen. There's just something about how you don't have to worry about how it sits – if it's creased, it's creased, it's linen. It breathes and it's got a really lovely feel to it."
George: "This suit is a testament to how far off the peg tailoring has come – the cloth and fit are great. I'm a bit of a suit snob and that's a good suit right there. The crease resistance is a massive upside because, let's face it, linen is trickier to maintain, so the more that can be done to make it easier to transport and look after, the better.
"We went to Turkey last year and our wardrobes were 75 per cent linen – it was perfect in the heat, as it looked smart but not roasting."

George Alsford, model
"I wear a lot of linen in summer – it's a very expensive look and you've got to be confident to wear it. It's a classic gents' statement and 'old Hollywood actor on a yacht' style. It's very gentlemanly if done the right way. I've got a full pink linen suit that I bring out on special occasions and I think if you wear an undone linen shirt with a fitted blazer with off-white trousers, it's a strong look – you've got to be confident to wear such attire! It's bold but at the same time pretty classic. With a linen shirt, if it's oversized, just undo it and roll up the sleeves. And you don't have to iron it, either – just hang it up in the shower!"
Editors: Sophie Hines, Ian Wright / Photographer: David Gubert / Stylists: Chloe Forde, Kenny Ho, Louise Carmel Hall
Hair stylist: Ben Cooke / Make-up artist: Karina Constantine