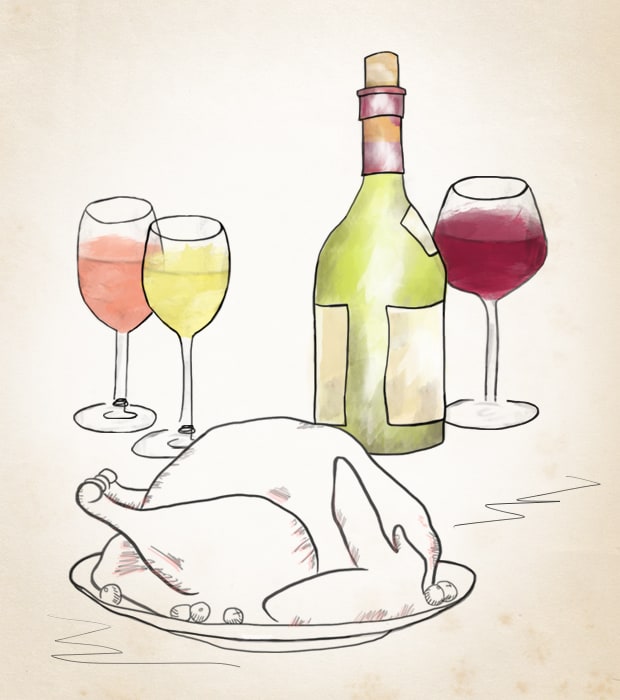 Red or white? Sparkling or rosé? Choosing the best wines to serve with Christmas lunch can send even the most dedicated connoisseur into a spin. Fear not: food & wine editor Emma Sleight and M&S wine expert Elizabeth Kelly have put together their perfect pairings to make your festive feast extra special
British beef
We Brits are so famous for our love of beef that the French term 'les rosbifs' became synonymous with Englishmen in the 18th century – we'll pretend it was a term of endearment. Today, it's the dish of choice for American festive tables and is growing in popularity over here, too.
It's easy to go big and bold when matching wine to beef. An elegantly spicy châteauneuf-du-pape is the natural partner for a succulent rib joint. However, a rich, tender rump cut calls for something a little more subtle, such as a smooth, rounded primitivo from Puglia.
"Syrah, SHIRAZ
or grenache grapes
make the most of a
roast joint or rib"
Tender lamb
A favourite for Easter Sunday lunch and spring feasts, lamb also works well at Christmas – especially when cooked with the classic festive flavours of redcurrants and rosemary in our easy-carve stuffed leg, or slow-cooked with warming winter vegetables like our gastro lamb shanks.
Choose a juicy, berry-rich red with jammy undertones and a slightly higher than average level of acidity that will cut through the fattiness of lamb. You can't go far wrong with an elegant Bordeaux blend of merlot or the blackcurranty depth of a New World cabernet sauvignon from Australia.
"Not a red wine drinker?
SPARKLING brut rosé
is a delicious match for
buttery red meat"
Perfect pork
Sweet, blush-baked gammon has long been a traditional choice for Boxing Day lunch, but there's no reason a juicy joint of pork can't be your Christmas centrepiece. British-bred and outdoor-reared, our pork makes a family-pleasing feast.
A plump loin coated in a golden jacket of crackling is best accompanied by a glass of chilled white with a sharp-sweet palate of tropical fruit, like an aged American pinot gris. If you're serving gammon in a sticky sauce such as our sugar-baked version, choose a wine that will slice through the salty sweetness – try a carmenère, a black cherry-based red with just a touch of spice.
"You can pair red,
WHITE or rosé with
pork, as long as you
balance your flavours"