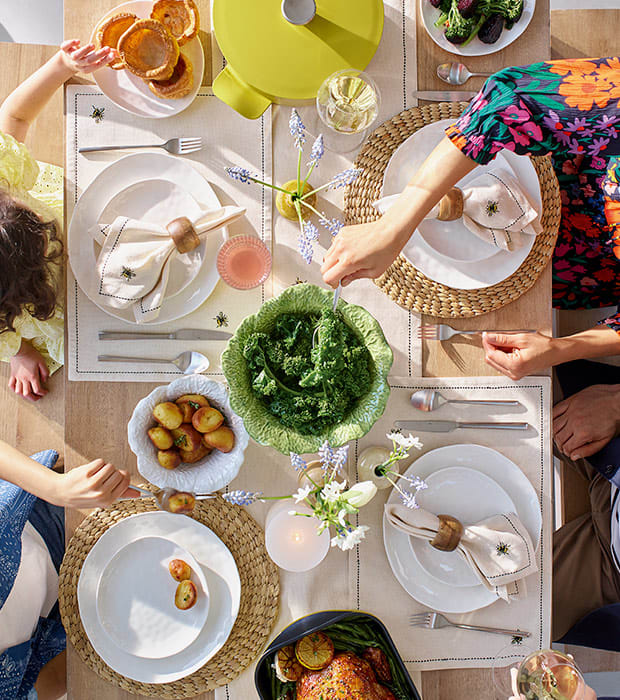 HOW TO
MAKE EASTER
EXTRA-SPECIAL
Make the most of the long weekend with a delicious Sunday roast packed full of spring flavour, plus decorating and table-setting inspiration, baking fun for all the family and the tastiest chocolate gifts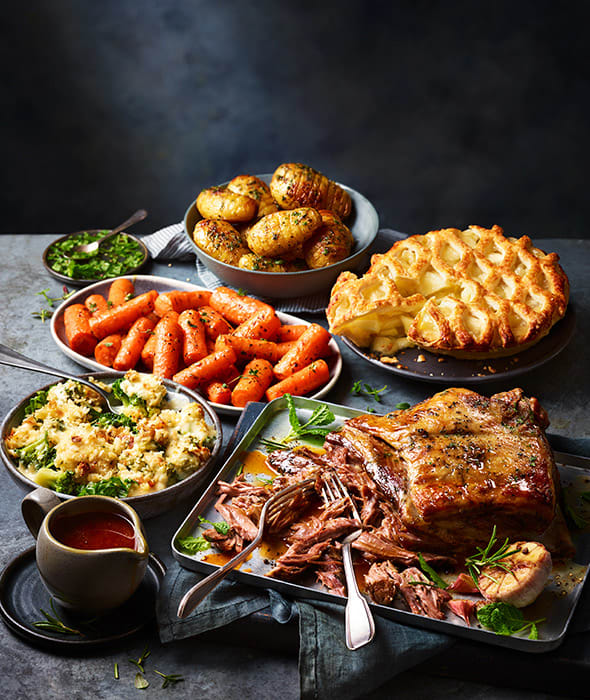 Serve up an Easter roast with the most
Want to spend less time in the kitchen and more quality time with your family? We have it covered with our limited-edition Easter Family Dine In. This serves-four feast includes a centrepiece roasting main, three sides for sharing and a dazzling dessert, all for only £20. Try pairing our deliciously tender slow-cooked lamb shoulder with crisply garlic and herb hasselback potatoes, our cheesy green vegetable bake and sticky, sweet honey and orange-glazed carrots. And for pud? It has to be a family-favourite apple pie that encases sweet, tangy Bramley apples in buttery puff pastry. Find the Easter Family Dine In deal in store from 13 to 17 April.
Set the table for Easter feasts
From a fish supper on Good Friday to the roast on Easter Sunday and hot cross buns for breakfast every day of the long weekend, Easter is full of opportunities to gather with friends and family – and all it takes is a few simple touches to make the table look special. Get the kids to make place cards and menus for each meal or the whole weekend. Add a table runner, placemats and napkins in natural fabrics and neutral hues. Secure napkins with wooden napkin rings or turn them into bunny ears by tying them with a ribbon around a hardboiled egg. Decorate the table with bud vases filled with spring flowers and bowls filled with chocolate eggs.
If the weather's good, take the opportunity to spruce up your outdoor space and eat outside with our garden furniture guide.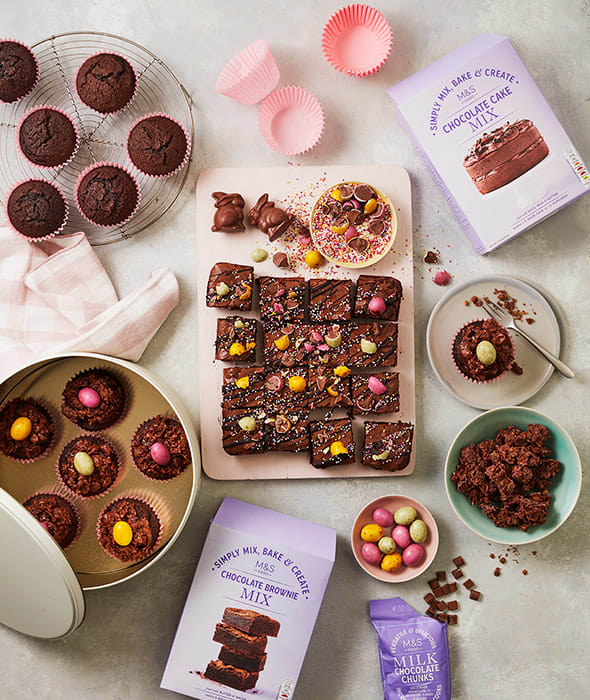 Bake up a storm
Perfect for mini chefs, our new Easter baking gift set is a choc-o-block with incr-egg-ible treats and fuss-free mixes so they can get creative in the kitchen during the school holidays. Try using the chocolate cake mix to make Easter cupcakes topped with cornflake cluster nests and colourful speckled eggs. Or add chocolate chunks to the brownie mix for extra indulgence, bake and then decorate with jazzy sprinkles and bubbly bunnies. Get more Easter gift ideas here.