THE WONDER KIDS
Introducing our game-changing kids – ordinary school children who, through passion and a desire for change, are doing extraordinary things. From volunteering to campaigning, the next generation are busy making our world a better place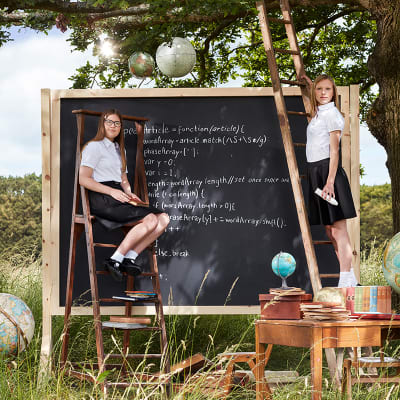 The coders
Megan Pickup, Callena Wylie (both pictured), Jessica Pec and Zara Pristov-King (all 13, from Berkshire) won a national coding competition testing their cyber spy skills in a series of challenges set by the National Security Centre.
Callena: "The final round of the competition was so intense. There was a leader board constantly updating our position. We went into last place so many times. Zara kept telling us to calm down, regroup, rethink and work our way back up again – and we did! I feel proud we won. It's important more girls get into coding, as only one in 10 coders is a woman."
Megan: "Some people think if you're good at maths, you're nerdy, but it's not true. Coding is one of the most amazing things to be able to do. There is so much social media pressure on girls to look a certain way – even the words you say can be judged uncool. The best thing to do is get a supportive group of friends. If you feel lonely, try joining a club."
SHOP THE LOOK
The fundraiser
George Pickerell, seven, has made it his mission to raise awareness about what life is like when you have muscular dystrophy, all while fundraising for the charity Muscular Dystrophy UK with his family's help.
"I get really excited when I see pictures of people in wheelchairs on websites or TV. I like seeing people like me. It makes me feel good.
"I do assemblies at school, telling everyone about muscular dystrophy. I tell them what it's like to have muscular dystrophy and how it feels. It's good they understand. If you're in a wheelchair and feel sad sometimes, remember that you can do anything you set your mind to."

The environmentalists
From organising beach cleans to creating their own hashtag #dontbottleit for an award-winning Twitter campaign, @sjaecowarriors, the Year 5 pupils at Scartho Junior Academy in Grimsby have been working hard to raise awareness about the devastation single-use plastic has on marine life.
Lauren Davis: "Some turtles get plastic straws in their noses and seagulls are dying from toothpicks getting stuck in their throats. The reaction to our campaign has been amazing. We even got a letter from the prime minister saying she would talk to DEFRA [the Department of Environmental, Food and Rural Affairs] on our behalf. That was really special."
Josh Natividad: "If you're passionate about something, do something about it. Go to your school, your family and your friends for help. Kids need to work together to make a change."
The social campaigner
Harrison Wright, 13, from Birmingham, is documenting his own get-healthy journey at harrisonsjourney.com to inspire others to do the same.
"I started my website after receiving a NCMP [National Child Measurement Programme] letter from school saying I was overweight. There was loads of advice on the internet for adults, but not much for kids, so me and my mum decided to do something about it.
"I want kids to know they're not alone – if we all encourage each other to get healthy, it makes it easier and more fun. I think kids struggle with body confidence because there's so much pressure with social media to look like their favourite celebrities.
"My dream is to help kids all over the world, improving their health, fitness and body confidence. I have just chosen my options at school and one of them is sport – I never would have chosen that before."

The volunteer
A member of community dance group Embrace Dance UK in Tower Hamlets, Tavoi Warren, 15, devotes every Saturday and his half terms to help teach the younger children.
"Some of the little kids look up to me. I love working with them and seeing them succeed in what they like doing.
"The dance group helps children have something positive in their lives. They learn a new skill each week. It's a safe environment and you get to meet new people and build friendships. Embrace gives local kids a motivation to get up in the morning and do something. Not only are you having fun but you're getting fit at the same time.
"I'm dyslexic. It's been a barrier but dance has really helped. I would like to make dance part of my career – maybe as a choreographer for a big show, but if not, I'm good at maths so I'd like to be a CEO of a bank."
Editor: Claire Askew / Photographer: Sandra Freij / Stylist: Emma Macfarlane
Make-up artist: Hester Van Overbeek / Art director: Nicola Rose