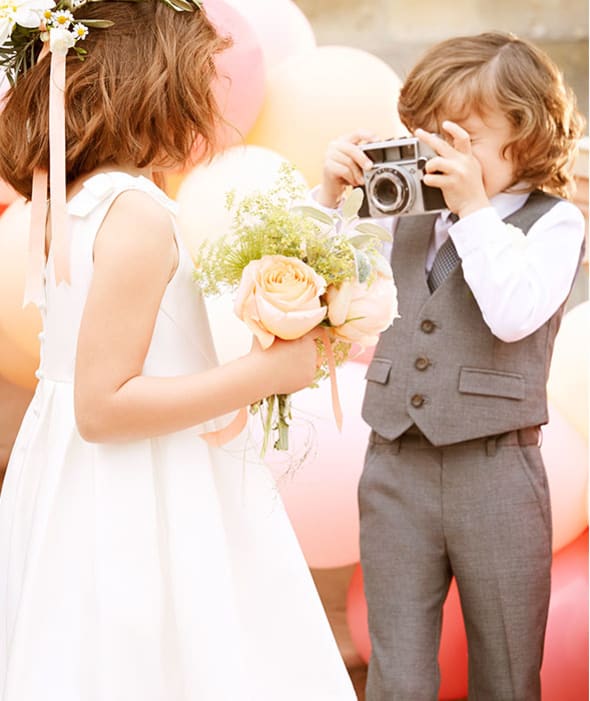 Sarah's top tips
- I always love a traditional page boy look. Sailor collars, shorts, waistcoats, corduroy, bow ties… Gorgeous – particularly on the littlest of page boys.
- Don't think white is off limits. Some of the prettiest flower girls' dresses are white. You can add a bit of (understated) colour, such as pale pink shoes, a cardigan or hair accessories – but even head-to-toe white or cream can look beautiful.
- Ballet shoes are perfect for flower girls. Opt for traditional pale-pink leather (or cream silk) with elastic to keep them on. Alternatively, a classic Mary Jane style is always lovely.
Page boy ideas
- On page boys, stick to neutral, classic colours. I like navy, cream, white and grey.
- Cute accessories can add a quirky touch. Think oversized bow ties or coloured shoe laces or socks. Pink is always cool, if the page boys will allow it!
- Mix things up. Suits are sweet, but mixing and matching can be lovely, too – shorts and Aran-knit jumpers, or velvet jackets with a shirt and shorts.
Flower girl inspiration
- For winter weddings, velvet is the perfect fabric for a dress. Colours such as dusty pink through to burgundy and blue all work. Add knitted tights if necessary.
- Accessories can make or break a look. My favourites include floral garland make-your-own headbands, oversized bows and little clutch bags (perfect for confetti!).
- Don't forget about a cover-up. Opt for a princess-style coat – or a bolero or cable-knit cardigan, which will feel traditional and modern at the same time.
- You don't have to buy an actual flower girl dress. There are so many gorgeous girls' dresses around, particularly if you're after something simple, and with the right accessories, they can be so pretty.