TRIED & TESTED
OUR NEW STYLE SERVICE
Whether you're shopping for a special occasion or need a wardrobe makeover, the new M&S Fit & Style service is for you. See what happened when the team tried it out at Westfield Shepherd's Bush in west London
Sophie Hines
Womenswear and lingerie editor
"When it comes to style I'm definitely a skirt person. Trouser-wise, anything beyond blue skinny jeans just feels too much of a styling headache for me to attempt. Determined to change my outlook, my Fit & Style stylist Cila identified the colours that work best on me – specifically cool tones, which was a surprise as I had assumed I should wear warmer colours.
"Cila introduced me to some new ways to bring trousers into my everyday wardrobe. For weekends, there was a pair of bright-pink skinny jeans with a casual blue shirt; or, for ultimate comfort, black joggers and a cosy knit, which look great with leather trainers. She also showed me how to pair a tuxedo jacket with wide-leg trousers for glamorous evening style – a look I would never have thought of on my own.
"It's great to discover some non-scary ways to incorporate trousers into my outfits – working with personal stylists means you try on outfits you wouldn't usually pick out. The studio itself is a calm oasis, so shopping there is a very enjoyable experience."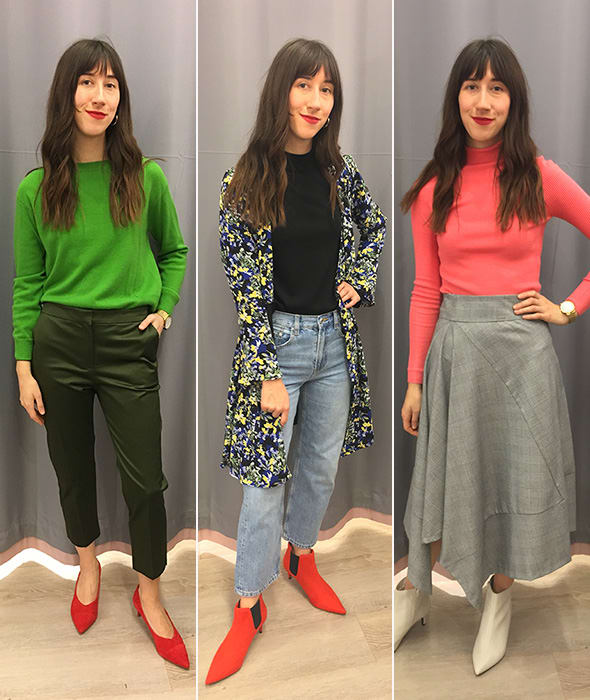 Dulcie Emerson
Deputy womenswear & lingerie editor
"My approach to colour is unadventurous to say the least – I exist on a sartorial diet of black polonecks, blue jeans and Breton tops. I like the idea of wearing a more vibrant palette, but I'm unsure which colours really suit.
"The styling team convinced me to take bold steps. They demonstrated how a tonal head-to-toe look could be achieved with an apple-green cashmere crew neck and tapered khaki trousers.
"Vivid prints may seem scary to the uninitiated, but the stylists revealed how to keep the look ultra-wearable – by layering over your failsafe black top and favourite jeans. Pointed red boots add a final pop of colour.
"Pink is uncharted territory for me, so the styling team suggested starting with coral. We balanced the look with a light-grey Prince of Wales check skirt featuring this season's asymmetric hem.
"I enjoyed being able to experiment in the 'safe space' of the Fit & Style studio, with helpful advice on hand whenever needed. It's made me much more confident about wearing colour."