WEAR IT YOUR WAY
THE EVERYWEAR TROUSER
Everywear is the bestselling trouser shape that suits everyone and works for every occasion. We asked four fashion bloggers how they style theirs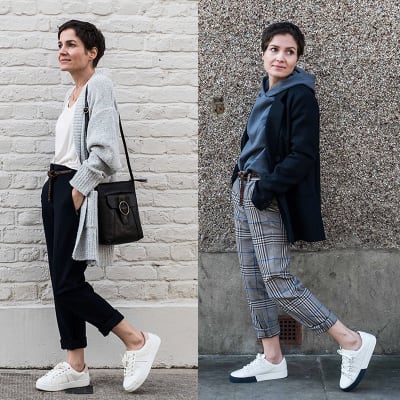 Julia Rebaudo, @stylonylon
"It's brilliant to have such a great alternative to denim with the Everywear trouser. The plain navy is so chic and the check is a great trend piece.
"I like a relaxed look, so I've rolled up the trousers for a casual vibe and paired them with these M&S trainers.
"The belt loop is great! I love the little trick of being able to wrap and tuck under a skinnier belt tail, as it adds visual interest.
"I'm a big fan of a hoodie and blazer combination, and thought it would be the perfect way to style and soften up the check trousers."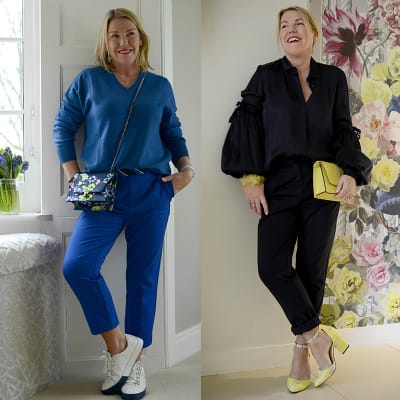 Sara Delaney, @notesbyastylist
"For bombing about town for meetings and press days, my uniform is usually trousers and an oversized knit.
"I love these cobalt blue Everywear trousers, which, as a fan of colour block dressing, I've paired with an oversized V-neck from the men's department.
"Everywear trousers don't just have to be worn in the day – with a little roll of the hem and the addition of a satin blouse, I've got date night sorted too. Throw in a few pops of this season's brights and you're off to the races."

Hayley Rubery, @frockmeimfamous
"I'm a huge fan of the M&S Everywear trousers: without stating the obvious, they really are perfect to wear everywhere!
"They're super comfy and have a flattering silhouette; I've teamed my cobalt blue pair with some kitten heels (a great height for running around all day), a crisp white shirt and a boyfriend blazer. With an oversized bag for my laptop and essentials, I'm ready to work.
"My favourite thing about these trousers has to be the versatility. From meetings in London to evening meals on the beach in Thailand, they're great for every occasion. I opted to wear mine on holiday with this tropical leaf-print shirt, some hoop earrings and mustard yellow sliders – the perfect comfy outfit for watching the sunset with a mojito in hand."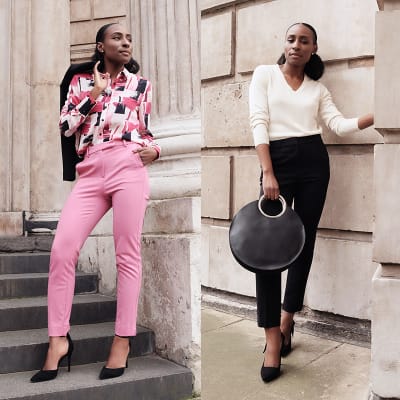 Sharon Peters, @thesharonpeters
"These trousers have become a staple in my wardrobe. Light but cosy, wrinkle-free and the perfect length to wear with heels or trainers, they are an absolute must-have this season.
"The design is fabulous – love it, love it, love it!"