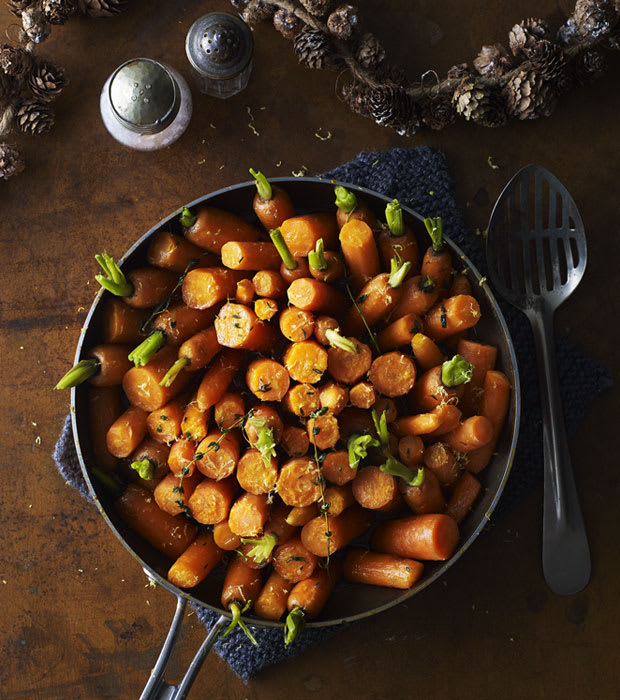 GIVE FESTIVE
VEG THE
EDGE
The humble vegetable can sometimes be outgunned by all the added extras come Christmas lunch. Transform your side dish into the main event this year with recipes and presentation tips from food editor Emma Sleight and food stylist Emily Ezekiel
Irresistible greens
If there's a vegetable with the power to divide a family, it's the Brussels sprout. Yet despite its hotly contested reputation, Christmas lunch without it is vegetable blasphemy.
Satisfy both the Brussels purist and the sprout-phobic with sweet and spicy sautéed greens. Combine pinches of cinnamon, ground ginger, cloves, rock salt, smoked pimento and chilli flakes with 300ml maple syrup and cook in a pan for around eight minutes. Add 100g chopped macadamia nuts and pour the hot mixture onto a greased baking sheet to cool. Sauté a mix of cavolo nero, colourful kale and sprouts in olive oil until tender, then break up the cold macadamia caramel and sprinkle over the leaves.
"Not a fan of sprouts? Try
sprout FLOWERS –
exclusive to M&S"
Seasonal squash
Tender, orange-flushed butternut squash has a brief UK season (September to January), so Christmas is the perfect time to swap out more traditional festive veg for something different.
Halve and de-seed ripe squash and sprinkle with 1 tsp crushed fennel seeds, olive oil and sage leaves and roast for 40 minutes at 180⁰C. Blitz 200g wholegrain bread, 50g oats, two garlic cloves and half a bunch of sage in a processor. Fry in a pan in olive oil until golden and add 100g chopped sweet chestnuts. Cook through and scatter over the roasted squash before serving.
"TRANSFORM seasonal
squash with a
chestnut crumb"