FRESH GARDEN IDEAS
Make the most of your outdoor space, whatever the size, with these easy ideas from deputy food and flowers editor Heather Taylor
The easy edible herb garden
Whether you've got a balcony, a patio or a whole garden to play with, fresh herbs are as pretty as they are delicious. Simply choose your favourites from our range in store, which includes woody rosemary and thyme (perfect in heartier dishes such as tray bakes or roast chicken) and fragrant basil, mint and parsley (use softer herbs like this for finishing dishes or eat raw in salads where their delicate flavour won't be lost). Arrange in mismatched plant pots on stylish open or ladder shelving, and make handmade labels for each one. Place in a sunny spot and don't forget to water regularly. Our chilli plant will provide you with fiery chillies to eat all summer, too. Complete the look with a few succulents and potted flowers for a summery feel, whatever the size of your space.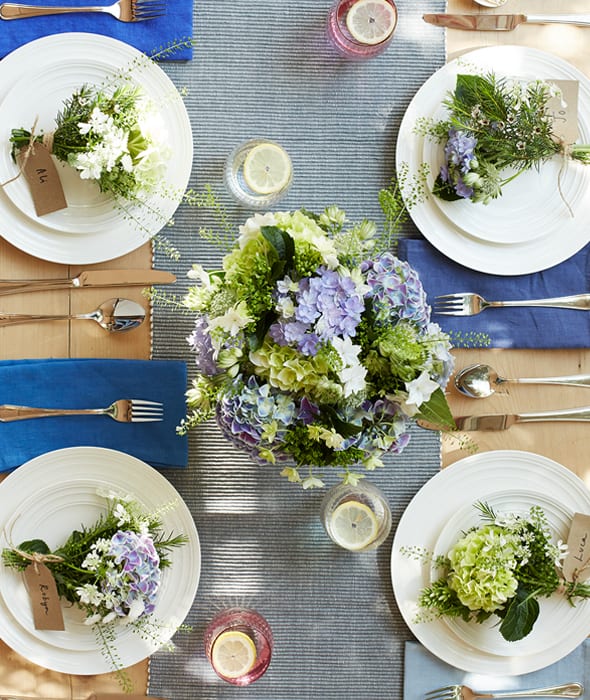 The floral table setting
Turn a simple wooden trestle table into an Instagram-worthy dinner-party setting with some prettily arranged fresh flowers. Hydrangeas are a seasonal summer favourite, and look beautiful in a large vase in the centre of the table, with a few softer blooms and some feathery foliage mixed in. Then, mix some of the cut heads with freshly cut herbs to make pretty place name decorations (and add a lovely aroma). Just write your guests' names on brown paper gift tags and secure with string, then put one on each plate. Set the table with soft blue linens and a textured runner to complement the tones of the flowers, and simple white crockery for a relaxed feel.
The herby summer cocktail
Serve guests a cocktail that's full of refreshing summer flavours and best enjoyed in the garden. A few days before your party, fill glass bottles with a little vodka and add some fresh herbs – tarragon, thyme or rosemary work, though you could add citrus or berries, too – then leave to infuse. When you're ready to serve, muddle a splash of the herby vodka with a squeeze of lemon and lime and a little of our elderflower cordial. Shake, then pour over ice and top up with soda before finishing with cucumber and citrus wedges, fresh raspberries and fresh elderflowers, if you like. Cheers to the great British summer.