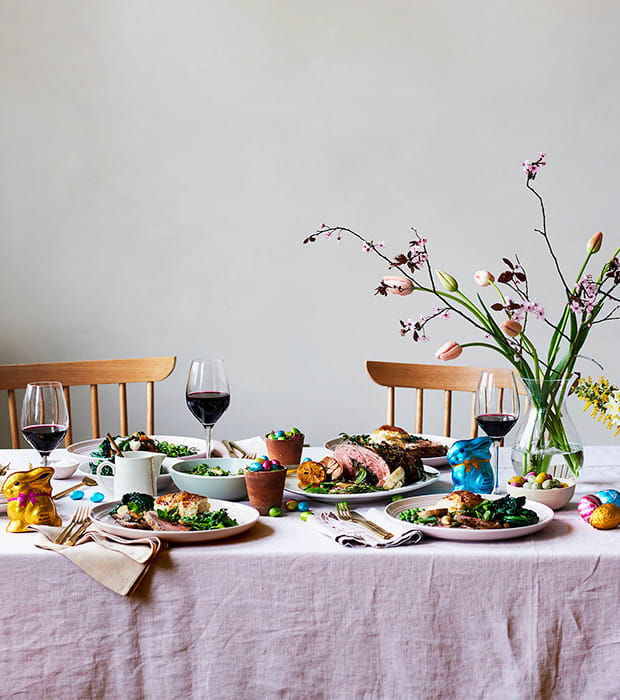 BE THE EASTER
HOST WITH
THE MOST
Celebrating with the whole family for the Easter weekend? From hot cross bun breakfast ideas to a most egg-cellent hunt selection, we've got your guaranteed-to-please-everyone menu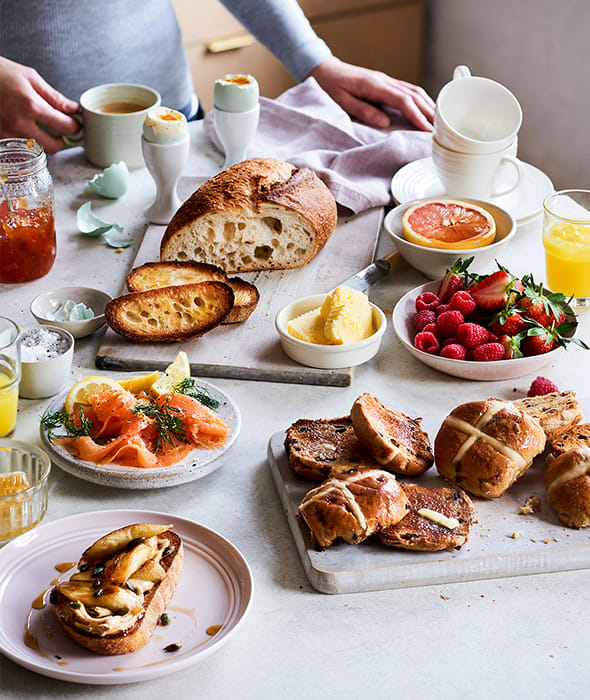 Magic morning solutions
Start the day as you mean to go on – deliciously – with our treat-ready selection of sweet and fruity hot cross buns and special San Francisco-style sourdough (available in store). Our sourdough takes 30 hours to make because it's slow-proved for a chewy, airy texture and crispy crumb. A bread this well prepared should only be topped with something extra special – we suggest our soft and sweet Scottish smoked salmon, or a thick layer of nut butter with bananas pan-fried in butter and sugar until they're caramelised. Swap your usual toast for something sweet with our luxury hot cross buns filled with plump raisins and spices, or try something different with our salted caramel versions – just add our Cornish butter for instant breakfast heaven.
The hunt is on
It wouldn't be Easter without Easter eggs, and this year our in-store range is almost too pretty to hide! Try our dreamy Moonbeam The Unicorn egg made from ultra-creamy white chocolate, or our equally enticing Angus The Bull egg in smooth milk chocolate – great for little and big kids alike. If you fancy something a bit different, you'll love our The Bees Egg, where our expert chocolatiers have caramelised white chocolate to give it a nutty, fudge flavour. Our Proseggo Egg is strictly for grown-ups, though, as it's made from milk chocolate infused with blackcurrant, raspberries and dried prosecco for a little pop of fizz on your tongue – definitely one to keep for yourself.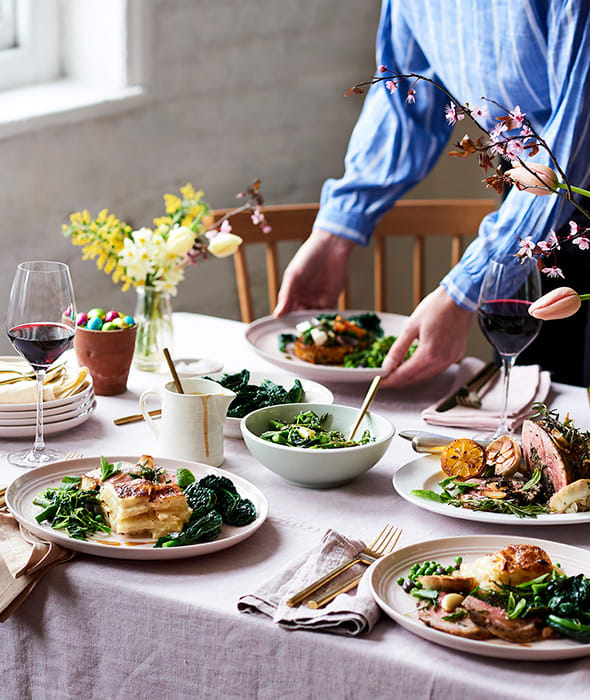 The main event
We think the Easter roast lunch is just as important as Christmas, which is why we're suggesting the full line-up of succulent lamb accompanied by all the trimmings. Our tender leg of spring lamb is studded with garlic, rosemary and sea salt and finished with a smoked garlic and herb butter for extra juiciness – plus it serves six hungry guests. Match it with our bright garden medley of petit pois, turtle beans, asparagus and pea shoots in minted butter, and a healthy slab of our indulgent potato dauphinoise made with double cream and mature cheddar cheese.
End on a sweet note
It's not all about the chocolate at Easter, as our pick of the sweetest desserts shows. Create an Easter-themed afternoon tea with our super-cute choux pastry bunny tail profiteroles topped with the lightest sprinkle of desiccated coconut and filled with rich chocolate mousse. Or serve up a slice of our baked Madagascan vanilla, New York-style cheesecake topped with milk chocolate drizzle and hollow eggs. For a traditional treat, look no further than Our Best Ever Trifle: feather-light sponge, lashings of British dairy cream and vanilla custard, with jam made from British strawberries (available in-store) – it's the ultimate Easter weekend scoop.