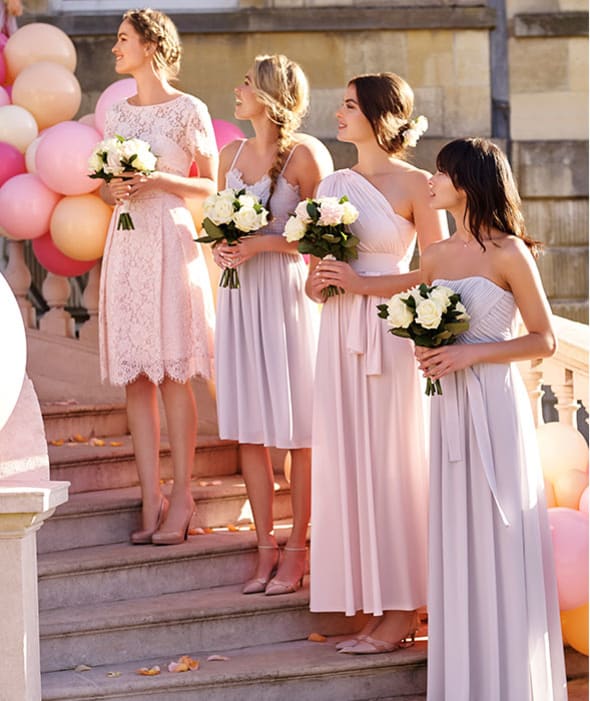 Go to great lengths
Different length dresses always look great in wedding pictures and add a sense of fun to the big day. It's a good way to create a more laid-back vibe at a rustic or low-key affair. It's also another way to help your bridesmaids feel comfortable: maids who don't want to reveal their legs will feel elegant in a full-length gown, while others may like to show off fabulous shoes or party-ready pins.
"Make wedding PHOTOS
more fun with dresses in
different lengths"
Have fun with colour
Use your bridesmaids to highlight your overall scheme by dressing them in all the shades of your big-day décor – tie the look together with the same bouquet or accessories. Try having most of your maids in one colour, then let your maid of honour stand out in a metallic dress or a contrasting shade. If your girls are in matching dresses, give them free rein when it comes to the accessories, so they can show off their personalities and add pops of colour to their outfits.
"PLAYING with colour
needn't be limited
to dresses"
Stay on trend
Intricate detailing, from scalloped edges to spaghetti straps, is at the forefront of a lot of collections for 2017. More relaxed styles are still around, however, like Grecian, which is easy to wear and is a recurring trend for bridesmaids. At the moment, it's all about customisation: you can make basic dresses stand out and add personality with faux flowers, belts and brooches. Lace, bold prints and metallics are also strong trends that show no sign of going anywhere – but whatever you and your girls choose, you can be sure that pretty is always in style.
"Grecian and LACE
dresses are style staples
for bridesmaids"