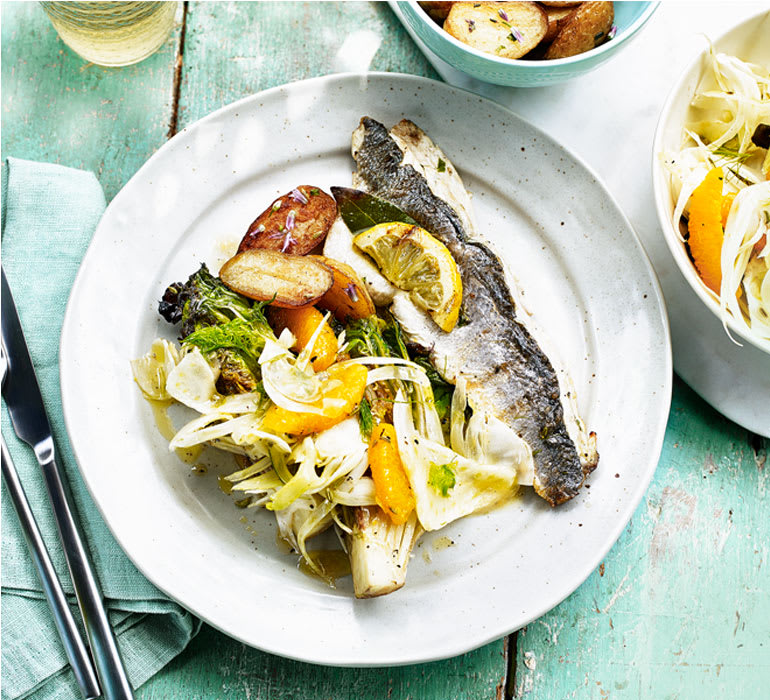 Grilled sea bass with orange & fennel salad
Method: When the barbecue coals have turned ashen grey, place the grill over them and wait until it gets hot.
Cut two heads of baby gem into quarters and toss with olive oil and seasoning. Place them on the grill until lightly blackened, then reserve at the side of the coals.
Season and oil four sea bass fillets. Place skin-side down on the grill and cook for three-to-four minutes until they're lightly charred and flip them over to cook for a further minute. Rest for a minute in a warm spot.
Toss the gems with one finely sliced fennel head, the segments from an orange, a few sprigs of dill, one teaspoon of fennel seeds, a splash each of orange juice and vinegar, and a glug of olive oil. Season to taste and serve.
Brined & barbecued whole chicken
Method: To make the brine, combine 200g coarse sea salt, 100g caster sugar, four bay leaves, two teaspoons each of coriander and fennel seeds, the zest of two lemons and one sliced red chilli in a pan with 2.5l water. Bring to the boil, then remove from the heat and cool.
Place the chicken in the brine for at least four hours or overnight, then drain and pat dry. Mix 50g butter with three chopped garlic cloves, some chopped rosemary and the zest of one lemon. Push the butter mix under the skin of the chicken breast and a garlic bulb and the zest of one lemon in the cavity.
Season and place onto a cooking tray next to the coals and close the lid. If there's a vent, ensure it's half-open. Cook for around one hour 20 minutes until browned and the juices run clear. The internal temperature should read 77⁰C for one minute.
Leave the chicken to rest for 20 minutes before serving. You can deglaze the tray juices with some wine or water to make a fantastic smoky gravy.
Smoked paprika & cumin tomahawk steaks
Method: Mix two tablespoons of smoked paprika, one tablespoon of cumin, three chopped garlic cloves, one tablespoon of red wine vinegar and around 70ml olive oil to make a paste. Season two tomahawk steaks and rub on the paste. Leave to marinade for at least two hours or overnight.
Light your barbecue and allow the flames to subside. When the coals turn ashen grey, it's time to cook. Sear each steak for four minutes each side (at this stage you could throw some wood chips onto the coals for a smoky boost) and then move to the side of the grill.
Toss a bunch of spring onions in olive oil and seasoning and add to the grill. Cook for three-to-four minutes until just tender and blackened. Move to join the steaks and close the barbecue lid. Cook for a further five minutes and then rest the steaks for a couple of minutes before slicing. Serve with a dollop of crème fraiche.
Barbecued fruit, thyme mascarpone & hazelnut caramel
Method: Leave fruit (try peaches and pineapples) uncovered at room temperature for an hour before cooking to dry it out a little. Light the barbecue and place a grill over the ashen coals to get it really hot.
Mix 100g mascarpone with 50g caster sugar and half a bunch of chopped thyme leaves and set aside.
Mix 70g caster sugar with 20ml water in a small sauté pan and place on the grill to the side of the coals until it turns a deep golden caramel. Throw in 60g hazelnuts and a pinch of sea salt and toss to coat. Keep warm and reserve.
Put the thyme stalks on the coals to smoke. Grill the fruit for three minutes until charred and soft, before turning it to cook for a further two minutes on the other side.
Serve with the mascarpone, caramel and a sprinkle of smoked thyme.