A WEEK IN HER SHOES:
PAULA BONHAM CARTER
She is the woman credited with sending Marks & Spencer's shoes shooting to the top of every fashion insider's shopping list. But what does 'the shoe fairy', AKA Paula Bonham Carter, slip onto her own feet for work? We joined her for a week to see how she puts her style credentials to use, from the design studio through to the boardroom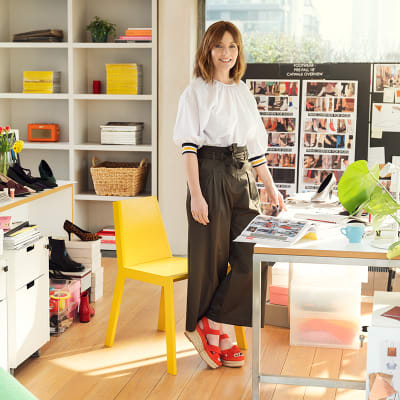 "What makes a great shoe? Well, it's got to be one that you fall in love with at first glance: buying shoes is a very emotional experience – at least, for me it is!" says Paula Bonham Carter, M&S head of womenswear buying.
"Shoes are a real passion of mine. My goal now is to make people more aware of the diverse offerings at M&S, from the everyday pumps they might expect, through to those real 'wow' shoes they might not. I've put together a team focused on delivering exactly what the customer wants – style and comfort.
"These are some of my current favourites," she says, pointing to her flame-red platform espadrilles. "I team them with khaki wide-leg trousers and an on-trend statement-sleeve blouse for a regular day at the office."
Shop the look
"I usually spend 20 minutes deciding what to wear in the morning. I never plan the night before as I prefer to judge how I'm feeling and make a decision based on the weather and what my diary holds that day."
Rather than having a work wardrobe, she favours versatile pieces that can be styled differently throughout the week. "I love to mix smart and casual: for example, heels with a smart blazer and jeans, or smart trousers – it's all about mixing materials."
This suits the varied nature of her work, from number-crunching sales figures in the office to assessing samples on the factory floor. "I often wear pumps or trainers when I'm on the go but switch to heels in the evening, especially on trips," she says.

As someone who travels widely for supplier visits and trade fairs, Paula is adept at packing a multi-tasking capsule wardrobe. "Trips are very full-on and I'm on my feet all day, often heading straight from the factory floor to dinner in the evening," she says.
The solution? "Comfort is key and our Insolia technology is the not-so-secret ingredient," she explains. "Whereas other retailers only cushion the soles with padding, our shoes are designed to redistribute the weight in your foot, alleviating the pressure in the ball and keeping you on your toes for longer."
She's particularly proud of the new Light as Air range, which features precision-placed air vents to cool your feet on the go, while offering street-smart styling and fun colours. "You'll often catch me in my silver trainers out walking my two schnauzers in the morning," Paula says.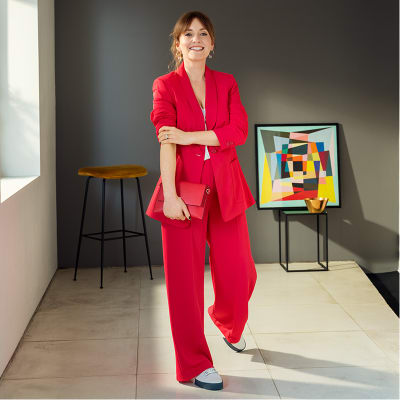 Paula's unconventional take on eveningwear is a lesson in bold simplicity. "You can totally get away with trainers these days – what matters is what you pair them with," she says, proving the point in a striking red suit with fresh white sneakers.
She is not a big fan of dresses, and therefore looks to versatile, high-impact separates in bold colours or interesting fabrics. "The blazer is really key this season and can be mixed and matched to create different looks," she says.
A sleek clutch with a detachable shoulder strap is the ultimate after-dark companion for this look, while a relaxed up 'do and contemporary jewellery keep the suit looking cool, rather than corporate.

"I recently gave a presentation to the board of directors, and that really required a step change, sartorially speaking. And, of course, it's the shoes that make or break an outfit for an important occasion like that."
A navy tailored jumpsuit is Paula's smart choice for meetings, while two-tone peep-toe heels showcase her style credentials. The elegant heel on the sandals is made ultra-wearable by the podiatrist-approved Insolia technology in the sole.
When it comes to creating a capsule wardrobe of shoes, she believes that three styles are non-negotiable: "A pair of versatile loafers, trainers and a classic pair of courts are my essentials," she says. "They'll see you through any occasion." And she should know.
Editor: Dulcie Emerson / Creative director: Nicola Rose / Photographer: Robert Fairer
Stylist: Chloe Forde / Hair and make-up artist: Lindsey Poole